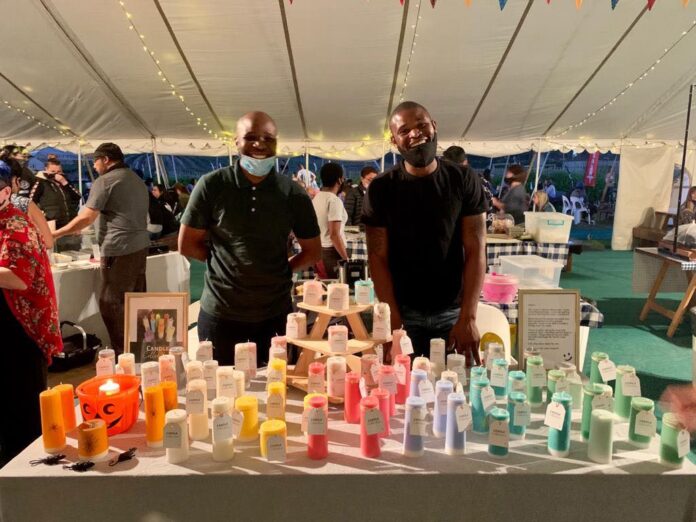 When Nelson Mapande's job prospects dried up during Lockdown in South Africa, he didn't let it dampen his spirits. Instead he decided to learn a new skill… and now his beautiful creations are earning him a living, and lighting up the homes and hearts of Capetonians.
It was less than four months ago when Nelson learnt how to make his first candle, and now he's created over 1,000… many of them recycled by using used and donated candles and candle wax to create beautiful new candles.
According to his facebook page – Candle Collective – Nelson used to be a tiler, but in January he had quit his job to begin an exciting new career in tourism. He completed a Culture Tourist Guide course in February and was looking forward to his new career when Lockdown struck in mid-March and his plans were put on hold indefinitely.
"The construction industry slowed down to a stop and I had no more income and no plans," says Nelson. "As luck would have it, a friend was making candles to tide her over load shedding, and she suggested teaching me so that I could maybe start selling them and make a little money. Since I like to work with my hands, this sounded like a good idea. She collected donations of used candles to start me off."
Nelson has been thoroughly enjoying "creating something new from something old", and learning how to be a successful entrepreneur. "My double size smile," he says about the below photo, where he was learning about the different between mark-up and profit. As Candle Collective says, growth is also a welcome part of entrepreneurship, and Nelson has recently been joined by Sihle.
Nelson says: "With candles, nothing goes to waste and mistakes can be easily corrected, simply by making a new one. Sustainable and re-usable!
"I hope you can enjoy the work of my hands and that these candles will give you light, warmth and hope for better days ahead."
His philosophies include "begin anywhere, but begin!" and "when life gives you lemons, make lemonade. And smile."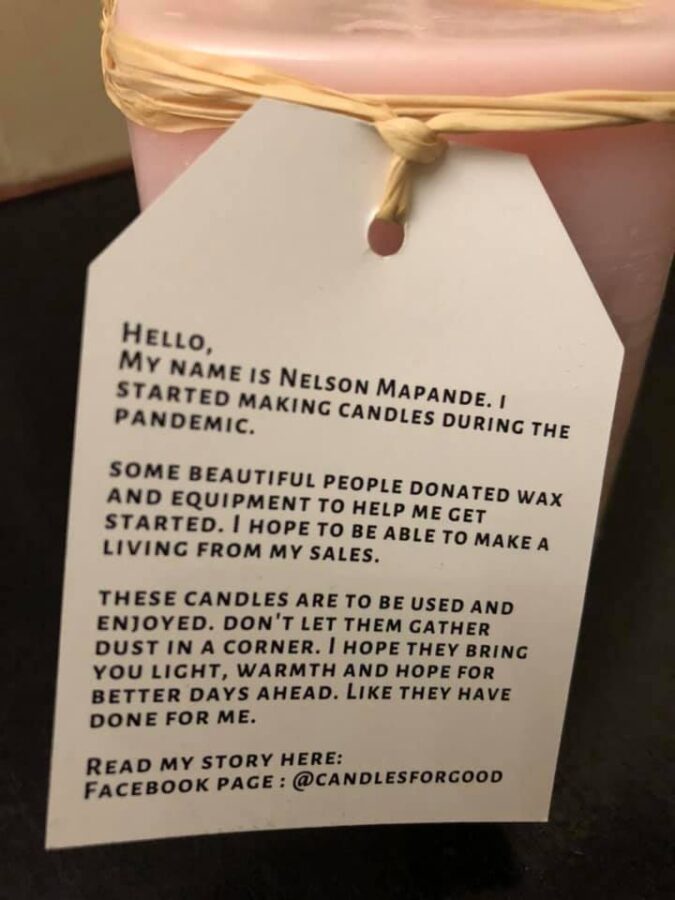 You can catch the Candle Collective at various markets in Hermanus, Tokai, Constantia, Table Bay, Kalk Bay, Durbanville, Sweet Valley, Bergvliet, Kommetjie and more. (Check the FB page to find out where and when.)
At the moment he has some stunning Halloween and Christmas ones too. They come scented or unscented and in all colours. They're hand-poured, custom made and each one unique.
Local Cape Town resident Lynn JL says: "I met Nelson and Sihle last night at the Range market and bought some of their candles. They are possibly the nicest people I've met for a long time. Guess what my friends and family will be getting for Christmas this year?"
Follow the Candle Collective here.