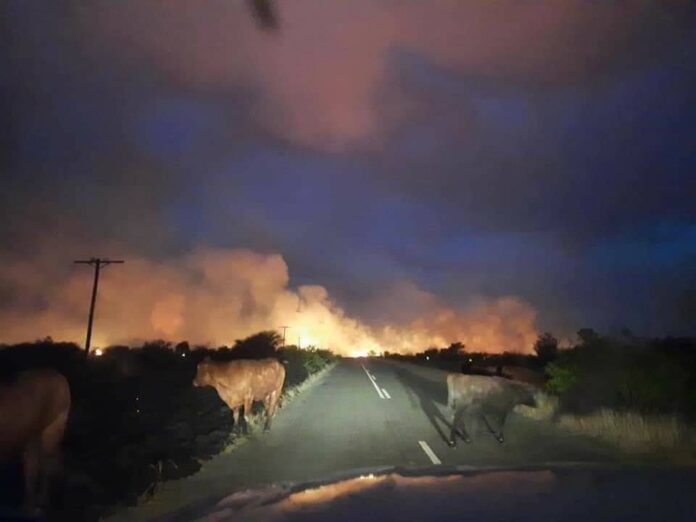 The DA in the Free State, South Africa, has requested that the Premier declare the fire-swept areas a State of Disaster, in order to facilitate the allocation of vital resources.
The veld fires this week ravaged about 100,000 hectares around and between the towns of Dealesville, Boshoff, Hertzogville, Hoopstad and Bultfontein… destroying livestock, game, grazing, vehicles and infrastructure. A local farmer, Tewie Nel (28), has also been seriously injured and is in a Bloemfontein hospital. (According to his father, Gerhard, Tewie suffered third-degree burns over 40% of his body.) Hundreds of animals died.
The fires were allegedly ignited by a protest over water. Protesters had apparently set fire to tires outside the town of Hertzogville. The DA said in a statement on Wednesday that it welcomes the arrest of the individuals who were allegedly responsible for this devastation.
Free State Leader of the Opposition, Dr Roy Jankielsohn, said: "The agricultural community in these areas are in dire need of urgent assistance from government and the Democratic Alliance (DA) has therefore requested that the necessary processes are put in place to declare the area a disaster area in a letter to the Premier of the Free State. This will facilitate the allocation of the necessary resources to assist the affected communities. The resources required are, however, urgent and any support to the local agricultural sector cannot be subjected to bureaucratic delays."
The DA said it also welcomes the request by the Parliamentary Portfolio Committee on Agriculture, Land Reform and Rural Development to Minister, Thoko Didiza, to similarly declare these areas disaster areas.
Yesterday Saai called for urgent help for the farmers and farm workers affected by the blazes. Farmers from around the country who can provide support in the form of fodder or other resources, or sympathisers who want to contribute to the transportation of fodder to the disaster area, area asked to please contact Saai at 066 071 6094.
WATCH VIDEO Fires rage in Free State
View more photos and video of 'Horrendous' Hertzogville Fires