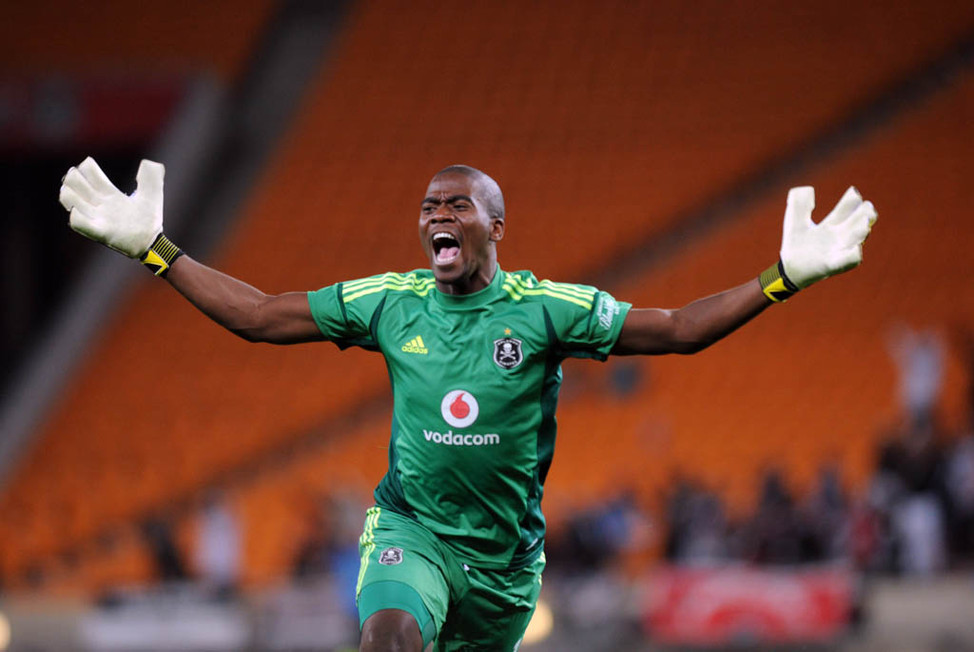 Five suspects have been arrested for the murder of former Bafana Bafana captain and Orlando Pirates goalkeeper Senzo Meyiwo… who was shot dead exactly six years ago, to the day.
South Africa's Police Minister Bheki Cele announced the breakthrough on Monday. The five are due to appear in the Boksburg Magistrates Court on Tuesday.
The popular goalkeeper was gunned down on 26 October 2014, at the home of his girlfriend and musician Kelly Khumalo in Vosloorus, Ekurhuleni, in what was believed to have been a house robbery gone wrong. Two men allegedly entered the home at around 20h00 and demanded a cell phone and money before shooting Meyiwa. They fled the scene, on foot, with a third man who had been waiting outside.
The 27-year-old was rushed to hospital but was declared dead on arrival.
Since then, the Meyiwa family and South Africans at large have demanded justice for this brutal murder.
Addressing journalists, Cele said the five suspects were arrested on Monday between 8am and 10am in Gauteng and KwaZulu-Natal.
"These arrests are as a result of a multi-disciplinary integrated approach to this investigation, which is working closely with the Directorate for Public Prosecutions," said the Minister.
Despite heavy criticism from some quarters, Cele has always maintained he was satisfied that the murder investigation was progressing well.
"I have on numerous occasions also expressed my confidence that those suspected of this crime will be found and brought to book," said the Minister.
The arrests have emerged as a success of the cold case team that was established by the National Police Commissioner in 2018. The team was in response to many calls on various criminal cases, which have not been successfully investigated.
"The unit has worked tirelessly on this case," said the Minister.
The Minister also used the briefing to condemn media leaks, saying he strongly believes that information may have been leaked in an attempt to derail the investigations.
"This is why moving forward, the investigation team will be considering opening a case or cases of defeating the ends of justice to ensure such leaks never occur again," said Cele.
The Minister said the SAPS and the prosecution team have expressed confidence that they have a watertight case against all five suspects.
"At this point, we cannot reveal any further information, as investigations are still ongoing and more arrests cannot be ruled out," he said.
Sitole said of the five suspects, one of them is suspected to have pulled the trigger.
"This process is backed up by forensic evidence connecting the suspect to the scene, as well as the weapon suspected to have been used," he said.
The Commissioner expressed appreciation to the National Prosecuting Authority, saying there had been "excellent collaboration".
Senzo's brother, Sifiso, will be joining Adv. Gerrie Nel, Head of AfriForum's Private Prosecution Unit, and Kallie Kriel, CEO of AfriForum, for a press briefing at 17h00 today on their reaction to the breakthrough.
At the time of his death, Senzo Meyiwa had been one of Bafana Bafana's greatest stars, captaining the South African team during its previous four 2015 Afcon (African Nations Cup) qualifier matches and not conceding a single goal in those matches.
Kelly's son, Christian, and her daughter, Thingo, feature in Life With Kelly Khumalo alongside their super-star mommy. Thingo's father is the late Bafana Bafana captain Senzo Meyiwa, while Christian's father is Molemo Maarohanye, aka Jub Jub, whom Kelly says in the show she has not seen in almost nine years.
In Life With Kelly Khumalo, now streaming on Showmax around the world, Kelly reveals that their daughter Thingo has been asking questions about her father. "How do I start the conversation?" says Kelly. "How do I even tell my daughter who her father is and what happened to him? Because this is such a heavy story for a five-year-old."
Sources: SAnews.gov.za, SAPeople, Showmax and AfriForum