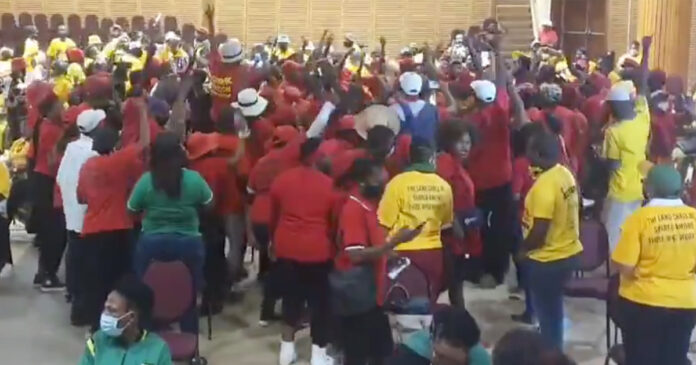 The ANC Caucus in Parliament has laid all blame on the EFF for disrupting a public hearing in Limpopo today, on Expropriation of Land Without Compensation, which led to it being cancelled. The ANC said in a statement on Sunday evening that it condemns the EFF for "disorderly conduct" and that the "anarchy" today is a "dangerous pattern" that needs to be dealt with by law enforcement.
The incident took place at a fourth parliamentary hearing in the Capricorn District today, Sunday 25 October.
The ANC said the EFF claims to represent the aspirations of the people, but its behaviour today "exposes the anarchy and rampant lawlessness that has seen the EFF disrupt private businesses and occupy land illegally and is a dangerous pattern that seeks to undermine the rule of law and should be dealt with harshly by law enforcement agencies."
The Caucus praised its own ANC members for demonstrating "high levels of maximum discipline" since the proceedings began on 22 October.
Chief Whip Hon. Pemmy Majodina said: "The ANC condemns in the strongest possible terms the shameful conduct by the EFF in Polokwane who opted to disrupt the proceedings after arriving late.
"The EFF has a responsibility to uphold the rule of law in a constitutional democracy and should refrain from making mockery of public participation platforms aimed at redressing historic injustices by behaving unlawfully."
The ANC said it appreciates the Ad hoc Committee cancelling the public hearing, which it did to ensure the safety of participants, who were members of the public. It said it will ensure that the public participation programme on the amendment of Section 25 of the Constitution is "not derailed" and that "public resources availed for such hearings do not amount to wasteful and fruitless expenditure".
At the time of publishing the EFF had not responded, although EFF Leader Julius Malema did retweet the following post by SABC reporter Katlego Nyoni who described the video as "excitement expressed by members of different political parties at Polokwane":
Excitement expressed by members of different political parties at Polokwane, ahead of the public hearing by the Ad Hoc Committee to initiate and introduce Legislation amending Section 25 of the constitution. These are the first set of hearings since the lockdown. #sabcnews pic.twitter.com/cyc029xNVO

— Katlego Nyoni (@katlego4ever) October 25, 2020