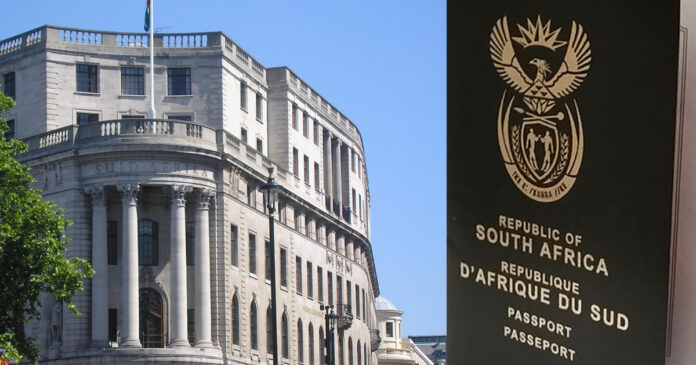 An extremely high demand for SA passport renewals in the UK has led to a backlog in some administration, South Africa's High Commissioner to the UK, Nomatemba Tambo, told SAPeople today. She reassured South Africans living in the UK that this problem should be resolved within the following week. With the SAHC's website in the UK down for almost three months, SAPeople has been inundated with queries from desperate South Africans unable to get in touch with the Embassy. We reached out to Ms Tambo on behalf of these South Africans, and she has kindly answered some of the most frequently asked questions below…
One of the main concerns has been that in order to apply for a South African passport renewal in the UK, citizens were told to send an SAE with a large 1st class stamp, and that they would receive their forms to fill in within five working days. They were also informed that once their forms were completed and supporting documents gathered, they could email a request for an interview which would be confirmed within two working days… but this has not been the reality for many.
1. Many applicants say they've followed the directions, sent the SAE with the stamp, but have been waiting more than 5 days. Some are still waiting over two or three weeks later, even a month. Is the current waiting period longer?
Nomatemba Tambo: We are currently experiencing a backlog of sending out forms and scheduling appointments due to very high demand. The backlog on the forms will hopefully be cleared this week.
2. Can they get their fingerprints done when they come in for their appointment with the otherwise completed forms?
Yes, fingerprint pads and ink are available at the DHA office.
3. Can anything that needs to be signed by a Commissioner of Oaths be signed at the appointment?
Yes, only documents relating to the applications, original documents will be required for the High Commission staff to sign as Commissioner of Oath.
4. Is it still forbidden for any pop-in visits? Ie. They MUST make an appointment.
Presently the office operates strictly on appointments to ensure the office is covid 19 safe.
They can request status from Home Affairs call centre at hacc@dha.gov.za. They must ensure they provide their ID number with the enquiry.
6. When will the website be working again?
As soon as possible. UPDATE 5 Nov 2020: The new website has been launched here.
7. Are South African passport holders in red list countries like the UK allowed to go on holidays, no matter how short or long, to SA?
Yes, as long as they travel on valid South African passports, and have negative covid 19 test certificate valid for not more than 72 hours on arrival in South Africa.
Please sign the petition for a Passport Emergency Extension for South Africans living abroad.