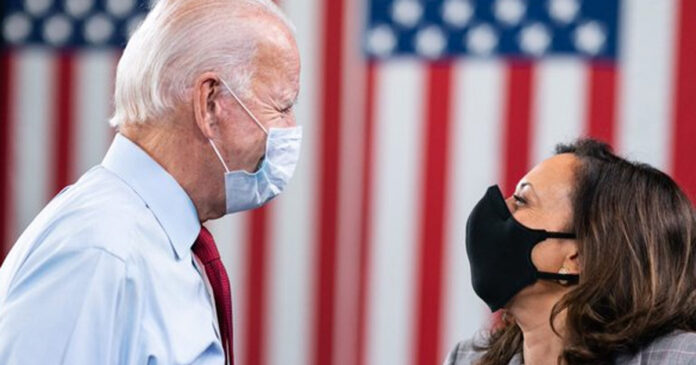 Democratic presidential candidate Joe Biden has won enough votes in Pennyslvania for a recount in the state to not be required and therefore – according to projections by several reputable news sources (including Reuters, BBC, ABC, NBC and AP) – the 77-year-old has beaten current President Donald Trump (74) to win the US election.
"Biden Beats Trump" wrote the New York Times in a banner headline.
Trump tweeted, only an hour earlier, (in capitals): "I WON THIS ELECTION, BY A LOT!"
However, according to the official tally, Biden is projected to receive more than four million votes in excess of Trump's. By taking Pennsylvania, he also got more than half of the electoral college, making him the president-elect.
Kamala Harris, Biden's running mate, breaks barriers as the first female, first Black and first South Asian vice president-elect, according to the projected outcome.
We did it, @JoeBiden. pic.twitter.com/oCgeylsjB4

— Kamala Harris (@KamalaHarris) November 7, 2020
Biden's description of himself on Twitter, until a few minutes ago, was as a Senator, wife of Dr Biden, proud father and grandfather who loves ice-cream and aviators. It has already been updated (18h50 SA Time) to: "President-Elect, husband to @DrBiden, proud father & grandfather. Ready to build back better for all Americans."
Soon "President of the United States" is likely to be added to that bio, if Trump isn't able to contest the victory from the various legal actions that have been started contesting the vote counts.
This has been a hotly contested and heated election, dividing the US like never before, but earlier today Biden tweeted: "We may be opponents — but we are not enemies. We are Americans. We have to remember the purpose of our politics isn't totally unrelenting warfare."
He also tweeted on Friday: "Let me be clear: I campaigned as a proud Democrat, but I will govern as an American president."
Kamala Harris also tweeted: "Joe Biden will be a president for all Americans—not just the ones who voted for him." Minutes ago, she added: "This election is about so much more than @JoeBiden or me. It's about the soul of America and our willingness to fight for it. We have a lot of work ahead of us. Let's get started.
"With his projected victory, Joe Biden becomes the oldest man ever elected to the White House. He brings with him the first woman vice-president, whose multi-ethnic heritage carries with it numerous other firsts," said the BBC.
Biden – who is set to become the 46th President of the US – has just tweeted: "America, I'm honored that you have chosen me to lead our great country. The work ahead of us will be hard, but I promise you this: I will be a President for all Americans — whether you voted for me or not. I will keep the faith that you have placed in me." Biden's full statement on Saturday reads:
I am honoured and humbled by the trust the American people have placed in me and in Vice-President-elect Harris.

In the face of unprecedented obstacles, a record number of Americans voted. Proving once again, that democracy beats deep in the heart of America.

With the campaign over, it's time to put the anger and the harsh rhetoric behind us and come together as a nation.

It's time for America to unite. And to heal.

We are the United States of America. And there's nothing we can't do, if we do it together.
The win is not yet official, until certified by election officials.
UPDATE: 19H15 SA Time: Donald Trump releases statement saying election is not over:
Trump has issued a statement saying "we all know why Joe Biden is rushing to falsely pose as the winner, and why his media allies are trying so hard to help him: they don't want the truth to be exposed." He states "the simple fact is this election is far from over" and says that "beginning Monday, our campaign will start prosecuting our case in court to ensure election laws are fully upheld and the rightful winner is seated".
Trump alleges that Biden wants fraudulent ballots counted by "ineligible or deceased voters". (So far Trump has had no proof for these claims.).  He said: :So what is Biden hiding? I will not rest until the American People have the honest vote count they deserve and that Democracy demands."
America, I'm honored that you have chosen me to lead our great country.

The work ahead of us will be hard, but I promise you this: I will be a President for all Americans — whether you voted for me or not.

I will keep the faith that you have placed in me. pic.twitter.com/moA9qhmjn8

— Joe Biden (@JoeBiden) November 7, 2020