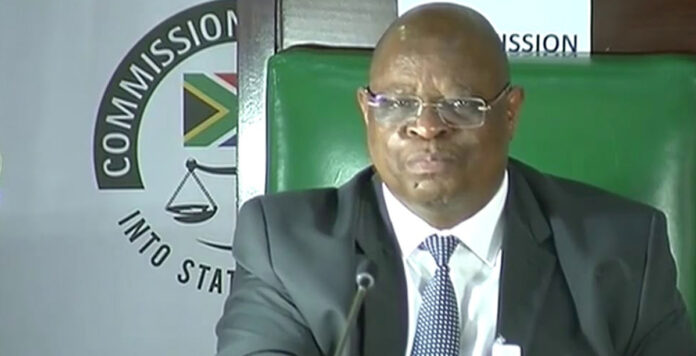 South Africa's former President Jacob Zuma is to lodge a complaint with the Judicial Service Commission after Deputy Chief Justice Raymond Zondo refused Zuma's application for Zondo to recuse himself as Chairperson of the Commission of Inquiry into State Capture.
In a one-hour explanation, Zondo said he was denying the application because there is no bias. He said: "I am satisfied that the applicant's contention has no merits. I am entitled to, and obliged to, seek comments and ask questions as the Commission must seek the truth on matters it is investigating. The applicant appears to expect me to be very passive when witnesses appear."
Zuma's lawyer Muzi Sikhakhane said Zuma will take Zonda's decision on review, and that a complaint will be lodged as Zondo has made himself "a witness and a judge". Sikhakhane accused Judge Zondo of being a judge "in a matter that involves yourself".
Zuma reportedly left during the tea break, leading to headlines that he had done a runner. The commission will adjourn for two days.
WATCH VIDEO Judge Zondo dismisses application for recusal
WATCH VIDEO Zuma to lodge complaint against Zondo
Meanwhile Adv Glynnis Breytenbach – DA Shadow Minister of Justice and Correctional Services – welcomed Zondo's decision after Zuma's "spurious bid".
Breytenbach said: "This was just a further desperate attempt by Zuma to undermine and derail the work and proceedings of the Commission. Zuma has constantly said that he wants to have his day in court but each time he has an opportunity to do so, he employs Stalingrad strategies to delay the course of the law in order to evade accountability.
"If Zuma had his way, the entire Commission of Inquiry would collapse, along with two years' worth of work and R700 million budget. This is the same tactic he used to delay his fraud and corruption charges over the years."
Breytenbach praised Judge Zondo, saying South Africa owes him and the Commission a huge debt of gratitude for the "excellent job they are doing to protect the independence, integrity and work of this Commission, despite constant challenges".
She pointed out the Zondo Commission in uncovering the "extent of the rot in State institutions that has destroyed our economy and opportunities and services to our people" and said "time has run out for Zuma. There is no longer anywhere for him to hide. The law will take its course."