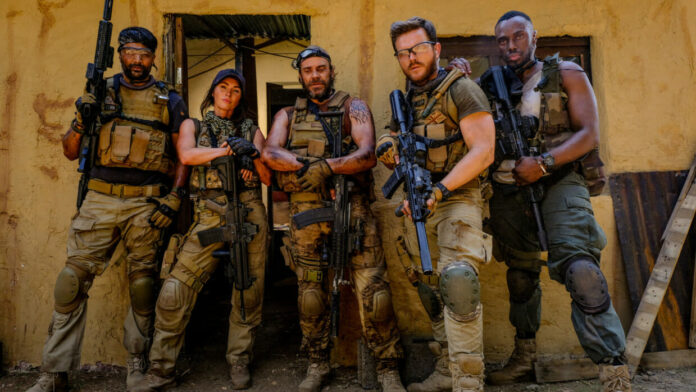 Rogue, the new action movie from Showmax, not only showcases the butt-kicking skills of action hero Megan Fox as Samantha O'Hara, but also those of some of South Africa's top talent who fight alongside her in this exciting new film. Meet the South Africans…
1. Greg Kriek – Mike Barasa
Greg may be a Cape Town boy, but he has over 70 international acting credits to his name. He's acted opposite big names like Morgan Freeman, Miley Cyrus, Walton Goggins and more, and now, of course, is adding dodging bullets alongside Megan Fox to his CV. In Rogue, he plays mercenary Mike Barasa.
Also watch Greg in: The Recce, Born To Win, Mooirivier, Deep End.
2. Brandon Auret – Elijah Dekker
Another busy South African actor, Brandon spread his wings after seven years on Isidingo and acted in three movies directed by Neill Blomkamp: District 9, Elysium with Matt Damon and Jodie Foster, and Chappie with Hugh Jackman. So he didn't bat an eyelid to be cast as Samantha O'Hara's right-hand man, Elijah Dekker, in Rogue. His military training in the SA Defence Force came in handy, too.
Also watch Brandon in: Rancid, Siembamba, Still Breathing.
3. Jessica Sutton – Asilia Wilson
Cape Town-born actress Jessica recently took her career to the next level with a leading role in the new sci-fi series Motherland: Fort Salem. She plays a recruit to a witches' military academy, tasked with protecting the United States. She also played a key role in The Kissing Booth, with heartthrob Jacob Elordi.
In Rogue, she plays a young woman kidnapped by human traffickers, desperately hoping that the group of mercenaries will rescue her – and keep her safe through the most dangerous night of her life.
4. Sisanda Henna – Pata
We've seen a lot of Sisanda Henna on our screens lately – in Trackers, he played the dangerous gangster Inkunzi, and in Griekwastad, he plays a farm worker accused of a terrible crime.
In Rogue, Sisanda takes on the role of Pata, a Kenyan former Al-Shabab member who's left the organisation to become a mercenary. He told The Sowetan: "The thing about Megan is that as much as she's a huge megastar, she's very petite, short and just tiny. She's a gentle lady and team player – it was really a pleasure to work with her."
Sisanda was born in Bisho in the Eastern Cape, and burst onto our screens in the drama series Tsha Tsha.
Also watch Sisanda in: Donkerland, Inconceivable.
5. Kenneth Fok – Bo Yinn
Kenneth has some impressive international credits to his name: he was in Safe House alongside Denzel Washington and Ryan Reynolds, and in Eye in the Sky with Helen Mirren, as well as The Dark Tower with Idris Elba and Tomb Raider with Alicia Vikander. He's also seen in the HBO series Warrior.
On the local front, he starred as Chang in Night Drive and Wei in the acclaimed Five Fingers for Marseilles.
Kenneth was born in Germiston, Johannesburg, as the youngest of seven siblings.
Megan Fox – Samantha O'Hara
Not South African but popular in SA, Megan Fox first blasted her way onto our screens in Transformers and its sequel, Transformers: Revenge of the Fallen. Then, she played mechanic/car thief Mikaela Banes and she was tough, for sure, but she also wore short shorts and was mostly there for Sam Witwicky (Shia LaBoeuf) to fall in love with. In Rogue, Megan comes into her own as Samantha O'Hara, an in-control leader of a mercenary gang. Moviefreak.com said: "Fox makes for a strong action hero, and I could watch her bark orders and slice bad guy jugulars again with no problem whatsoever."
Megan was born in Oak Ridge, Tennessee, and studied drama and dance from an early age. Her first big role was opposite Lindsay Lohan in Confessions of a Teenage Drama Queen, but – appropriately – it was Transformers that really changed her life. She has three kids with ex-husband Brian Austin Green, and is currently dating rapper Machine Gun Kelly.
Also watch Megan in: another action movie, Teenage Mutant Ninja Turtles: Out of the Shadows, and in a totally different role as Reagan in Seasons 5 and 6 of New Girl.
WATCH VIDEO Rogue Trailer, new action movie on Showmax