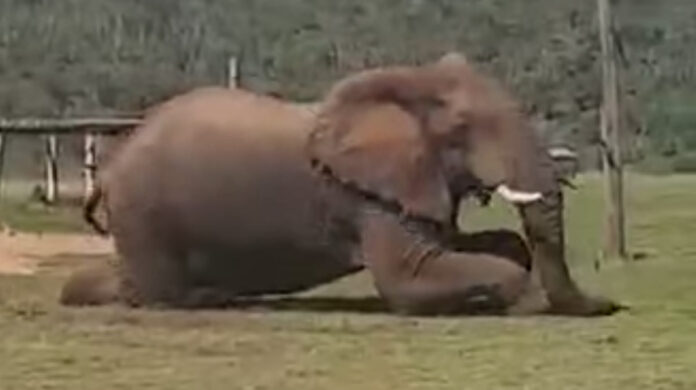 A thirsty elephant at Addo Elephant Park in the Eastern Cape, South Africa, surprised visitors (and a couple of zebra witnesses) with his agile leopard crawl to make his way to a water hole. Watch below.
Addo, which is 72km from Port Elizabeth, is the third largest national park in South Africa and is famous for its 600 elephants. But although its website promises the elephants "will delight visitors with their antics", nobody expected to see an elephant deftly crawl under a fence!
According to Facebook user Cindy Meiburg the team at Addo Elephant Park have erected electric fences at some of the park's water holes in order to prevent elephants hogging the holes, and allow other animals a chance to get to them.
"This guy was having none of it!" Cindy wrote on Sunday when she uploaded the below video. She said: "The most amazing thing I've ever seen. Gives leopard crawl a new meaning."
WATCH VIDEO Addo Elephant Leopard Crawls to get to Water Hole
Apart from Addo offering some of the most spectacular elephant viewing in the world, the park also has over 400 Cape buffalo (one of the largest disease-free herds in South Africa), six lions, spotted hyena, warthogs and the occasional real leopard!
If your device cannot view the above video, try this on Twitter:
SUPERNATURAL! ? https://t.co/vGW8OUl5l0

— Simon Bloch (@simonbloch1) December 16, 2020