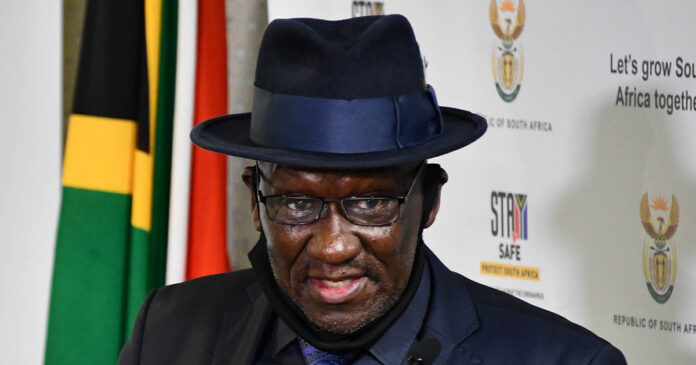 The EFF is causing a stir in South Africa today after issuing a statement in which the party called SA Police Minister Bheki Cele a 'clown' who had no right to tell South Africans what time to go to bed on New Year's Eve. They also accused the minister of talking 'romantically' to white people while disrespecting black people.
Yesterday the Police Minister ruffled feathers during an SA Police Service (SAPS) parade in Durban at which, referring to the Covid-19 pandemic, he said: "We are experiencing what we've never experienced before. This time, there is no December 31. There is no tin-hitting. By 21:00, everybody 'ulele' (asleep). Everybody must be in bed by 21:00."
Many South Africans were outraged by the comment, not least of all the Economic Freedom Fighters who released the following statement:
"The EFF notes the inappropriate and attention-seeking utterances made by Minister Bheki Cele. After President Ramaphosa announced that we must celebrate the NY in our homes , and that at 12 midnight he would be lighting a candle for the departed due to Covid-19, Bheki Cele comes contradicting the President with his unfounded and stupid regulations that South Africans ought to be in bed by 9pm. We are all expected to be home by 9pm and so the police must not harass South Africans because of the misguided imbecile of a minister who clearly suffers from verbal diarrhoea.
"This clown called Bheki Cele is an anti-Black minister who is only good at using violent language when he talks to Blacks and very romantic when he talks to Whites. Moreover, when it comes to fighting corruption, CIT robberies, and GBV, he is nowhere to be found.
"As such, as from today no Black person should listen to him until he deals decisively with the above-mentioned.
"We are not in a police state and Bheki Cele must not behave like he is the absolute arbiter. He can tell his kids when to sleep at 9pm, not us.
"The EFF remains sympathetic to all infected, affected, and families of those who lost their lives hence the EFF contributed R15-million to the Solidarity Fund in fighting this killer disease. But today we are rebooting to face it with new vigour and determination, even in the face of death, we should always appreciate life."