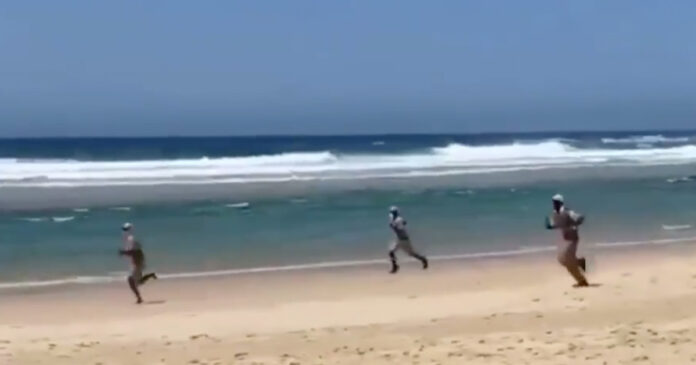 You can take away South Africans' beaches and alcohol, but you can't take away their humour! As police clamp down on those not being compliant with beach bans, this video has surfaced of officers chasing a surfer down the beach.
The Kiffness (David Scott) posted the video, set to Vangelis' dramatic theme music from 'Chariots of Fire', the 1981 film based on the true story of two British athletes racing in the 1924 Olympics. "My favourite scene from Chariots of Fire," quipped The Kiffness.
In the video, three officers can be seen chasing a lone surfer.
WATCH VIDEO: Cops chase surfer on South African beach
My favourite scene from Chariots of Fire 🏄🏻‍♂️🏃‍♂️ pic.twitter.com/GJrD9jEG1j

— David Scott (@TheKiffness) January 5, 2021
Scott said in an update: "I have it on good authority that the one surfer got away & the other was taken into the Plett station to receive his prize. The police officer has since been scouted by Rassie Erasmus & is currently auditioning for the new Springbok wing position. Wish him luck."
He added: "Jokes aside, the cop in front has some serious gas Man. He deserves an Olympic gold medal."
Army joins police to enforce beach bans
Beaches are currently off-limits in South Africa (apart from the Northern Cape) in a bid to curb the spread of coronavirus, which claimed another 513 lives in the past 24 hours. This morning Police Minister General Bheki Cele announced the army would be joining police on the Garden Route to patrol beaches today. He said yesterday foreign tourists were arrested on the West Coast, in Langebaan, for surfing and not being compliant. Anyone convicted of being on the beach or in the sea (apart from fishermen), is liable to a fine and/or up to six months imprisonment.