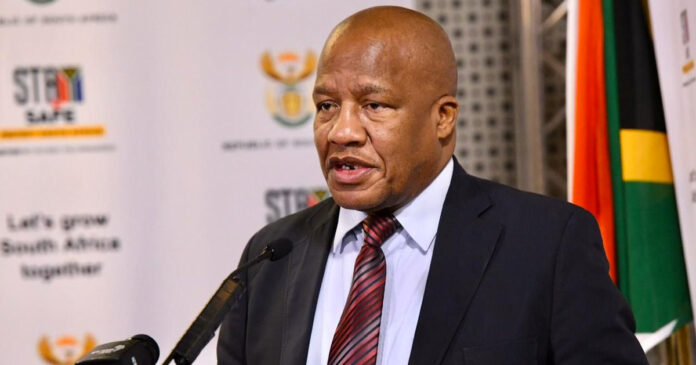 Jackson Mthembu's death on Thursday, from Covid, has left South Africans reeling with an outpouring of tributes for a man who was deeply loved, and known for his sense of fun, loud laughter, and desire to always put people at ease. The Minister's final tweets on 12 January show the humble man he was, and how he possibly contracted the coronavirus disease, despite taking precautions.
Ten days ago, on 11 January, the Minister revealed he had tested positive for Covid-19 at the Military hospital in Tshwane, which he had visited because of abdominal pain.
A Twitter user asked him:
I'm interested in knowing how the minister got infected if he followed all safety protocols? If he always wore a mask, practiced social distancing and regularly sanitized his hands, how did the virus manage to infect him? Does this not mean these protocols are useless?
On 12 January, Mthembu replied in one of his last tweets, saying:
"The health protocols are very important and best defence against the virus, they are not a silver bullet. That's why there are millions affected, recovering and dying throughout the world. I know that I might have got infected from my daughter who tested positive earlier."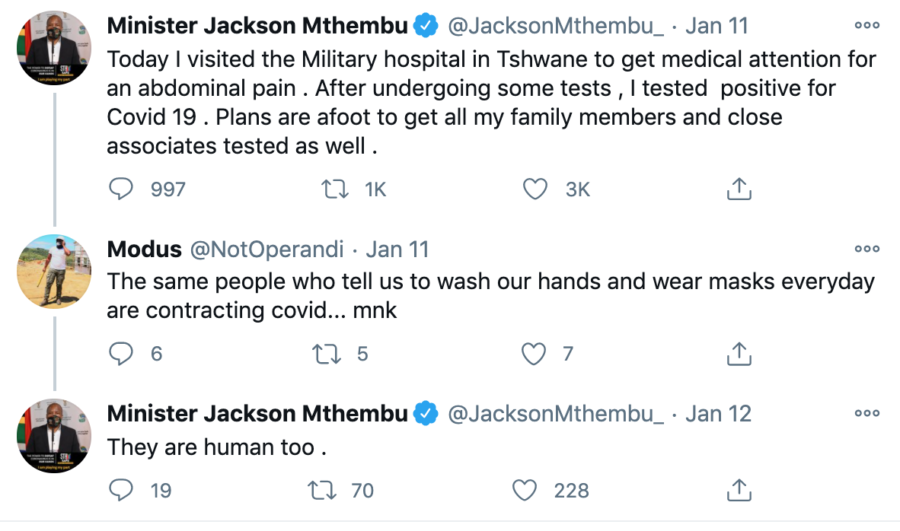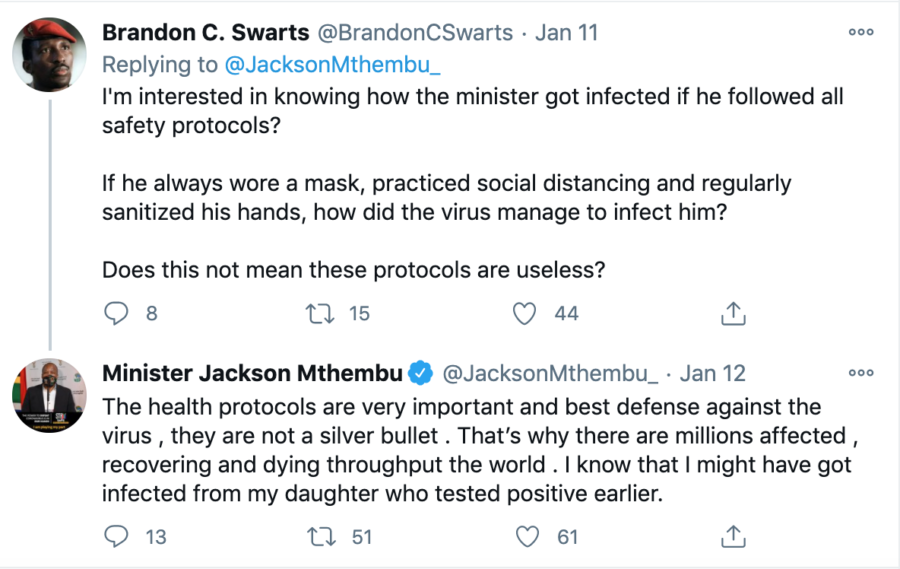 I might have got infected from my daughter
It raises the tragedy for so many children around the world, who have been left reeling with grief and guilt from their parents' Covid-19 deaths. Wonderful, compassionate Twitter users have left messages for Mthembu and his daughter saying: "May our Ancestors accept your spirit and give your daughter strength to dust herself and carry on with the spear", "Rest easy minister. I hope your daughter forgives herself for this" and much encouragement for Mthembu's daughter to receive counselling and for the "family to give her support, it is not her fault".
They are human too
The Minister also responded with humility to someone who said:  "The same people who tell us to wash our hands and wear masks everyday are contracting covid… mnk."
Mthembu replied, saying simply and profoundly: "They are human too."
Several social media users have since left condolences and said "This is a painful reminder that public servants are humans, who do feel and experience pain too" and "He was indeed HUMAN…and a beautiful soul! #RIPJacksonMthembu, in you, South Africa has lost a great leader and beautiful human being."
WATCH VIDEO Health Minister Zweli Mkhize pays tribute to the Late Minister in the Presidency, Jackson Mthembu
South Africa's Health Minister Dr Zweli Mkhize has paid a beautiful tribute to the Minister (watch below), as well as paying tribute to the healthcare workers at Steve Biko and at Milkpark where he had been flown to a couple of days before his passing. He said "they did their very best", and were "devoted to his service". He also shared the sad news that one of the doctors who tries to save Mthembu later died in the Netcare helicopter crash.
A giant tree has fallen
On Twitter, Dr Mkhize said:
A giant tree has fallen. A communicator par excellence, and an even better man. He was always friendly and shall be missed for his kind and generous spirit.
Rest well my brother, Jackson Mthembu
Our deepest love and condolences goes to the Mthembu family in this painful time

Ferial Haffajee said:

Tsjoe! It's very sore this passing of #JacksonMthembu. Like a tear in the national fabric. He was such a part of national life and a voice that was familiar and engaging. He told me off many times; never held it against one. Always kind; able to explain. Too sore.
EFF leader Julius Sello Malema posted broken hearted emoticons, an EFF poster tribute, and said: "Goodnight grootman."
Justice Malala added: "A good man is gone. Rest in Peace, Jackson Mthembu. Death be not proud."
Meanwhile Mthembu's close colleague, a heartbroken Nonceba Mhlauli, Spokesperson for the Ministry in the Presidency, tweeted a plea to journalists nationwide: "I know you're just doing your job but asking me for interviews/reflections today is just not it. It's just not. Please!"
Our condolences to all who are suffering at this time.