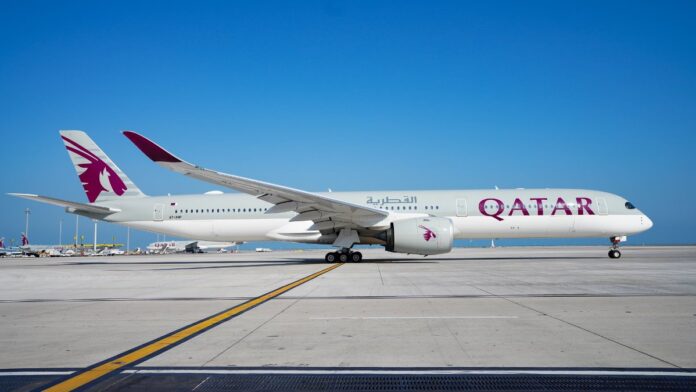 Qatar Airways has signed an interline agreement with Fly Mango, further expanding its presence in South Africa as the largest international carrier to operate from the region, it has announced.
The agreement provides Qatar Airways' passengers with eight additional connections via Johannesburg and Cape Town; and will see Qatar Airways operating 26 weekly flights from South Africa by February, the company said in a statement on Tuesday.
The agreement with Fly Mango will provide passengers with seamless connectivity via Johannesburg and Cape Town to one international destination in Tanzania (Abeid Amani Karume International Airport in Zanzibar), and seven domestic destinations in South Africa including Durban International Airport, Port Elizabeth International Airport, George Airport, Bram Fischer International Airport (in Bloemfontein) and East London Airport.
Qatar Airways Vice President Africa, Hendrik Du Preez, said:
"We are delighted to sign the interline agreement with Fly Mango, connecting our passengers to 7 additional gateways in South Africa and one in Tanzania in addition to Qatar Airways' rapidly expanding network of now more than 120 destinations. With our flexible booking options and reliable network, we look forward to connecting our passengers from South Africa and beyond onboard Qatar Airways."
William Ndlovu, acting Mango Airlines CEO, said:
"Mango Airlines is delighted to announce an Interline E-ticketing Agreement between Mango and Qatar Airlines. This will provide our Guests with direct and convenient connection to destinations in South Africa and Zanzibar. Guests will be able to get to their destination via a connection, using two different airlines by paying one fare with only one ticket being issued for both airlines."
Qatar Airways Fun Facts. The Airline:
currently operates 19 weekly flights to three key destinations in South Africa – Cape Town, Durban and Johannesburg.
operates over 75 weekly flights to 23 African destinations operated by a mix of the airline's modern fuel-efficient Airbus A350 and Boeing 787 aircraft.
is Qatar's national carrier, owned by the State of Qatar.
flies to over 120 destinations with plans to increase to over 130 by the end of March 2021.
is the first global airline in the world to achieve the 5-Star COVID-19 Airline Safety Rating by international air transport rating organisation, Skytrax. More: qatarairways.com/safety
offers unlimited date changes and fee-free refunds for all tickets issued before 30 April 2021, for travel completed by 31 December 2021. The carrier also provides the permanent feature of exchanging tickets for a travel voucher.
has won multiple awards including 'World's Best Airline' (2019) and 'World's Best Business Class' and 'Best Business Class Seat'; and is the only airline to have been awarded the coveted 'Skytrax Airline of the Year' title, which is recognised as the pinnacle of excellence in the airline industry, five times.