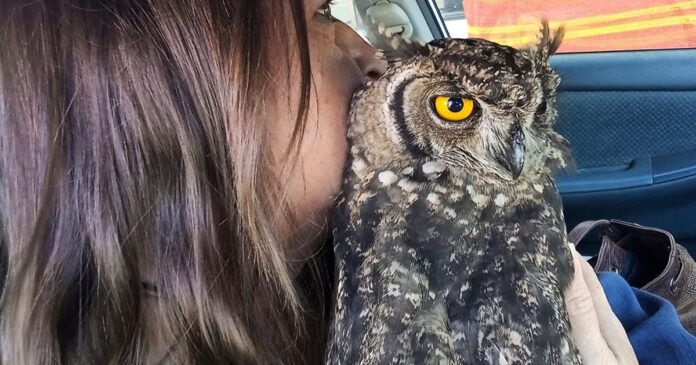 Prince Albert resident Yolande Singery yesterday rescued a Spotted Eagle Owl from the side of the road. While many motorists may not have noticed the owl needed help, animal lover Yolande picked up on its distress. Here's her story:
"Yesterday morning I had the absolute privilege of having an up close and personal account with a Spotted Eagle Owl.
"Just after 6am, on my way to Oudtshoorn, I came across an owl on the road. It didn't fly away as I passed, so I reversed back and it remained on the road. I got out and went to it, spoke to it and still there it sat. I gently stroked it while continuing to talk to it, and I knew it was in trouble.
"It allowed me to pick it up without any fuss whatsoever. I wrapped it in a towel and put it on the seat next to me. At this stage it was playing dead.
"As I drove, I gently stroked it and spoke to it, channelling universal healing powers to it. After a while, it decided I wasn't the enemy, shook itself and hopped onto my arm. I drove with it there.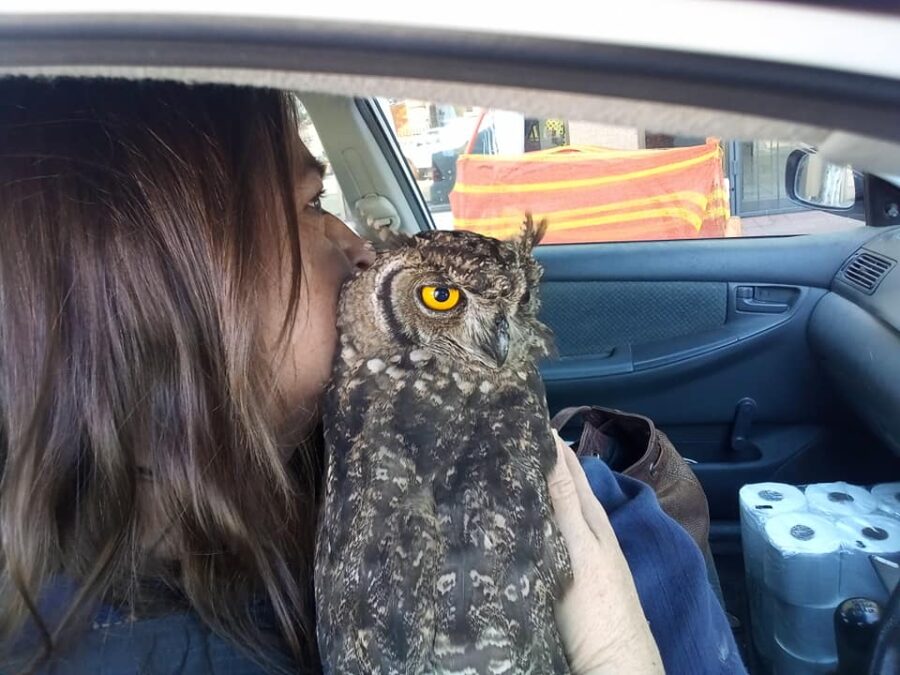 "I noticed that only one eye was open, so when I had pulled off in Oudtshoorn, I checked the other eye which was a little crusty. I opened the eye which broke the crust and then it was fine. The owl then clambered onto my chest, and when I stopped at Glen Carlisle (one of Oudtshoorn's vets – there is no better, more caring and dedicated man), it tucked under my chin. It was awful to part with it!
"Glen believes it was hit by a car as when he lifted the eyelid we could see some trauma there. I'm hoping there's no internal injuries, but I don't think so. There was no visible damage to the wings and the legs were good. Glen will rehabilitate it. I think once it's well I'll go back and collect it so I can release it where I found it.
"Update Friday afternoon: Glen is battling to get the owl to eat as he says it has no feeding reflex, and is concerned that poisoning may have been involved.?. He is trying his best."