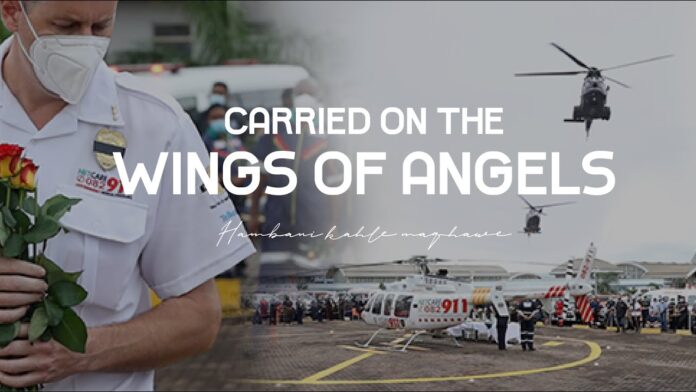 On Wednesday and Thursday, a heroes' farewell was given to the five exceptional human beings who died last week, in a Netcare helicopter crash, on their way to save a life.
On Wednesday the families of the fallen heroes, as well as colleagues, were transported in a convoy to the scene of the tragedy near Winterton in KwaZulu-Natal, for a private and sacred ceremony. Watch the video at the bottom of the page as they gather in song and pay tribute to amazing SA citizens who were on a mercy mission to save a patient in Hillcrest who had Covid-19 complications. As one mourner said: "I wish the whole country was seeing what we are seeing. I wish the whole country could stand for five minutes and salute them."
There has been an outpouring of grief from the nation, and on Thursday residents in Durban left their homes to wave in respect as the convoy made its way to the Netcare Umhlanga Hospital.
KZN film-maker Anthony George Kirkwood captured this heartbreaking video footage yesterday afternoon, as healthcare workers laid roses and paid their final respects to those they lost. "It was a very sad day," Anthony told SAPeople. "Saluting the last call."
WATCH VIDEO: HEMS Netcare 911 – paying tribute to fallen heroes from helicopter crash
In a media statement titled 'Hambani Kahle MaQhawe' (Goodbye Heroes), Netcare 911 said that in a field, on a farm near Winterton, five white crosses and five indigenous trees now mark the place where Dr Kgopotso Rudolf Mononyane, Dr Curnick Siyabonga (Siya) Mahlangu, Mpho Xaba, all from Netcare Milpark Hospital, Sinjin Joshua Farrance of Netcare 911 and Mark Stoxreiter from National Airways Corporation (NAC) died in the line of duty. The trees provide a living memorial "to represent the five diverse and loved individuals".
Netcare Group CEO, Dr Richard Friedland: "Our hearts are broken, we mourn the loss of these fallen heroes, these frontline workers who have given so selflessly, so courageously of themselves. Our hearts are shattered for their families, children, loved ones, friends and colleagues whom they have left behind.
"Our thoughts too are with our beloved colleagues at Netcare 911, Netcare Milpark Hospital and NAC. The national outpouring of grief is testimony to the enormous contribution that Mpho, Rudolf, Siyabonga, Sinjin and Mark have made, each in their own unique way," added Dr Friedland.
"We will continue to carry you all in our hearts, and we stand here before you steadfast in our commitment to walk in their footsteps, to honour their legacies for you and your children. May they be carried on the wings of angels to their rightful place in heaven. May their beloved souls rest in peace. Hambani Kahle MaQhawe," concluded Dr Friedland.
This video is Netcare 911's tribute to the heroic and remarkable lives of these healthcare heroes.
WATCH VIDEO: Netcare Helicopter Memorial
Independent investigation into Netcare helicopter crash
Netcare and NAC confirmed that technical teams from Bell, the helicopter manufacturer and Rolls-Royce, the manufacturer of the helicopter's engines, were arriving in South Africa this week to assist with the investigation of the accident.