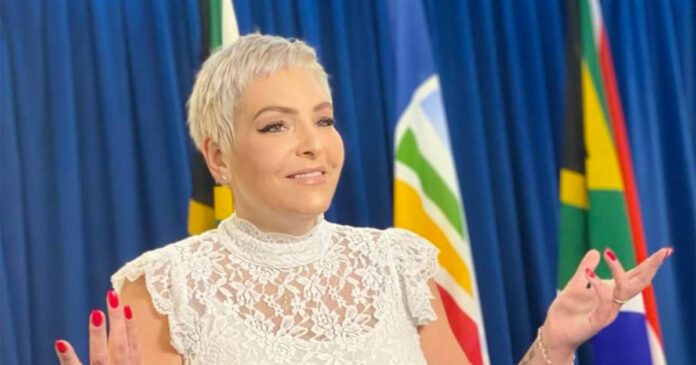 Natasha Mazzone, Democratic Alliance (DA) Chief Whip, has been recognised for her leadership skills in South Africa and given the honour of The Star of Italy, the country's equivalent of Knighthood.
Ivan Meyer, DA Federal Chairperson, tweeted a message of congratulations to Mazzone, the daughter of an Italian, on Thursday afternoon.
He said she received the Order of the Star of Italy (OSI) for her "outstanding leadership in Parliament and fighting for a just society in SA".
Meyer said: "A huge honour bestowed upon one of the true fighters for justice ⚖in SA. Wow." (Watch an impassioned Mazzone in Parliament in the video below.)
The OSI is an Order of Knighthood and awarded for "preservation and promotion of national prestige abroad, promoting friendly relations and co-operation with other countries and ties with Italy".
The Order is awarded to Italian expatriates and foreign nationals.
Mazzone's father hailed from Italy. According to a tweet in 2018, Mazzone said: "My father arrived from Naples in Italy, he was dark and could not speak English or Afrikaans, but he was a great chef. He built himself up from nothing to make a good life for his family. I honour and thank my father."
Mazzone (41) has been a Member of the National Assembly in SA, representing the DA since 2009. Her devotion to politics stretches back though. She joined the DP in 1997 and in 1998 became the National Federal Youth Leader of the DP.
According to her bio on the DA's website, she went on to be Youth Leader of the DA when the party was formed in 2000. Her other achievements include being elected as a city councillor in the Tshwane Metro at just 21. She was previously Chief Whip of the DA in Tshwane back in 2003. Mazzone has held several positions, and was elected to Parliament in 2009. She is now Chief Whip of the Parliamentary Caucus and the Second Deputy Chairperson of the DA's Federal Council.
WATCH Natasha Mazzone in action, in Parliament (2017)