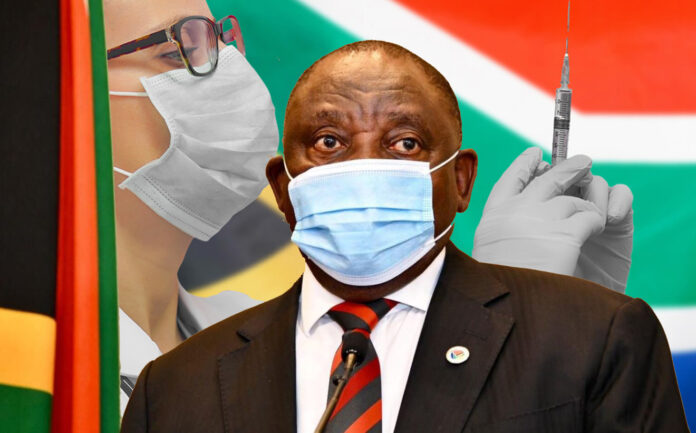 South Africa has only administered 182 983 doses of Covid-19 vaccine, meaning we are hopelessly missing even our unambitious target of vaccinating 1 million healthcare workers by the end of March. By now we should have vaccinated 710 000, meaning we're missing our unambitious target by 75%… writes John Steenhuisen MP – DA Federal Leader.
Incomprehensibly, not one single dose of Covid-19 vaccine was administered over the long weekend on Saturday, Sunday, or Monday.
The South African government will tell you this is because they have no vaccines. Yet they sold one million doses of the AstraZeneca vaccine over the weekend, that had been sitting in storage in Gauteng.
President Ramaphosa must explain this unethically irrational decision.
These vaccines could and should have been administered to high-risk individuals (older people and those with co-morbidities) to protect them from severe disease and death, and to protect hospitals from becoming overrun and our economy from being locked down, when the third wave inevitably arrives.
On 10 February, Health Minister Zweli Mkhize tweeted: "What will happen to the current doses already in South Africa will depend on the advice from leading scientists."
Leading scientists advises doses be given to high-risk individuals
Well, leading scientists in South Africa and in the World Health Organisation and in the European Medicines Agency all advised that these doses should be administered to high-risk individuals.
We should not entertain government's explanation that the AstraZeneca vaccine is not suitable for the B. 1351 variant circulating in the South African population.
Professor Shabir Mahdi, who headed the trials of the AstraZeneca vaccine in South Africa, said on 4 February: "there remains a strong biologically plausible reason to expect the AstraZeneca vaccine will protect against severe disease due to the B. 1351 variant, likely to a similar magnitude as the J&J vaccine."
He went on to say:
"these first-generation Covid-19 vaccines even in settings such as SA still provide the only sustainable option of preventing flooding of our hospitals with severe Covid-19 cases and mitigate Covid-19 deaths once the next resurgence is upon us. Hence, the decision by SA not to deploy the vaccine goes against the spirit of what was previously espoused by the department of health — that it would take its lead from WHO recommendations. Furthermore, this decision inadvertently leads itself to choosing between leaving high-risk individuals largely unprotected against being hospitalised and dying of Covid-19, as opposed to rolling out the available AstraZeneca vaccine. It is largely premised on this, that the World Health Organization in mid-February 2021 recommended that the AstraZeneca vaccine still be rolled out even in countries where the B. 1.351 variant or other similar variants of concern are circulating."
We should also not entertain their excuse that the AstraZeneca vaccine was set to expire on 30 April. If they had had a rollout plan, there would have been plenty of time to administer these vaccines, especially as the vaccines are still effective up to two months after the expiry date.
Nor should we accept the excuse that the AstraZeneca vaccine requires a second dose. Another two million doses of AstraZeneca are available to South Africa.
Nor should we accept the excuse that the AstraZeneca vaccine posed a risk of blood-clotting. That theory was conclusively disproved before our government sold our one million vaccines.
And recent evidence supports this still further. The recently concluded US trial of the Oxford-AstraZeneca Covid vaccine confirm that the shot is both safe and highly effective. More than 32,000 volunteers took part, mostly in America, but also in Chile and Peru. The vaccine was shown to be 79% effective at stopping symptomatic Covid disease and 100% effective at preventing people from falling seriously ill. And there were no safety issues regarding blood clots.
Most likely, the true explanation is that we don't have a rollout plan that is detailed enough to implement. We haven't prepared enough vaccination sites to be able to roll out at scale. And there is no sense of urgency to develop one.
It is a terrible irony that on Human Rights Day, government trampled heavily on those rights by denying lifesaving vaccines to vulnerable people and selling them instead.
It is as if the South African government has been specifically tasked to sabotage our Covid response rather than manage it.
Our government never misses an opportunity to miss an opportunity to help South Africans build their lives.
The Ramaphosa administration has a case to answer for why it left a million life-saving doses of vaccine leave our shores when they could have saved the lives of South Africans.