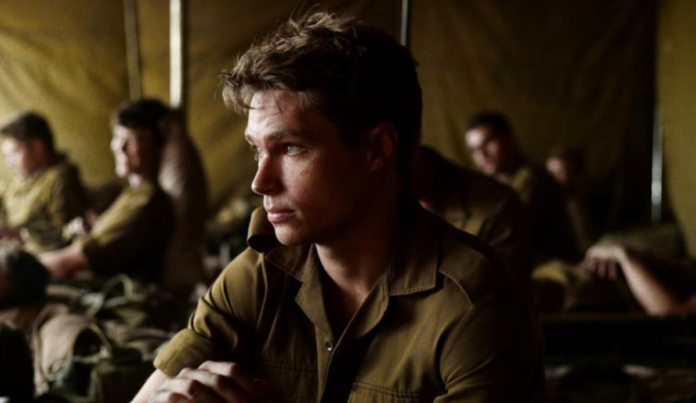 On the same weekend that "Moffie" was nominated for an outstanding debut at the British Academy Film Awards, it was released at select theatres in America and on streaming platforms like Apple, with a powerful new trailer.
Watch the new Moffie trailer below:
Viewers in SA and outside of the US and Canada can watch Moffie on Showmax here.
The film by Oliver Hermanus, about a young South African doing his military service on the Angolan border in 1981, and the brutality and humiliation he has to face, was picked up by the group IFC in America, which is known for acquiring the best in arthouse movies, and has been ratcheting up great reviews and prizes around the world.
The film was nominated for a Bafta award in the category Outstanding Debut by a British Writer, Director or Producer. It was co-written and produced by Briton Jack Sidey. The ceremony is tonight, and the other nominated films are "His House", "Limbo", "Rocks" and "Saint Maud".
Deadline magazine hailed Hermanus as a talent to watch. "Hermanus has delivered a war film distinctively different from others, partly due to the particular conflict he's chosen to dramatize, but much more from the perspectives through which he asks the viewer to consider things, historically and personally. Based on what he's done here, it wouldn't be surprising to see him make the jump to bigger international projects sooner rather than later."
The movie won the Mermaid Award at Thessaloniki and the Film Critics Special Jury Prize at Dublin. The film has a 97% critics rating from Rotten Tomatoes, with Variety saying "Oliver Hermanus makes his masterpiece with this brutal but radiant story of young gay desire on the Angolan war front… establishing him quite plainly as South Africa's most vital contemporary filmmaker… Both a shiver-delicate exploration of unspoken desire and a scarringly brilliant anatomy of white South African masculinity. It fair takes your breath away."
That's already happening, with Hermanus having signed on to direct "Living," an adaptation of Akira Kurosawa's classic "Ikiru," written by Nobel Prize and Booker Prize winner Kazuo Ishiguro ("Remains of the Day") and starring Golden Globe winner Bill Nighy ("Love Actually") and Aimee Lou Wood ("Sex Education").
Showmax subscribers in SA and abroad (except for some countries like the US and Canada) can watch Moffie on the streaming platform here.