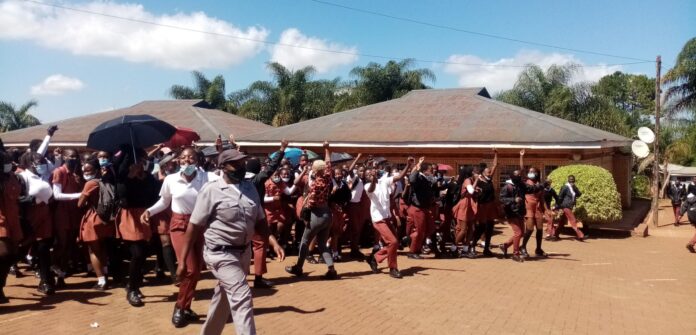 A young South African schoolgirl, Lufuno Mavhunga, who was filmed being bullied at school yesterday, reportedly died by suicide afterwards. UPDATE: Mwilbi Secondary School female student arrested.
The hashtag #JusticeForLufuno is currently South Africa's top trending topic as people around the country weigh in on the bullying incident, which took place at Mbilwi High School in Limpopo.
The school has not yet issued a statement. The father of the victim apparently said that the abuse had been going on for a while, and that the school never did anything despite the matter being reported.
During the harrowing scene shown in two videos, Lufuno can be seen trying to shield herself. Not once does she fight back.
The perpetrator has written the following on Facebook: "I'm Sorry😭!"
Many social media users – including high profile celebrities – appear to have themselves now engaged in bullying, writing scathing comments to the perpetrator and naming her on Twitter along with photographs.
A Twitter user by the name of 'Spirit Filled' reports that the victim was Lufuno Mavhunga, and that she was the daughter of a local ward councillor.  He says that the principal has switched off his phone. The bully apparently tried to die by suicide herself three years ago, over a boyfriend.
Many viewers of the videos were upset that fellow students could be heard laughing and clapping in the background. Today the school's students are calling for Justice for Lufuno.
Spirit Filled says: "We are calling for all the bullies to be arrested and expelled from school immediately #JusticeForLufuno"
A well known social media influencer in the area revealed: "There's a lot of abuse that happens in Venda and it is hardly reported, Venda influencers (included myself) do not tweet about these incidences. A young girl just committed suicide because she was bullied, beaten and mocked when she cried for help on Facebook."
Former DA Leader Mmusi Maimane tweeted: "There must be #JusticeForLufuno. This is a parent's worst nightmare. It's heartbreaking. I hope that the minister of basic education visits the school and the family while she is on her Limpopo oversight. No school in our nation should entertain bullying in any shape or form."
WATCH #JusticeForLufono bullying videos
We also calling for #JusticeForLufuno after she was bullied yesterday @ Mbilwi High School here in Limpopo, and she committed suicide later yesterday after an incident #JusticeForLulu pic.twitter.com/4XqwWuEmUK

— Spirit Filled (@Seer_Terabyte) April 13, 2021
This is part 2 of the video I posted earlier #JusticeForLufuno pic.twitter.com/70Hw0NGnth

— Spirit Filled (@Seer_Terabyte) April 13, 2021
This broke my heart😢, she wasn't even fighting back. I'm filled with rage rn. No one helped her, no one, what kind of world is this. I'm heart broken💔. Such a sweet kid😭#JusticeForLufuno pic.twitter.com/p3cNHXezOR

— Sis' Lu (@Titizma1) April 13, 2021
UPDATE: Mwilbi schoolgirl arrested after bullying incident leads to suicide
If you feel sad: