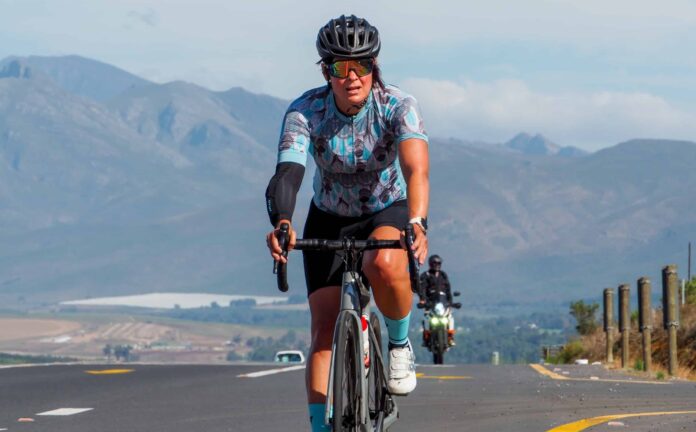 Andrea Mason does what you could call an Ironman on steroids. That means swimming, cycling and climbing distances that are truly epic, one right after the other. Last month, she did her third sea-to-summit event, in the Western Cape, which took her from Cape Point to the top of the Swartberg in just under 48 hours. All of this is to raise awareness for endometriosis and cervical cancer, both of which Mason has had, and in this case to focus on "period poverty" in South Africa.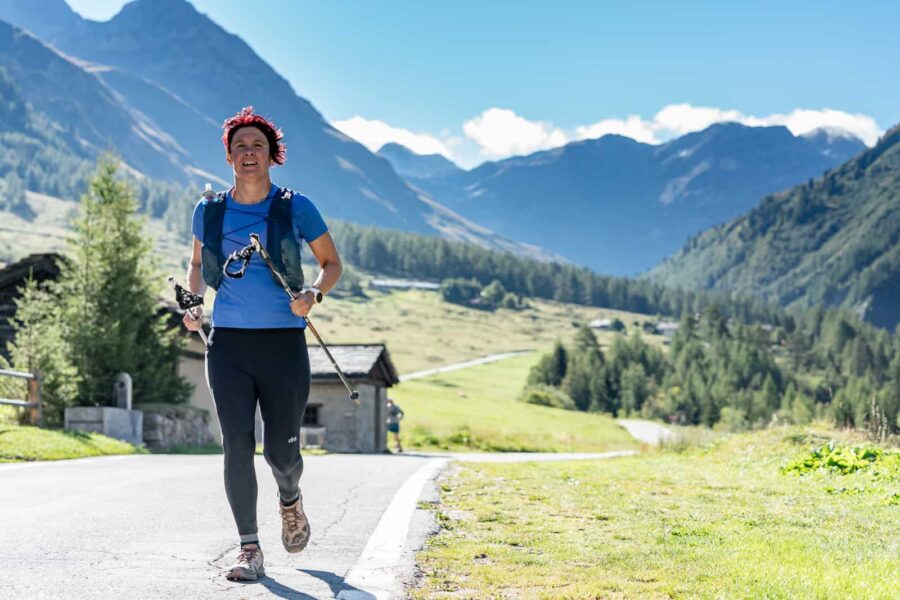 On 27 March, she began her South African challenge by swimming 35km across False Bay – the same distance as the English Channel – from Millers Point to Rooiels. There she picked up her bike to ride 360km to the Swartberg, where, at the base of the Seweweekspoort, she began her final slog, to the peak.
Mason, who has always been an athlete, does the events "to challenge my own personal limits and use it as a platform to promote awareness of endometriosis and cervical cancer." From an early age, she explains on her website, she suffered from gynaecological problems, and had her appendix removed, unnecessarily as it turned out, before it was discovered she had undiagnosed endometriosis. "Despite the many challenges I have faced," she said after one of her sea-to-summit events, "I believed in myself and created my own epic!" Through her Sea to Summit Extreme she raises funds for the nonprofit Lady Talk Matters.
The international charity was founded by Mason in 2020 to address issues surrounding women's reproductive health matters, and she has established a centre in Kayamandi, in Stellenbosch, where affordable reusable sanitary pads are manufactured and distributed free of charge to girls and women in the local community. She hopes to expand the charity's work to other townships. Mason, who is from England, lives in Stellenbosch for five months of the year.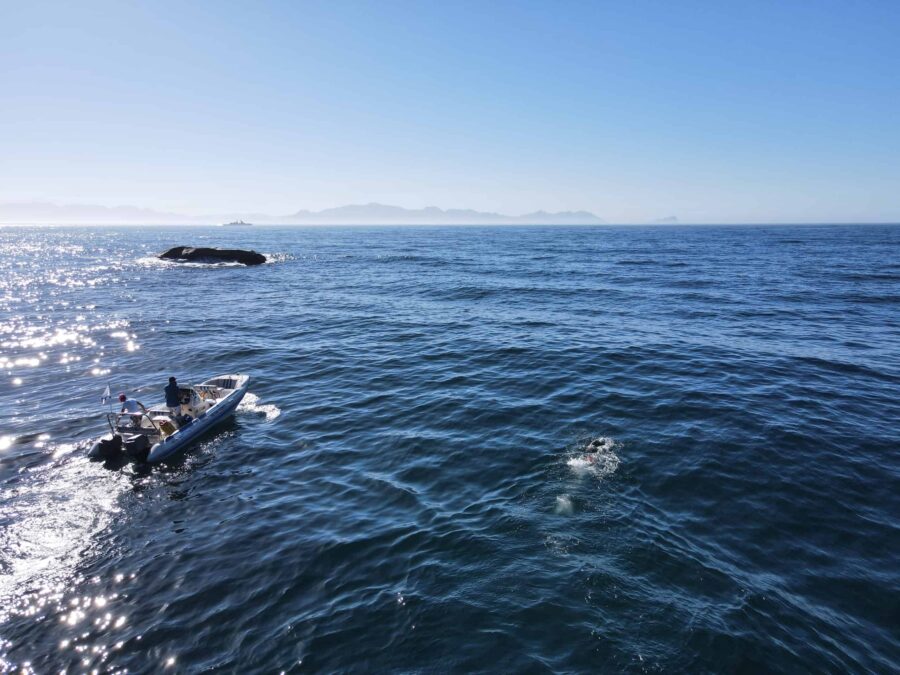 The first extreme challenge
Mason's first event was in September 2019, when she completed "what most believed was an impossible challenge," swimming 34km across the English Channel, cycling 900km across France and then climbing Mt Blanc – all in just 4 days and 20 hours.
One year later, it was the Mt Blanc Triple Crown, swimming 38km around Lac Annecy, cycling the grueling 330km Tour Du Mont Blanc and running 170km on one of the toughest trail runs in the world, the Ultra Trail Du Mont Blanc – all in just 4 days, 23 hours and 40 mins. On the last day , she began at 4am and ran 90km in three stages to finish just over 24 hours later. Her thoughts at that moment, she wrote at the time, were:
"Our bodies are far more capable than we think
"Chicken nuggets really do revive me from the dead
"I have the most amazing family and friends ever, FACT!
"Never give up on your goals, your plan might have to change, but never your goal!"
One arm in front of the other
For the first leg of the Cape event, the False Bay swim, Mason started at 9.35am and finished at 7.56pm. Supported by Derrick Frazer's team from Big Bay Events, the 10 hour and 21 minute swim turned out to be tougher than she expected. The water felt heavy and she finished her first hour slower than usual. Then she ran into some jellyfish, which, even though she was wearing a wetsuit, found her exposed flesh – "fortunately it wasn't bluebottles." "My motto is very much 'one arm in front of the other' concentrating on just 30 mins at a time."
"Ocean currents, sun on your back and grinding out stroke-after-stroke for 10 hours and 21 minutes had me in tatters, to tell the truth. I was not looking forward to getting on that bike, trust me."
Well after dark, she clambered up the shore at Rooiels, knowing that she had to get on her bike and make the last stretch of the day to Hermanus. She did the 70km ride in "pitch black" and arrived 20 minutes before midnight curfew. (Yes, lockdown regulations were one of the things taken into account when planning the route and the timing.) At 4.30am, having slept hardly a wink, she started the 360km ride to the Swartberg, riding up the Tradouw Pass in 36 degree heat, arriving there 15 hours and six minutes later.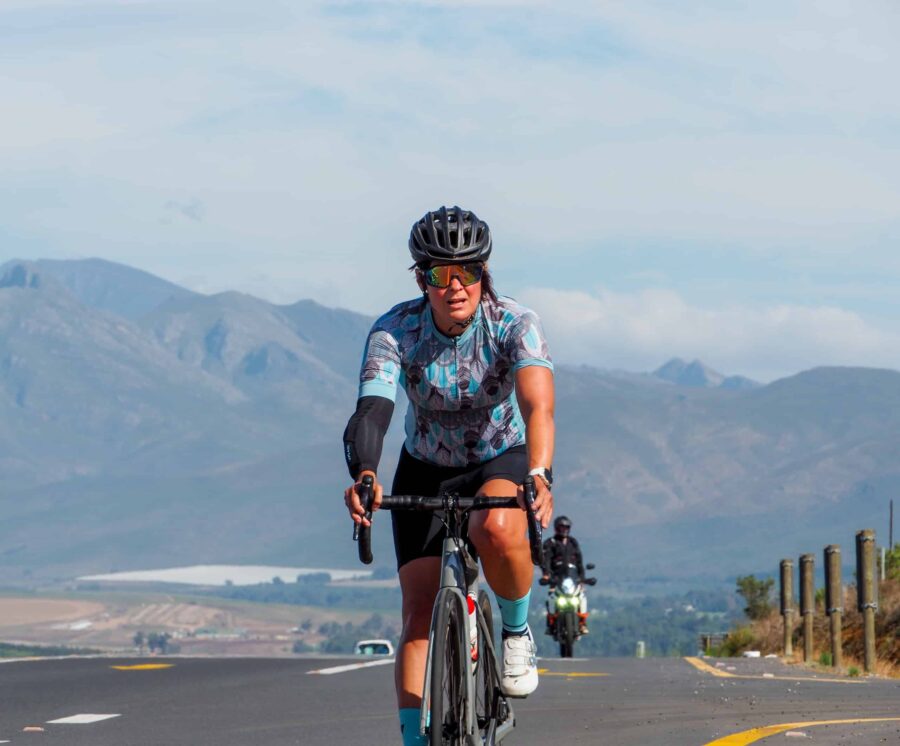 The hike up Seweweekspoort peak, which is 2335 metres high, she started at 4.30am with three members of the Stellenbosch Triathlon Team (she usually has company on each leg of the event, including her husband, Karl) and finished (back at the bottom, after having climbed up and down) at 9.23am.
After she had some rest and cleaned up, she put a message on Facebook recounting some of the challenges she had faced.
Her closing words after the latest gambit were an invitation to see her do her next epic, in only four months' time: "See you in August for the Sea To Summit UK Lakes edition – eek!!" She will head to Wales and Scotland, where she plans to swim three lakes – double the English Channel – and run three peaks and then cycle 800km, all in five days!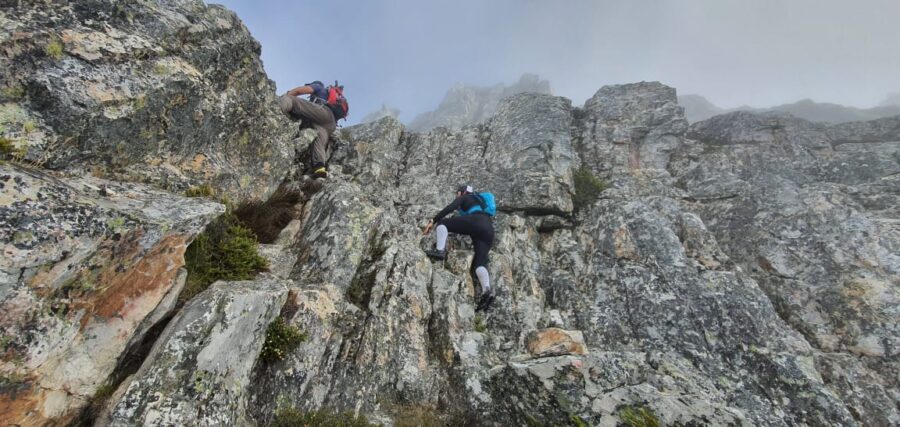 Lady Talk Matters
With the challenge completed, Mason returned to Stellenbosch to supervise the final stages of the new facility in Kayamandi.
She says 50 percent of the population living in Kayamandi is female and an estimated 75 percent of those women are unable to afford basic period products. Some 30 percent of South African girls miss school due to their monthly period. "Besides these disconcerting
figures, female reproductive health and menstrual health are still very much taboo
and unspoken about, continuing a lack of awareness of this situation surrounding
period poverty," Mason says.
Find out more about Mason's charity, at Lady Talk Matters.