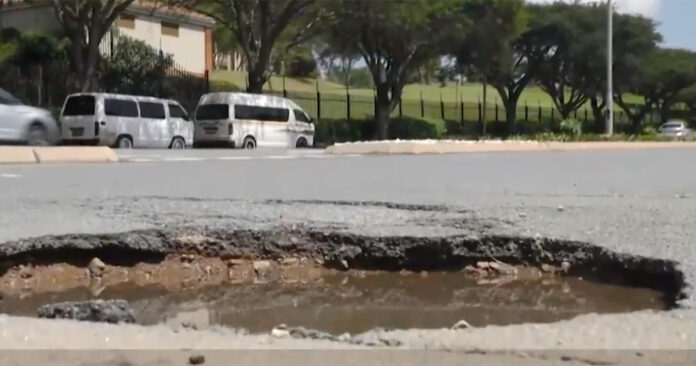 South Africa is literally drowning in potholes. This year's summer of heatwaves and rain poured the perfect cocktail, cracking up the country's tar roads.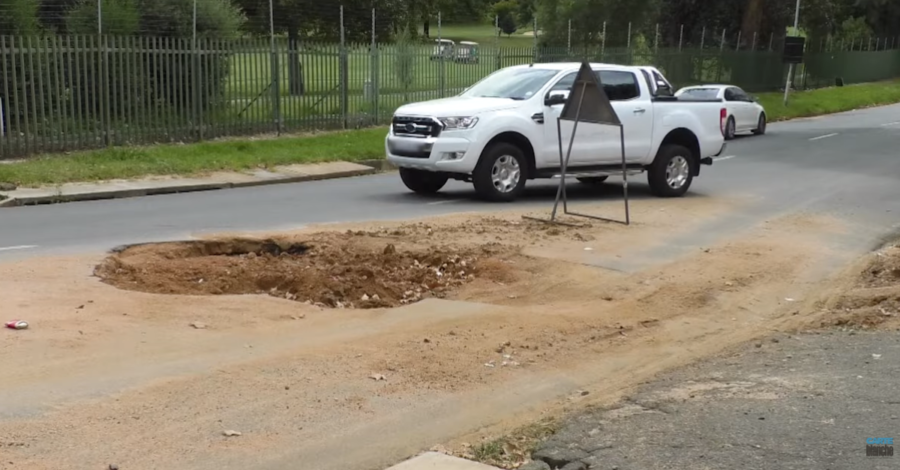 Dodging dongas has become the new normal rendering trips to work, school, or hospital treacherous and often deadly. A social media call-out for viewer testimonies yielded over 400 photos and videos and, even though many South Africans are taking it in their stride with some light-hearted protests and DIY repairs, from far and wide the evidence is stark – potholes signal a dramatic decline of South Africa's infrastructure, says Carte Blanche.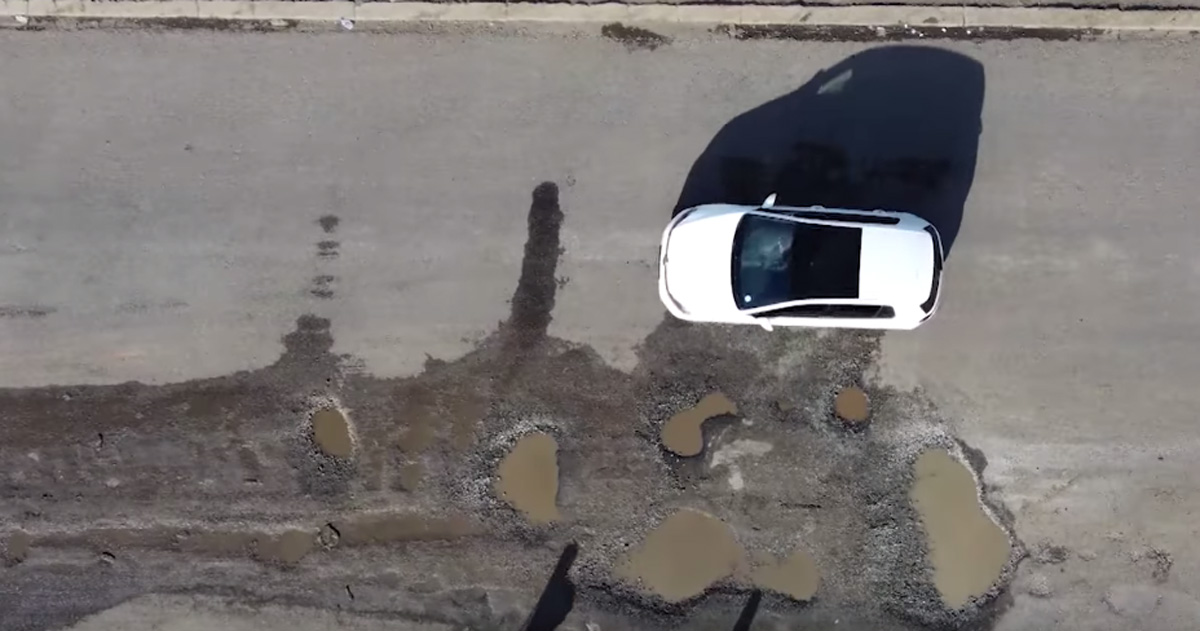 This week the current affairs show investigates how the country's roads have been allowed to deteriorate and the economic consequences of a decaying road network.Presenter Macfarlane Moleli asks: why have South Africa's roads been allowed to deteriorate?
Macfarlane says:
"In a country that has many socio-economic issues, potholes may seem quite irrelevant. However, this is not the case because the road infrastructure affects us all. We all have to use the road and we would all like to be safe. It's heart-breaking to drive through our cities and towns cities and see the state of our roads. Cars swerve from left to right to avoid the carnage – even our cameraman was almost knocked over when a car swerved to avoid a pothole we were filming! It seems our long walk to freedom is riddled with potholes, making it difficult to reach our promised land."  

(Producer: Sophia Phirippides | Research: Lezanne Janse van Rensburg | Presenter: Macfarlane Moleli)
You can watch the show on Sunday 25 April in South Africa on DStv Now or stream it overseas in most countries from Tues 27 April if you're abroad.
A nationwide plague of #potholes shows the accelerating decay of South Africa's infrastructure. @macmoleli investigates what the country's hazardous and damaging road conditions mean. Join #CarteBlanche this Sunday at 7pm on @MNet @DStv channel 101. pic.twitter.com/rbDkFXREqB

— Carte Blanche (@carteblanchetv) April 21, 2021
Watch the show overseas | Watch in SA on DStv Now
Also coming up on Carte Blanche this Sunday, 25 April 2021
A strategic national asset, key earner of revenue for the country and once-proud inventor of arms and ammunition, state-owned arms company Denel is on its knees. Hollowed out by corruption and mismanagement, it can no longer pay salaries and its projects are at a standstill. Then the Special Investigating Unit briefed Parliament on how Denel's intellectual property ended up with a Saudi Arabian arms company. Carte Blanche investigates why the institution's employees have been leaving in droves and what's become of turnaround plans. (Producer: Joy Summers | Presenter: Masa Kekana)
Watch the show overseas | Watch in SA on DStv Now
This Sunday on #CarteBlanche: #Denel is in the red – it can't pay salaries and its projects are at a standstill, and the SIU recently briefed parliament on how its missile Intellectual property was stolen and given to Saudi Arabia. @MasaKekana finds out more 7pm on @MNet 101. pic.twitter.com/1GR7mBeKTl

— Carte Blanche (@carteblanchetv) April 21, 2021
If you're a healthcare worker or over 60 years of age, you could now be registered to get the COVID-19 vaccine. As experts warn of a looming third wave of infections, Carte Blanche sits down with Minister of Health Dr Zweli Mkhize to understand what's become of initial government plans to inoculate 67% of South Africans this year. While some nations have reached 40% coverage, we ask: why are we lagging at less than 1 percent? As the delivery of vaccines finally gathers steam, and millions of doses are heading for our shores, the real work is yet to begin. The government and the private sector will face one of the greatest logistical challenges of our times. Are we ready? (Producer: Graham Coetzer | Presenter: Bongani Bingwa)
Watch the show overseas | Watch in SA on DStv Now
The plan was for 67% of South Africans to get #COVID19 #vaccines this year. While some nations have reached 40% coverage, @bonglez asks: why are we lagging at less than 1%? That's #CarteBlanche this Sunday 7pm on @MNet channel 101. #COVID19SA pic.twitter.com/wMA5KLWl5C

— Carte Blanche (@carteblanchetv) April 22, 2021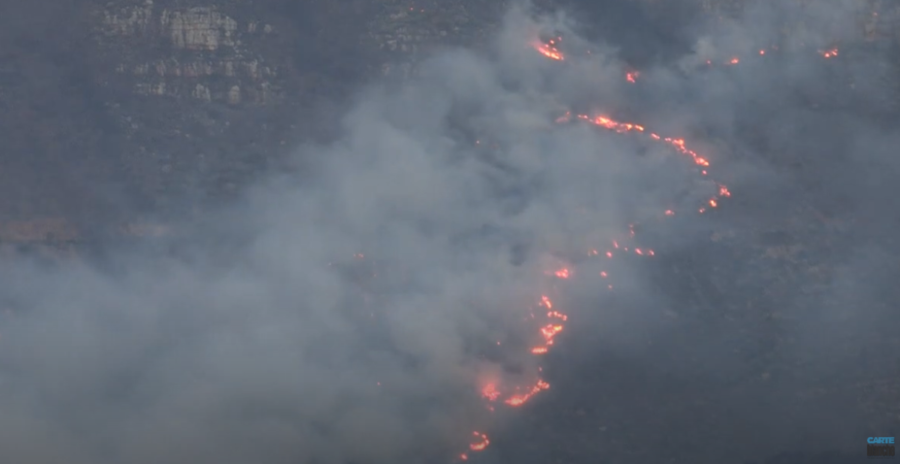 As Cape Town firefighters continue trying to control the fires around Table Mountain, the international academic community has responded with shock and sadness to the monumental damage to property and legacy that the University of Cape Town has suffered. Carte Blanche sifts through the ashes as experts in charge of the unique and priceless archives of personal papers and plant specimens dating back to the 1800s evaluate the impact of the fires. From rescuing irreplaceable struggle history documents to religious texts – we recount some of the week's courageous acts. (Producer: Liz Fish | Researcher: Latashia Naidoo | Presenter: Derek Watts)
Watch the show overseas | Watch in SA on DStv Now
Devastated students and alumni mourn the loss of irreplaceable archives destroyed in the #UCTFire. @DerekWatts counts the cost of many lifetimes' work consumed by the #CapeTownFires this Sunday 7pm on #CarteBlanche @MNet channel 101. #UCT pic.twitter.com/dnppwiQb8A

— Carte Blanche (@carteblanchetv) April 22, 2021
If you're in SA – you can watch Carte Blanche on DStv Now.
If you're overseas – you can watch #CarteBlanche from Tuesdays, and thousands of other popular local South African shows & movies by subscribing to Showmax International now. You can try it FREE for 14 days. 
Carte Blanche is on M-Net & M-Net HD [101], April 25 2021 at 19:00 & again on M-Net Plus 1 [901] at 20:00
***
Please note: Carte Blanche is only available to international Showmax subscribers in Andorra, Australia, Austria, Belgium, Denmark, Finland, France, Germany, Greece, Iceland, Indonesia, Ireland, Italy, Liechtenstein, Luxembourg, Malta, Monaco, Netherlands, New Zealand, Norway, Portugal, San Marino, Spain, Sweden, Switzerland, United Kingdom. Not all titles are available in all territories. Showmax brings you the best South African series and movies, from the classics to the latest releases, from complete box sets to kids' favourites.