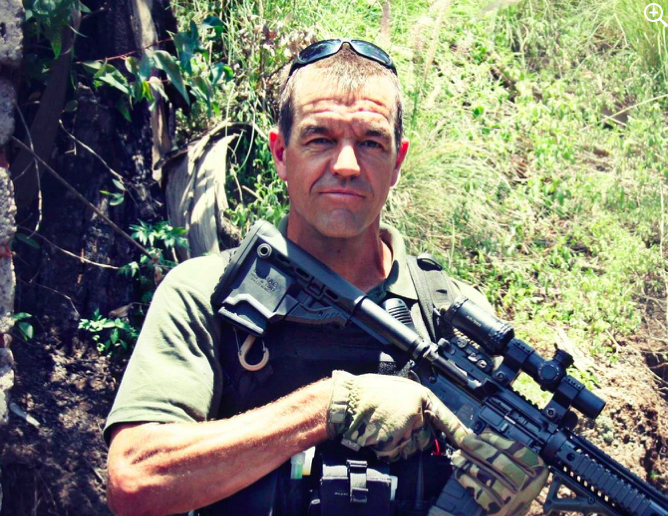 South Africa's legendary Leo Prinsloo, who has been likened to Rambo and Chuck Norris after his cool manoeuvres when his vehicle came under attack, says he is no hero… and hopes only that the video that has gone viral helps highlight the severity of the situation in South Africa, a situation which he describes as "a war zone".
His, he says, was not an isolated incident. This is happening on a weekly, even daily, basis.
Speaking in an interview in which he reveals step-by-step what happened during the attack (watch below), Leo says his life has been "really crazy" since the video went viral and that it should never have come out in the first place… but now that it is in the public domain, he hopes it can highlight to the world, and to people not familiar with what's happening, "the crime pattern and problems we're facing in South Africa".
Leo says everyone's making him out to be a hero but this job is just an occasional thing for him – as he's more focused on training (with his company, The Edge Shooting Academy).
"The real heroes are the brave warriors of cash-in-transit (CIT) companies, armed reaction, policemen… who handle these situations on a daily basis," insists Leo. He says they are fighting one day and needing to return the next. "Those are the real heroes in the bigger scheme of things," says Leo.
Leo says that while he and Lloyd Mthombeni just did what they needed to do, there are many other CIT companies that come under fire almost daily.
Battles are being fought on the streets of South Africa where hundreds of rounds are being fired in a single incident
"Battles are being fought on the streets of South Africa where hundreds of rounds are being fired in a single incident," he says, adding "you can't refer to it as an 'incident', it's war. If there's 250 to 300 rounds being fired, it's downright a war zone. Sometimes there are two good guys versus 20 or 30 bad guys. Sometimes they survive, sometimes they don't."
A week after Leo's incident, a vehicle undertaking a similar task was attacked near Clearwater Mall. One occupant was wounded whilst the other – Corné Gerber – was tragically killed.
"Unfortunately that doesn't reach the media," says Leo. "And that's the sad part from this whole incident – big hype about one incident, and all the others go by the wayside… and people think this is an isolated incident which it absolutely is not."
Leo believes the South African public doesn't realise the gravity of the situation because people have become so desensitised to crime – by CIT attacks, hijackings, business robberies, home invasions, rape and murder. "South Africans have been bombarded so much in the last couple of years that we try to put it under a blanket and not face the reality," says Leo. "But this happens literally on a daily basis. At least six have taken place since mine." People have been injured, wounded and killed, he says. "It's a severe problem out there that needs to be addressed."
Leo says this is a problem that affects everybody. According to the former police sniper, many of the criminals are "current or ex police, military or security personnel". Their attacks are well-planned, they're trained, have contacts and know what they're doing. "The military precision is evident in a lot of these incidents," says Leo.
On the other hand, many of those employed by security companies are being appointed with the bare minimum of qualifications and "thrown to the wolves", sent into dangerous conditions with an attitude as if they're just "collateral damage", says Leo.
To those asking why the attackers were after cell phones (which were in the vehicle that Leo and Lloyd were escorting), it's apparently because crime pays in South Africa. If the attackers can steal 100 phones, worth R10,000 each four times a week, four times a month, they have money to buy guns, drugs and cars.
He says security companies need to invest in more training for their personnel. Leo says continuous training is paramount – for the security industry, farmers, community policing members and normal civilians to protect their families.
His training programmes include not only working on the physical but also getting people's mindset ready to have a "strong internal belief in yourself". He is, understandably, known as one of the best in his field!
He says this has been a "humbling time in my life" and has expressed his gratitude for all the messages of support from across the world. "Stay safe," says Leo.
WATCH VIDEO: Leo Prinsloo Unplugged – Interview with SA's Driver Under Attack Hero
Visit The Edge at www.tesi.co.za or www.fortisgroup.co.za Enquiries to info@tesi.co.za or info@fortisgroup.co.za