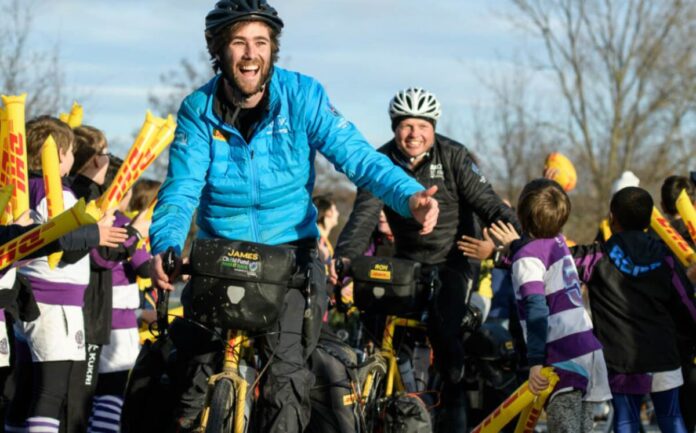 Rugby, travel, cycling and a pair of mad-cap adventurers. What could possibly go wrong?
A whole lot, although in the case of the intrepid James Owens from the UK and Ron Rutland from South Africa, their extraordinary journey to the 2019 Rugby World Cup held the 'key' to an amazing adventure that was remarkable for the kindness and good nature they experienced along the way.
It was no ordinary trip. They set off from London on February 19, 2019 – on bicycles. Their aim was to pedal 20,000 km from London to Tokyo, in time for the tournament opener in September. They had to get there on time because in amongsy their luggage was the official match whistle for the opening game!

Their story, which takes place across the dramatic backdrop of Europe and Asia, is told in the sweeping film Everything in Between, which is now streaming on Showmax (in Africa only).
Ironically, with Owens hailing from England and Rutland from South Africa, there was a bitter-sweet conclusion as South Africa beat England in the world cup final!
"James and I had the extraordinary and life-changing opportunity to spend eight months cycling some 20,000km for the 2019 Rugby World Cup," said Rutland last Sunday. "It was the hardest, but also most rewarding expedition imaginable, and we are delighted to be able to relive the wild ride with audiences across Africa for the very first time from this month."
Rutland said in a recent interview on the Dan Nicholl show that it still gives him goosebumps. "It's still hard to believe that's me, living this life of getting to cycle across the world. I mean, growing up I just dreamt of doing things like that, but always thought it was things that other people did – people who were richer, and stronger, and more athletic and all these crazy things, you put these boundaries in your mind.
"And eventually, seven or eight years ago, I took the plunge to go and live my own adventure. It's crazy. You take that change – you do something that's uncomfortable and it just opens up all these doors!"
Said Owens: "In some ways, the experiences were similar to what I've had before, it was just amplified across the trip. It just confirmed what deep down I already know – people are awesome. When you need it, people take you in, give you water. Outwardly, cultures are represented differently, but deep down people acknowledge humanity."