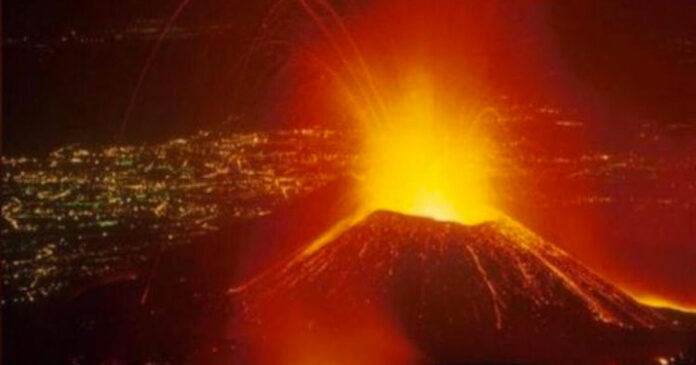 A river of boiling lava has reportedly stopped just in time to spare the city of Goma in the Democratic Republic of Congo. A mass evacuation had been ordered after one of the world's most dangerous and active volcanoes – Mount Nyiragongo – erupted last night. Thousands of frightened residents fled into the dead of night, many physically carrying whatever belongings they could with them, as homes and buildings were destroyed by lava just 10km from Goma. Watch videos below.
At around lunch-time on Sunday, the military governor of the region (in the east of the country) announced the lava has fortunately come to a halt outside Goma. General Constant Ndima, said "the lava halted near Buhene on the outskirts of Goma… the city was spared."
ABC reported that the volcano had sent lava flowing onto a major highway as residents were trying to flee Goma, and that five people died in a car accident in the panic.
At least 3,500 people are reported to have already fled across the border into neighbouring Rwanda, which opened its borders to let the panicked residents seek safety. The Rwandan government said it would house the people in schools and places of worship. Others sought higher grounds to the west of the volcano, which erupted about 10km from Goma, in the world famous Virunga National Park.
The BBC said: "Fountains of high lava burst from Mount Nyiragongo forming a thick red cloud over the town of Goma, which has a population of two million." 
According to Al Jazeera, Mount Nyiragongo last erupted in 2002, killing 250 people and leaving 120,000 homeless. While initial predictions were that the lava this weekend was heading away from Goma, scientists then warned that "new fractures have put two million residents at risk", with the lava believed to be heading to the city as it did in 2002.
Fortunately, as reported by the BBC, the lava flow reached Goma's airport, but has come to a stop.
Al Jazeera said: "It is one of the world's most active volcanoes and is considered among the most dangerous." In 1977 more than 600 people died when the volcano erupted then.
In Rome, Italy, this morning Pope Francis called for prayers for the people of Goma.
DR Congo: Residents flee as Mount Nyiragongo volcano erupts
And finally the border between Rwanda and the DRC is open for the affected population of Goma to seek refuge and safety in Rwanda from a volcano eruption which started this afternoon. pic.twitter.com/r5cXShICUD

— Adams Cassinga (@Amini16) May 22, 2021
Over 3,500 Congolese citizens flee to Rubavu, Rwanda, after the volcanic eruption of Mount Nyiragongo in Goma, DR Congo.

The 3,000m high volcano erupted in 1977, killing over 600 people.

It also erupted in 2002, killing 250 people, displacing over 1,000. pic.twitter.com/ZKCScyyNHv

— Africa Facts Zone (@AfricaFactsZone) May 23, 2021
#Nyiragongo Volcano Erupts in #Goma, DR Congo. After 19years #PrayForGoma ? pic.twitter.com/tAsXx2OH3t

— Kent-P (@KentP257) May 22, 2021