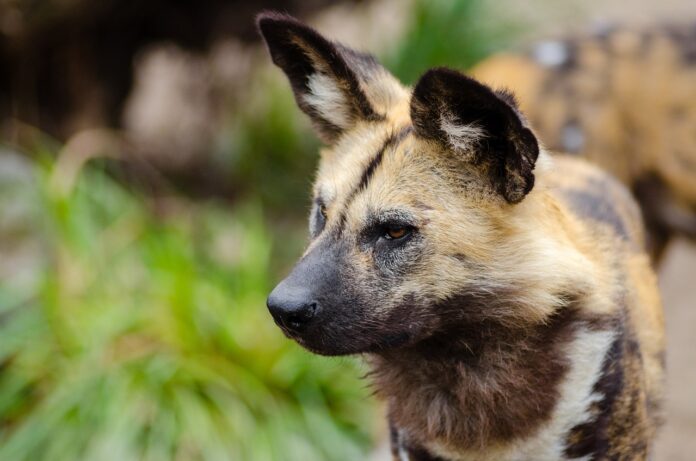 A video of an exciting battle between wild dogs, an unfortunate impala, and an annoyed hippo – filmed in the Greater Kruger National Park – is going viral this week (watch below)… but there's even more to celebrate, as it's been revealed that, thanks to conservation efforts, the number of wild dogs in the Kruger has increased from 120 in 2009 to around 300 to 350 now.
According to Grant Beverley from the Endangered Wildlife Trust (EWT), this good news story is thanks in large part to the crucial use of technology.
The African Wild Dog is one of southern Africa's most endangered carnivores, and the Kruger has the single largest population of wild dogs on the continent.
To protect the species, one adult female in each group has been fitted with a radio collar. Grant says each has a GPS unit, connected to a satellite, so they can remotely track the wild dogs which is particularly important when they venture into a high-risk area.
With the Kruger as the first viable population group, Grant says the "Wild Dog range expansion project and WAG, which is the Wild Dog Advisory group, established a second population of wild dogs outside of Kruger by introducing them into provincial protected areas and smaller reserves across the country". This group too has seen an increase in the number of wild dogs, so much so that now they're ready to relocate some of the wild dogs to parks in other countries, with Mozambique being the first focus group.
Unfortunately Africa's wild dogs are still under threat, mainly from human animal conflict… in which they get caught in snares laid by bush-meat poachers for other animals. But their future is looking brighter.
Watch Wild Dogs chase impala… which stands on hippo!
Watch below as wild dogs in the Sabi Sands Private Game Reserve, in the Greater Kruger National Park, chase an impala into a dam… where it has a close encounter with a hippo. The video was filmed by safari and trail guide Chris Bates at Notten's Bush Camp and, spoiler alert – it has a sad ending.
Chris told Kruger Sightings: "The sighting was a mix of emotions ranging from the excitement of the hunt to sympathy for the impala. This sighting is a good example of how quickly the unexpected can happen in the African bush. We were having a pretty uneventful drive which turned into a spectacle in a flash."
Beverly said the animals were still under threat, mostly due to snares.
WATCH Battle between wild dogs, hippo and impala
WATCH African Wild Dogs on the increase