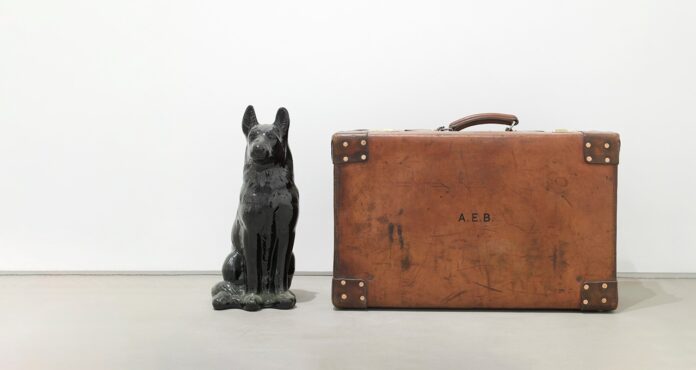 South African artist Kemang Wa Lehulere is wowing in Sweden where his 'Bring Back Lost Love' solo exhibition has been extended until 15 August 2021 at the Göteborgs Konsthall (next to Gothenburg Museum of Art).
Sweden's daily newspaper Aftonbladet reports that the exhibit is "executed with elegance and precision".
The show features Wa Lehulere's new sculptural works, installations and drawings… including a collaboration with his aunt, vintage leather suitcases (some guarded by porcelain dogs), crutches, broken school desks and more. Aftonbladet says it's "an impressive mix of well-known artistic methods, performed with seductive elegance and precision".
Wa Lehulere's work explores the relationship between personal and collective histories and how South Africa's apartheid past continues to haunt the present. The show's title is taken from a tagline on posters that are plastered around SA's inner cities by traditional healers offering to solve money problems, increase virility and so on.
According to the art gallery, 'Bring Back Lost Love' refers to "a desire to rupture the present and acknowledge that something has been lost or is missing – not least the relationship to the ancestral land that black South Africans lost as the notorious Natives Land Act saw the systematic expulsion of black South Africans from fertile to arid lands."
Aftonbladet says: "As an art historian, Wa Lehulere's art oscillates between the progressive and the reactionary – between critical and jazzy rags-to-riches in South Africa's dark history and an insistence on regaining all that colonialism and the apartheid regime destroyed."
Capetonian Wa Lehulere, who was born ten years before the end of apartheid, has seen his work presented around the world from the Tate Modern in London recently to the Venice Biennale (2019), the Art Institute of Chicago (2016), Fondation Louise Vuitton in Paris (2017) and was the 2015 Standard Bank South Africa Young Artist Award winner.
In 2006 he co-founded Gugulective, an artist-led collective in Cape Town; and is a founding member of Joburg's Center for Historical Reenactments.
WATCH Behind the Scenes: Kemang Wa Lehuler, Goteborgs Konsthall