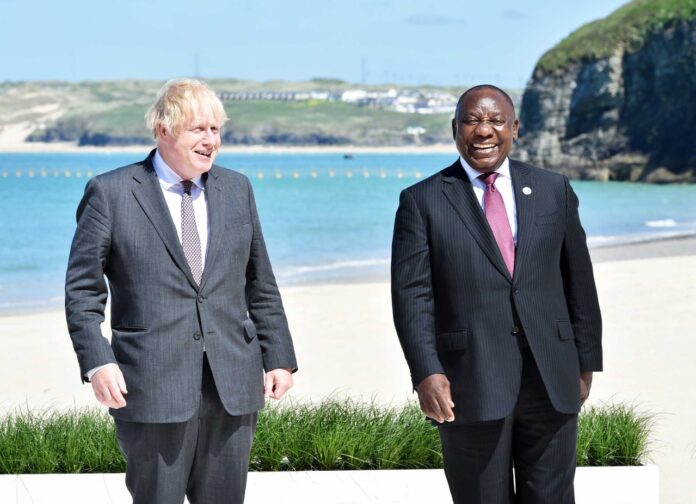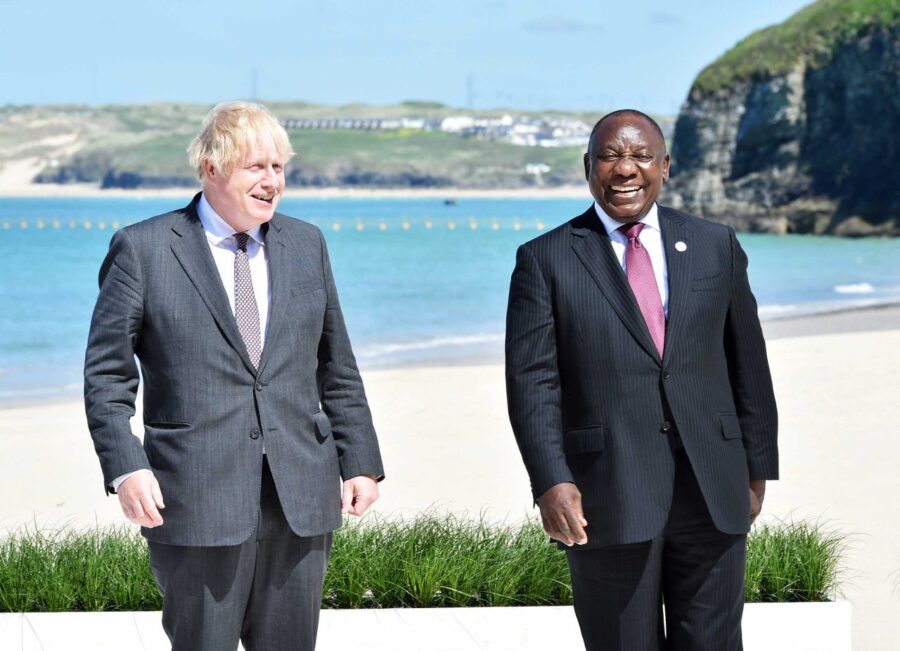 President Cyril Ramaphosa has posted what look like fabulous holiday snaps from a faraway island location… but which are actually photos from British seaside county, Cornwall, where he is bumping shoulders – and elbows – with leaders from some of the wealthier nations in the world, who are gathered this weekend to get down to some serious business of ending the pandemic and saving the planet from climate change!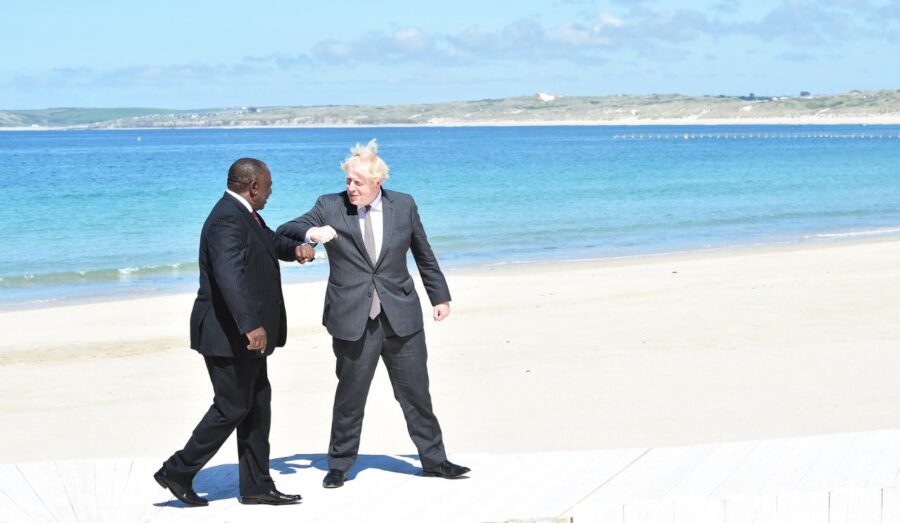 President Ramaphosa arrived at the G7 Summit yesterday, on the invitation of British Prime Minister Boris Johnson, who is hosting the event this year. The G7 countries are: Canada, France, Germany, Italy, Japan, the United Kingdom and the United States.
The South African President, who met with the British PM on the beautiful white sandy beach today, tweeted: "Many thanks to Prime Minister @BorisJohnson for inviting South Africa to the @G7 Summit as world leaders discuss how to end #COVID19 and #BuildBackBetter. To succeed, we need to mobilise massive resources from the IMF (International Monetary Fund) and other institutions to fund a strong recovery in Africa."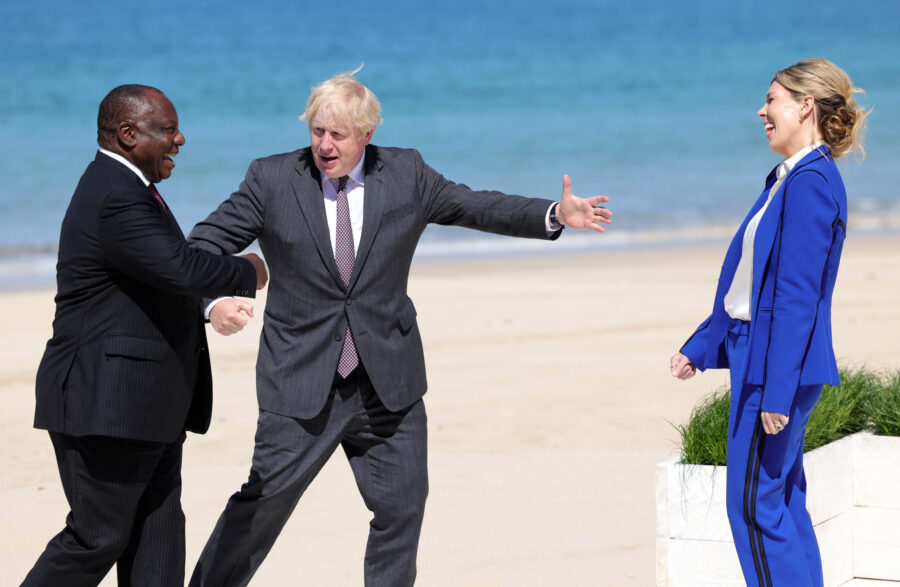 The Summit has also given the SA President yet another chance to meet up with France's President Emmanuel Macron, who is becoming one of his best buddies amongst international leaders. This is the third time the two have met up in the past few weeks. (Ramaphosa attended Macron's Summit on Financing for African Economies less than a month ago in Paris, followed by Macron's visit to SA).
Ramaphosa said: "It was a great pleasure to see French President @EmmanuelMacron again after his recent state visit to South Africa and continue our discussions on France's support for expanding vaccine manufacturing capacity in Africa."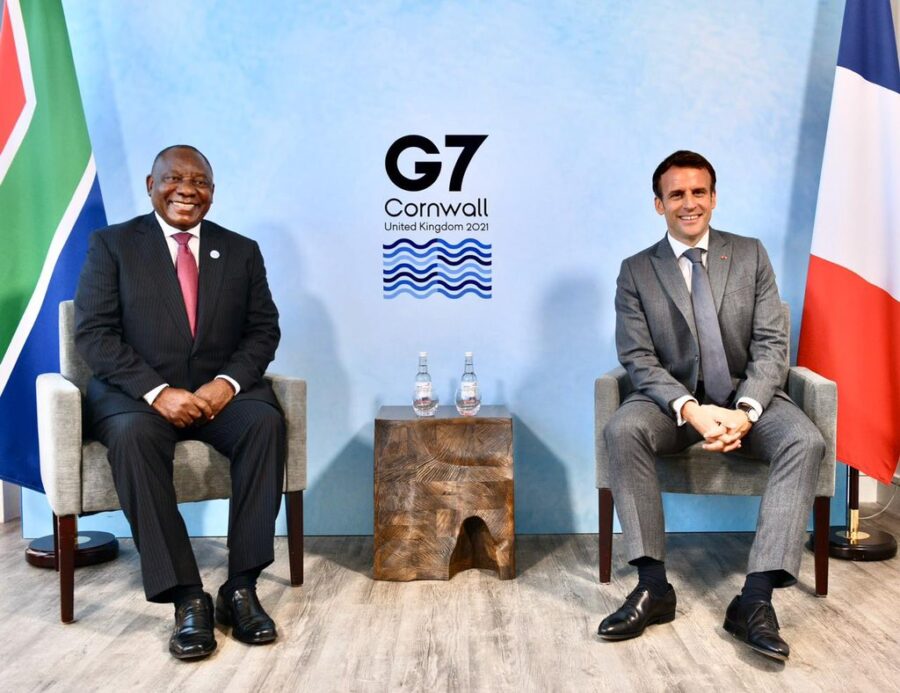 He also had a productive meeting with European Commission President Ursula von der Leyen and European Council President Charles Michel on speeding up COVID vaccinations across the globe and especially in Africa.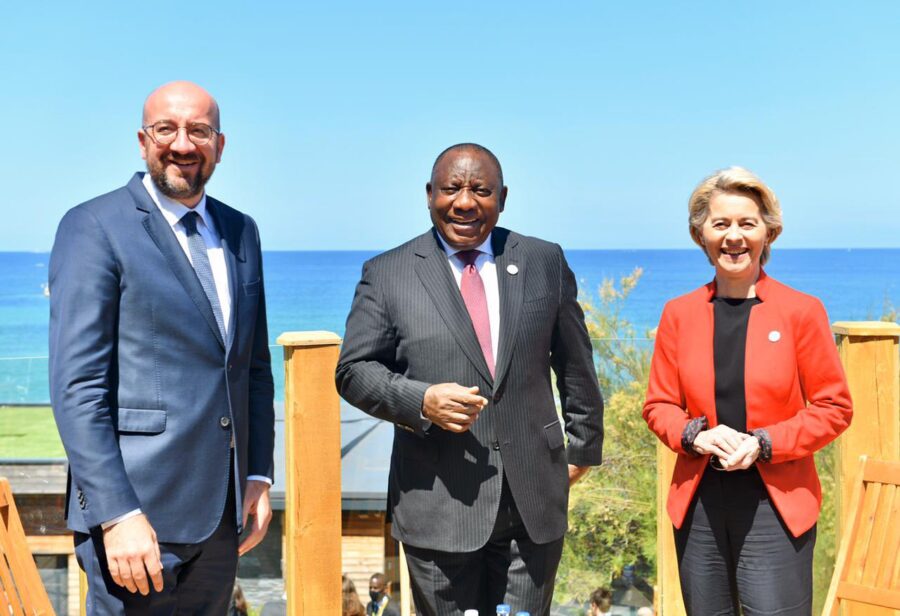 The SA President said: "We are urging leaders here to support a time-bound and limited #TRIPSwaiver to expand the global supply of #COVID19 vaccines and medicines."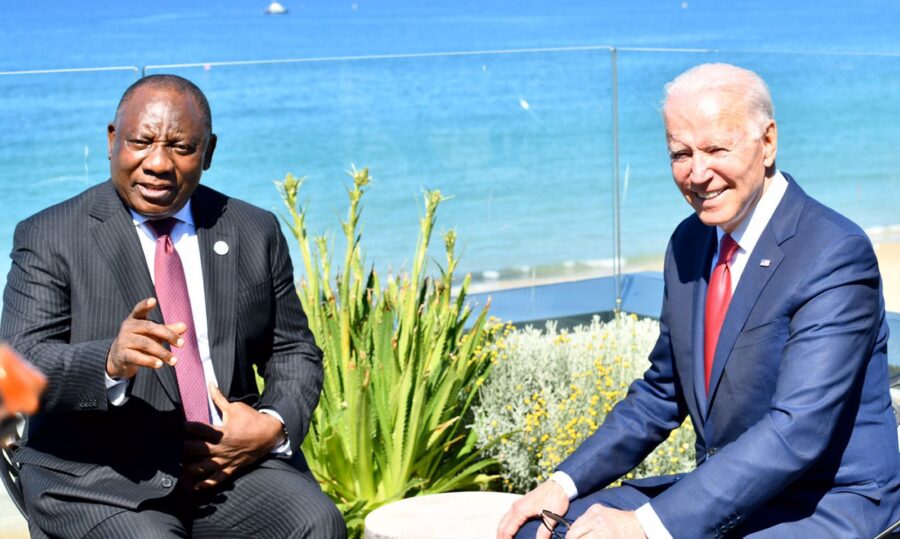 Ramaphosa welcomed the support of US President Joe Biden for a TRIPS (Trade Related Intellectual Property Rights) waiver. The American president also announced on the eve of the G7 Summit that the US will donate half a billion vaccine doses to countries in need (including all those in the African Union, which includes SA).
His Excellency President @CyrilRamaphosa joins the official Welcome Reception in honour of #G7 Guest Countries Heads of State & Government hosted by British Prime Minister @BorisJohnson. The United Kingdom has taken on the #G7 Presidency for 2021. #G7UK #BetterAfricaBetterWorld pic.twitter.com/aeYjFDgJ8R

— Presidency | South Africa ?? (@PresidencyZA) June 12, 2021
Many thanks to Prime Minister @BorisJohnson for inviting South Africa to the @G7 Summit as world leaders discuss how to end #COVID19 and #BuildBackBetter. To succeed, we need to mobilise massive resources from the IMF and other institutions to fund a strong recovery in Africa. pic.twitter.com/R40Fgjey8l

— Cyril Ramaphosa ?? #StaySafe (@CyrilRamaphosa) June 12, 2021
I welcome the support of US President @JoeBiden for a #TRIPSwaiver to respond to the COVID-19 pandemic. We are urging leaders at the #G7 Summit to support a time-bound and limited waiver to expand the global supply of COVID-19 vaccines & medicinces. #G7UK #BetterAfricaBetterWorld pic.twitter.com/mb8VVmvvz5

— Cyril Ramaphosa ?? #StaySafe (@CyrilRamaphosa) June 12, 2021