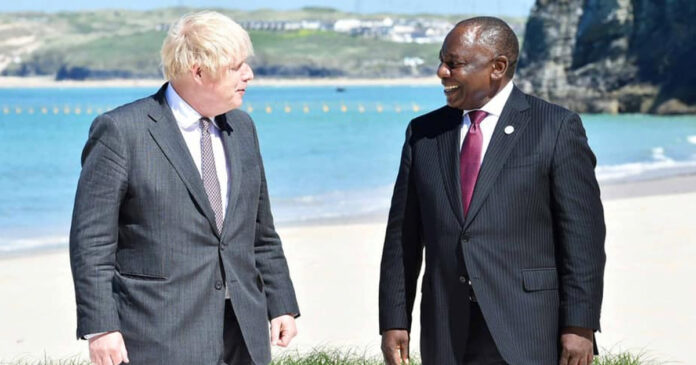 South Africa's President Cyril Ramaphosa has called on the leaders, gathered at the G7 Summit in the UK, to provide substantial support to the
Access to COVID-19 Tools Accelerator, and to support

 a temporary TRIPS (Trade-Related Aspects of Intellectual Property Rights) Waiver of Covid-19 vaccines.

Ramaphosa said: "If the world is to emerge from this grave crisis, it is essential that we work together to mobilise and direct resources to those countries in the greatest need – and that we do so now."
more COVID cases reported in the first five months of 2021 than in the whole of 2020
President Ramaphosa reminded them of the urgency, pointing out that "globally, there were more COVID cases reported in the first five months of 2021 than in the whole of 2020. We therefore have to act with urgency and at an unprecedented scale."
He said it is vital that G7 countries – "which together account for more than half of global output – provide substantial support to the Access to COVID-19 Tools Accelerator." The Tools Accelerator was a G20 initiative announced last year.
Covid-19 Tools Accelerator success
Ramaphosa said that since its formation, the ACT-Accelerator has supported more than 70 countries to expand lab infrastructure for testing and delivered millions of rapid diagnostic tests; accelerated development and production of vaccines; delivered more than 69 million doses since February 2021; and procured PPE with a value of more than US$ 500 million.
"The ACT-Accelerator has the potential to fundamentally change the global trajectory of this disease, but only if all countries contribute their fair share to close the $16.8 billion funding gap for this year," Ramaphosa said.
"If all G7 countries met their fair share target, this initiative would be two-thirds funded – and it would be 90 per cent funded if all G20 countries made their fair share contributions.
"If we are to save lives and end the pandemic, we need to expand and diversify manufacturing and get medical products to treat, combat and prevent the pandemic to as many people as quickly as possible."
Covid-19 Patent Waiver
Ramaphosa said the proposed TRIPS waiver is a temporary, targeted and proportional response, which recognises the unprecedented nature of the pandemic.
"We call on all G7 Members to support the waiver and engage in negotiations that will result in a balanced outcome that massively and rapidly expands production in Africa across the world. The negotiations must be concluded soon because the cost of inaction is measured in people's lives," he said.
The SA President reiterated his message during a bilateral meeting today (Sunday 13 June) with British Prime Minister Boris Johnson, at the Carbis Bay G7 venue in Cornwall.
Britain, which backed Oxford-AstraZeneca's not-for-profit vaccine doses, believes the patent waiver is not necessary. Big pharma (the pharmaceutical industry) has also reticent, saying it would stunt innovation and not increase supplies that much.
Vaccine donations
The G7 leaders have pledged to donate hundreds of millions of doses to poorer countries. President Joe Biden announced the US pledge to donate half a billion doses on Friday. The UK has also pledged 80 million shots to the COVAX programme and another 20 million to countries in need. Other leaders have been called on to donate as well. Advocacy groups say this is still not enough.
The G7 leaders are today, Sunday, deliberating over a proposal to reallocate $100-billion from the International Monetary Fund (IMF) to help countries battling with the pandemic.
Cutting carbon emissions and countering China's influence
The leaders are also discussing a pledge of $100-billion per year to help less wealthy countries cut their carbon emissions in a bid to tackle climate change. According to Reuters there has been "a clear push by the leaders to try to counter China's increasing influence in the world, particularly in developing nations".
The New York Times says: "To counter China's influence, Biden urged European nations and Japan to offer hundreds of billions in loans to developing nations. While the countries agree that China's influence is worrisome, how they'll come together on the next steps is unclear."
South Africa commends the G7 and other countries for the collective action taken to overcome the current global health crisis and the commitment to create a better, greener and more prosperous world. Ending the pandemic must be our most immediate priority.

COVID-19 is not over. pic.twitter.com/vNSZCA47ez

— Cyril Ramaphosa ?? #StaySafe (@CyrilRamaphosa) June 12, 2021