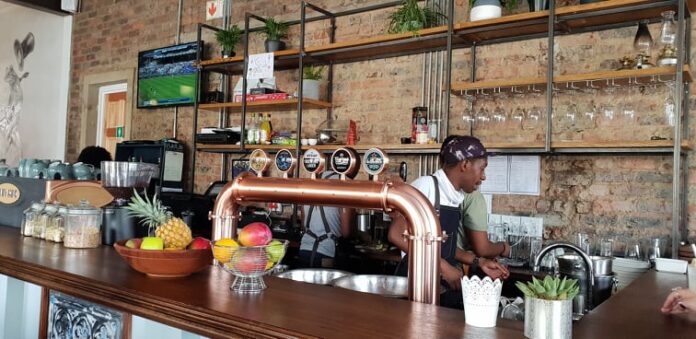 Melville's 7th Street in Johannesburg, South Africa, has been named the 12th coolest street in the world in a Time Out survey which was based on the opinions of 27,000 city-dwellers worldwide.
It's the first time Time Out has featured a Coolest Street guide, and Main Road, Kalk Bay, in the Western Cape was also featured, 10 spots down at number 22. The main criteria considered for streets featured on the list were food, fun, culture and community.
Gauteng publicist, Georg Knoke, said on Monday morning: "Bravo to 7th Street in Melville… Just drove through it on my way to work and am always amazed how Melville somehow survives! It's definitely the energy of Johannesburg's residents that has helped Melville's famous 7th Street take the top African spot in a ranking of the world's 30 Coolest Cities."
According to Time Out, a typical experience on 7th Street looks like this: "cocktail in hand, a whiff of quality food in the air, the hum of casual diners and street drinkers chatting around you. There's always a discernible buzz. And that's probably because pretty much the entire street is filled with restaurants, pubs and clubs – making it the ideal place for a night on the town. (Though, this being fun-loving Joburg, you'll find this place is equally busy at breakfast, lunch and basically every other time of day too.)"
Xai Xai (a popular shebeen serving "exquisite seafood") and Liquid Blue (club and cocktail bar) get a special mention, as do the amateur artists who line the pavement.
WATCH VIDEO Melville's 7th Street among the coolest in the world
Main Road, Kalk Bay, Cape Town
At number 22, Main Road is described as "just magical" with historic sea-facing homes. Dalebrook tidal pool get a special mention as well as the "solid restaurants" lining the road. The magazine's top tip is to "pop down midweek to have more of the place to yourself". Unsurprisingly The Brass Bell cracks a mention… but not just for its seafood, but its own public tidal pool. Kalky's is also noted for its local twist on fish 'n chips. And Olympia Cafe is the place to go for coffee and atmosphere!
According to Time Out the Top 10 Coolest Streets in the World are:
1. Smith Street, Melbourne, Australia
2. Passeig de Sant Joan, Barcelona, Spain
3. South Bank, London, UK
4. San Isidro, Havana, Cuba
5. Sunset Boulevard, Los Angeles, USA
6. Witte de Withstraat, Rotterdam, the Netherlands
7. Rua Três Rios, São Paulo, Brazil
8. Haji Lane, Singapore
9. Rua Rodrigues de Faria, Lisbon, Portugal
10. Calle Thames, Buenos Aires, Argentina
You can see the full list of 30 coolest streets in the world here.