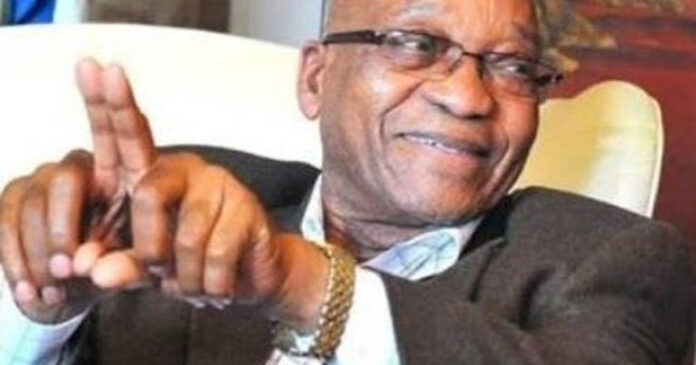 Social media is on fire Wednesday night as the stroke of midnight fast approaches and different sides argue over whether former President Jacob Zuma should or should not be arrested. The midnight deadline was set by the Constitutional Court for the South African Police Service (SAPS) to arrest him if he had not handed himself in by midnight on Sunday (which he clearly did not).
Zuma was sentenced to 15 months' imprisonment last week by the Constitutional Court (ConCourt) for defying an order to appear before the Zondo Commission of Enquiry. His lawyers challenged the sentence, and ConCourt agreed to hear Zuma's application on 12 July. However he was still meant to hand himself in or be arrested. Earlier today his lawyers asked ConCourt to suspend its order for SAPS to arrest him, pending the outcome of his 12 July challenge.
Videos have surfaced showing an endless stream of police vehicles allegedly on their way to Nkandla, but News24 reports that early this evening police were turned away as Zuma's lawyers are "locked" in a meeting.
Police officers making their way to #Nkandla to do what they are instructed to do. It wont be easy though. Remember what happened in Marikana under Cyril Ramaphosa? It will happen again still under Cyril Ramaphosa. #ZumaJudgment pic.twitter.com/Jjo4eRQPsU

— 📀 Advovolicious 🇿🇦 (@advovolicious) July 7, 2021
Supporters have rallied around Zuma's Nkandla home. Some say the police may be waiting for 21h00 when they can begin arresting people for breaking the curfew in SA (which is currently in place due to the Covid-19 pandemic). Others say perhaps Zuma is already on his way across the border in someone's boot.
I know y'all don't wanna hear this but Mr Zuma's supporters and people from Busiri's church, same WhatsApp group. #ZumaArrest pic.twitter.com/qzuq4djANA

— 💕Sandra 💕 (@SandraFashioni) July 7, 2021
When asked when is he going to arrest Zuma?

Bekhi Cele: Our day after and our day before the after midnight of our after before day🏃‍♂️#ZumaArrest #ZumaJudgement pic.twitter.com/kKuhgGNXH6

— Manics (@Emmanuel_Moraba) July 7, 2021
Mostly though people are resorting to South African humour, sharing jokes and memes, to pass the time until the stroke of midnight…
😂😂😂 I Swear This Countdown Till #ZumaArrest Feels Like New Years Eve All Over Again 😂🤷🏽‍♂️#ZumaJudgment pic.twitter.com/BOhnDFv87a

— Invisible Man 👻 (@lesediii_) July 7, 2021
Heee i have just realised that they are waiting for 9pm curfew to arrest. If you are caught outside after 9pm whether you are MKMVA or not you will be arrested for breaking lockdown rules. Think people think… #ZumaArrest pic.twitter.com/dKqkSe6lKU

— Ma- Eh (@loveric3000) July 7, 2021
Please let me know when it's action time my people #ZumaArrest pic.twitter.com/KCNvKeFp66

— Khomotso Sephoka (@KhomotsoSephoka) July 7, 2021
send scenes there by nkandla, we want to know what is happening#ZumaArrest pic.twitter.com/zTG16ntBtb

— lente (@osphurie) July 7, 2021
#ZumaArrest Tonight I'm ready to sleep later than normal time … can we have this arrest live please ,it's a movie pic.twitter.com/ug9DPqbE9O

— KHANI🗯️ (@khani_hlahla) July 7, 2021
We are lucky to live in the same era as this legend 👑👑#ZumaJudgment |#Nkandla |#ZumaArrest |Bheki Cele pic.twitter.com/vVrAtLg4yn

— 📀Tumi Phefo 📀 (@euphoniki) July 7, 2021
#ZumaArrest
South African filmmakers better be watching…because we want a movie named "State Capture". pic.twitter.com/CXAvJ1rclX

— 📀Twinkle_Lethula (@Twinkle_Lethula) July 7, 2021
Dali Mpofu after representing Zuma, Ace and Carl Niehaus 🤣 #ZumaJudgment #ZumaArrest pic.twitter.com/YqWiaNVvAB

— ANELE ™ (@Anele__ZA) July 7, 2021
Meanwhile at Nkandla:
More Drama:#ZumaJudgment is a mess.

"We are now in a position were Jacob Zuma has to hand himself over to the police before midnight, and we know if that doesn't happen, the police will have to act.

What is the final position now of the family?"

Edward Zuma answers: pic.twitter.com/njIzgR470c

— YaseB 🇸🇿 (@ThisIsColbert) July 7, 2021
WATCH: Edward Zuma inspects a convoy of three cars driving into the home of former President Jacob Zuma in Nkandla. After briefly blocking it, Edward was told to allow it in. #ZumaJudgment #ZumaArrest pic.twitter.com/SGbBofFu5N

— Sihle Mavuso (@NewsBotZA) July 7, 2021
PICS: Supporters of former President Jacob Zuma, led by his son, Edward, have now convened in front of the main gate, blocking it to an extent that only one car can pass through. They are singing struggle songs while dancing. @IOL #ZumaJudgement #ZumaArrest pic.twitter.com/0Wv9a5Cf6W

— Sihle Mavuso (@NewsBotZA) July 7, 2021
22h33, Wednesday:
[WATCH] surprisingly, an ambulance has just arrived at the homestead of the ex-president. However members of the disbanded #MKMVA and Zuma supporters are refusing that it enters inside. #ZumaArrest @News24 "Zuma is not sick and is going nowhere" they say. (@pule_jones) pic.twitter.com/phlV1VL7wk

— Team News24 (@TeamNews24) July 7, 2021
Update: 23h06: The ambulance has now been granted entry.
[BREAKING] a motorcade has now left the #Nkandla homestead of the ex-president. @News24 @TeamNews24 it's not clear where they headed. Story is developing. pic.twitter.com/5wpVmdzsQo

— Pule Letshwiti-Jones (@pule_jones) July 7, 2021
Apparently the motorcade includes vehicles from SAPS' Presidential Protection Unit.