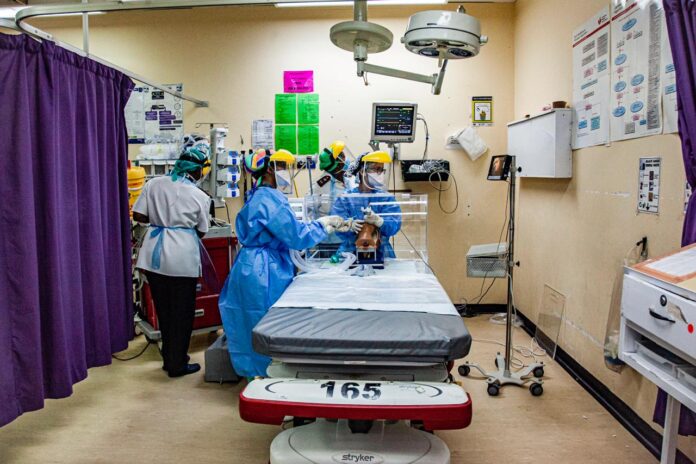 Patients suffering from Covid-19 are allegedly dying from poor treatment while badly-needed ICU beds remain closed at the Charlotte Maxeke Johannesburg Hospital since the fire on 16 April, according to the DA.
The only sections of the hospital that have reopened are the cancer radiology department, a ward for newborn babies and part of the neonatal ICU, and some maternity wards.
"It is scandalous that this hospital has not treated a single Covid-19 patient during this devastating third wave of infections," says Jack Bloom – DA Gauteng Shadow MEC for Health.
In the previous waves the hospital treated 150 Covid patients in ordinary wards and had a 21-bed ICU run by specialist "intensivists" who saved many lives.
Also unused is a 38-bed high care ward with oxygen equipment and ventilators donated by the Roy McAlpine Foundation.
The delay in reopening was worsened by the Gauteng Infrastructure Department which took more than a month to appoint contractors to fix the buildings, says Bloom.
"It is unclear why emergency exemption has not been sought from technical safety issues raised by the Johannesburg city council despite Premier David Makhura saying he is prepared to go to jail to reopen the hospital.
R30-million Copper piping reportedly stolen
"Meanwhile, it has been reported that copper piping worth R30 million has been stolen from the hospital, as well as other items including televisions in the paediatric oncology wards that were used to entertain sick children.
"It is a sad story of incompetence at many levels that is frustrating doctors and nurses who wish to save the lives of sick people," says Bloom.
"We have immensely talented people in various private organisations who should be used to get the hospital running to save lives in this terrible epidemic."