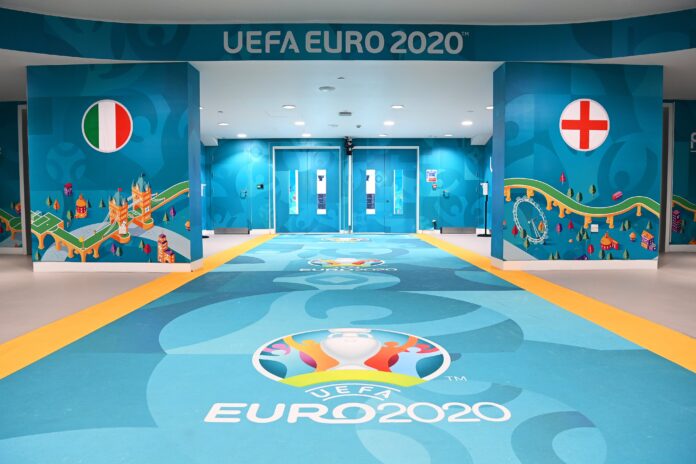 The Euro 2020 Final is taking place this evening, Sunday 11 July. Here's everything you need to know:
Kick-off is at 20h00 local time at Wembley Stadium (which means 21h00 – or 9pm – in South Africa), Sunday 11 July 2021
England and Italy will face off in the finals.
Italy secured its spot by beating Spain on penalties, while England required extra time to beat Denmark in the last four and continue their march to the Final
The UEFA Euro 2020 tournament has been on for about a month.
There have been 50 matches, hosted by 11 European cities, with semifinals taking place in London (also at Wembley), as well as tonight's Final
England's captain is Harry Kane (27). If England wins tonight he will be only the second man in Three Lions' history to lift a trophy for England. The other is Bobby Moore who led his team to win the World Cup 55 years ago (also at Wembley)
If Italy wins tonight, it will be their second Euro in 53 years
Italy's captain is Giorgio Chiellini. He's pretty chill and says he's not concerned that the home crowd may boo during the Italian anthem (as they did to the Danish team). He says: "There is always a home team. That has happened in the past and it won't be the last time. There is no controversy. It is a dream for football lovers everywhere to be involved in the final and it will be even better if we can win it."
There will be about 60,000 fans at the Wembley Stadium
England has never won the Euros before
Italy is coming into the game on the back of a 33-game unbeaten run
Italy suffered the biggest defeat in a Euro Final when Spain beat them 4-0 in 2012
Prince William has sent a video message to the England team saying: ""Wishing Gareth and all the players good luck tonight! The nation is behind you."
The following nations won the Euro Final when they were host – Spain in 1964, Italy in 1968 and France in 1984
These nations lost the Final when they were host – Portugal (2004) and France (2016)
France, as World Champion, was predicted to be the winner of the Euro 2020 but was kicked out by Switzerland in a shootout
The EURO 2020 decider will be the 16th EURO final
Cristiano Ronaldo holds the record for appearing in finals 12 years apart (2004 and 2016).
No player has scored more than twice in a EURO final.
England's head coach is Gareth Southgate, Italy's Roberto Mancini
Tonight's referee is 48-year-old Björn Kuipers from the Netherlands, who has been an international referee since 2006
If England wins, sports fans are hoping that PM Boris Johnson will announce a celebratory public holiday (they were hoping for it to be tomorrow so they could sleep off their hangovers, but this is not to be)
Germany/West German and Spain have been the most successful sides in the history of the UEFA European Championship, winning three editions each. Germany teams have featured in six finals in total; no other nation has appeared in more than four.
The Euro Final was originally scheduled for 12 July 2020 but was postponed because of you the Covid-19 pandemic
The mascot this year is Skillzy
You can watch the UEFA Euro 2020 Final in South Africa! It will be live-streamed on Showmax Pro, courtesy of SuperSport. (If you're not in SA, check here for where you can watch.)
If you've missed some of the spectacular performances, highlights from all matches are available on Showmax Pro.
P.S. Once the Euros have come to an end, Showmax Pro subscribers across Africa can look forward to the Olympic Games Tokyo 2020. Every event available will be live-streamed from 23 July – 8 August 2021.
Get two months of Showmax Pro for the price of one
In celebration of the Olympic Games Tokyo 2020, Showmax Pro has launched a special offer to subscribers. Until 31 August 2021, Showmax Pro subscribers who sign up for Showmax's sports offering will receive two months of access for the price of one.
Go to www.showmax.com/eng/welcome-pro for more.