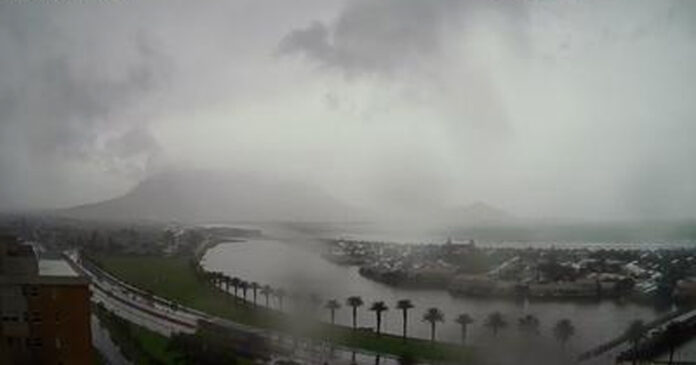 An intense cold front has hit South Africa today, bringing with it gale force winds, flooding and some snow. As predicted by the SA Weather Service (SAWS), the cold front has made landfall in the Southern Cape and is expected to cross the country overnight and cause temperatures to plummet in Gauteng tomorrow.
'Serious Flooding' in Cape of Good Hope section of Table Mountain National Park
Heavy rains are currently falling in Cape Town with some flooding reported. Table Mountain National Park (TMNP) says there's been "serious flooding" in the Cape of Good Hope Section of the park.
"The Olifantsbos and link road are currently closed due to flooding. Our rangers are on site to monitor the situation and the road will reopen to the public when it's safe to do so," said TMNP in a statement. "We encourage all visitors to exercise caution in this weather and stay safe."
situation and the road will reopen to the public when it's safe to do so.We encourage all visitors to exercise caution in this weather and stay safe.#SANParks #CapeofGoodHope #TableMountainNationalPark pic.twitter.com/hbDvfdO4Vt

— SANParks TMNP (@TableMountainNP) July 12, 2021
SAWS posted a satellite image on Monday afternoon showing the intense cold front over the Western and Norther Cape. "Disruptive snowfall possible this afternoon and evening over the SW NC and some high lying areas of the WC," said SAWS.
They warned that tomorrow it will be "very cold" across SA, except in the Lowveld areas.
"Maximum temperatures will struggle to reach 10°C over the western, southern and central interior," said SAWS.
High winds and waves
The country's meteorological service also issued a yellow Level 2 Warning for high winds and waves expected between Cape Agulhas and Plettenberg Bay from Monday afternoon, spreading to the Eastern Cape coast this evening and continuing tomorrow. SAWS said this could result in small boats and vessels experiencing difficulty in navigation, and risk of capsizing.
Gauteng expects worst winter cold snap
Meanwhile in Gauteng, residents have been alerted to the powerful first cold front of Winter 2021 to hit Gauteng.
Gauting Weather said: "ALERT: WORST COLD SNAP SO FAR IN 2021 expected in GAUTENG FROM TUESDAY, as BLISTERING SUB-POLAR AIR from JUST NORTH of ANTARCTICA LASHES SOUTH AFRICA!!!"
Eskom warns of loadshedding risk
And as if 'sporadic' #Free Zuma protests and freezing temperatures weren't enough to contend with, Eskom has warned that the cold front could lead to load shedding.
The power utility appealed in a statement on Monday to South Africans, to use electricity sparingly. Thanks to some improvements, Eskom hasn't implemented load shedding since 13 June BUT warned today this may change because of the weather.
"The cold front will increase the demand for electricity, thereby putting pressure on the power system. Therefore, Eskom urges the people of South Africa to help reduce electricity usage in order to ease pressure on the system," said Eskom.
#StayWarm #StaySafe
??? STRONG COLD FRONT makes landfall in the Cape! BLAST OF ICY NEAR-POLAR AIR MOVES INTO ??, with CORE OF POWERFUL GAUTENG-BOUND SYSTEM anchored just north of Antarctica & aided by high!!! | ? NASA pic.twitter.com/AIEXfoX89O

— Gauteng Weather (@tWeatherSA) July 12, 2021
⚠️ The @SAWeatherServic has issued numerous weather alerts for the province. See the warnings for your area here: https://t.co/lORV0TIn8r.

? In an emergency, phone 112 from your cellphone or refer to the emergency contact info here: https://t.co/62ariWaWYK. pic.twitter.com/oRw46ioGCn

— Western Cape Gov (@WesternCapeGov) July 12, 2021
Light dusting of #snow seen on the Swartberg mountains between Oudtshoorn and De Rust. Confirmed report. ?Louis Smith @SAWeatherServic @AfricaWeather_ @SnowReportSA @ewnreporter @HeraldNMB pic.twitter.com/c8L8Tlpx9U

— ReenvalSA (@ReenvalSA) July 12, 2021
☔️Afternoon satellite image (12 July 2021). Intense cold front over the Western and Northern Cape. Disruptive snowfall possible this afternoon and evening over the SW NC and some high lying areas of the WC.

Very cold across SA tomorrow (except the Lowveld areas). pic.twitter.com/eWtPrZc3ka

— SA Weather Service (@SAWeatherServic) July 12, 2021