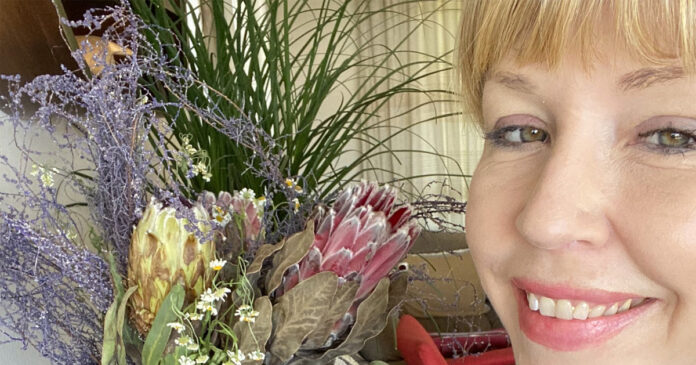 Well known South African legal journalist Karyn Maughan has tweeted a message from hospital, asking for prayers as she battles Covid-19.
Karyn, who currently reports for News24, wrote at around 17h00 on Friday: "I have tested positive for Covid 19. Hope that the vaccine will protect me from the worst of this. Am in hospital. Please pray for me."
Thousands of South Africans have responded, with over 11,000 likes on the post, almost a thousand retweets and over 3,000 replies. Most were well-wishers, although disappointingly, some of the enemies she has naturally gathered over the course of reporting on the news, have sent shocking messages. Her name 'Karyn' was the number one trending hashtag on Twitter in South Africa on Friday evening.
Karyn received her first vaccination dose last Thursday, 15 July.
On that day she said: "I turn 42 tomorrow. And I just got my first #COVID19 vaccination jab. So grateful that my diabetic self is going to be far more protected against the fatal outcomes of this disease. So heartbroken for the friends who lost their lives because they never got that protection."
According to Dr Katherine O'Brien, in an interview with the World Health Organisation (WHO), a "good immune response" kicks in within two weeks of the first dose. Karyn's dose was eight days ago, and it's not sure how many days ago she was infected.
This evening well wishes have poured in from fellow journalists and authors. Mandy Wiener said: "I'm so sorry Karyn. Sending you love and strength." Marianne Thamm tweeted: "so sorry Karyn…stay strong and a speedy recovery." Gus Silber said: "Get better soon, Karyn! May faith, love, and the best of care strengthen you and carry you through."
702 presenter John Perlman added: "Karyn you are in my most positive thoughts and prayers. Take care." Nelson Mandela's former private secretary Zelda la Grange said: "Speedy and complete recovery. You have a very strong mind and great determination. You will beat this! Stay strong." Transport Minister Fikile Mbalula said: "Get well soon Karyn, Keep the faith." Ferial Haffajee tweeted: "You have slayed larger dragons! Get well."
This is me two days after coming out of ICU. You will beat this thing. Get well soon. And two weeks later (yesterday). You will come back and be with your family like I am. Believe and be mentally fit pic.twitter.com/H9QDnMFIt2

— iMpondomise (@Tshangisa_Zulu) July 23, 2021
We wish Karyn a full and speedy recovery.
Eight days ago, 15 July:
I turn 42 tomorrow.
And I just got my first #COVID19 vaccination jab.

So grateful that my diabetic self is going to be far more protected against the fatal outcomes of this disease.

So heartbroken for the friends who lost their lives because they never got that protection. pic.twitter.com/5wkWxUHfuC

— Karyn Maughan (@karynmaughan) July 15, 2021
Today, 23 July:
I have tested positive for Covid 19.
Hope that the vaccine will protect me from the worst of this.
Am in hospital.
Please pray for me.

— Karyn Maughan (@karynmaughan) July 23, 2021
UPDATE 26 July 2021: Karen Maughan to be discharged today, credits vaccine for protecting her from the worst