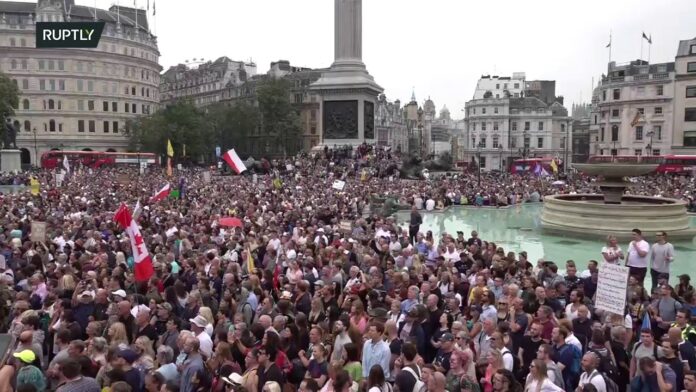 It's not just some South Africans who are fed up with restrictions related to Covid-19. Several protests have taken place around the world today – Saturday 24 July – including in London (UK), Paris (France) and Sydney (Australia).
The close proximity of people to each other, with many not wearing masks, was criticised by many. After protests in Sydney in New South Wales turned violent, the state's Health Minister Brad Hazzard said while he supported people's democratic right to protest, Saturday's protests were "really silly" when "we have cases going through the roof, and we have people thinking that it's okay to get out there and be close to each other…"
LONDON: 'Worldwide Freedom Rally' anti-vaccines protest staged at Trafalgar Square
Thousands of people gathered at Trafalgar Square in London for 'Worldwide Rally for Freedom' to demonstrate against vaccination, and Lockdown (despite restrictions being lifted on 19 July). Speakers included some known as 'conspiracy theorists' – David Icke, Gillian McKeither and Piers Corbyn; as well as controversial columnist Katie Hopkins who was famously pranked by a South African YouTuber last year.
At least six people were arrested. London Mayor Sadiq Khan condemned the comments made by the conspiracy theorists as "utterly appalling". The mayor has already called on PM Boris Johnson to allow fully vaccinated 'close contacts' to be exempt from self-isolation regulations. He says: "Double vaccinated people regularly testing negative for the virus should be able to continue working—keeping more businesses open."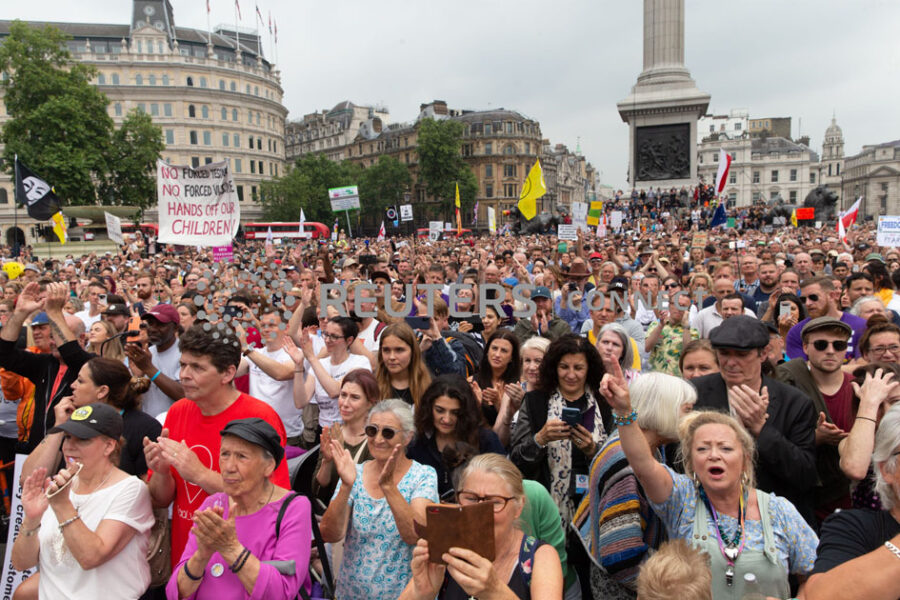 PARIS LIVE: Parisians demonstrate against health passes, mandatory COVID vaccination for some workers
Over 161,000 protestors took to the streets in Paris on Saturday to demonstrate against the Pass Sanitaire and mandatory vaccination for certain professions. This was more than the 114,000 that gathered last weekend.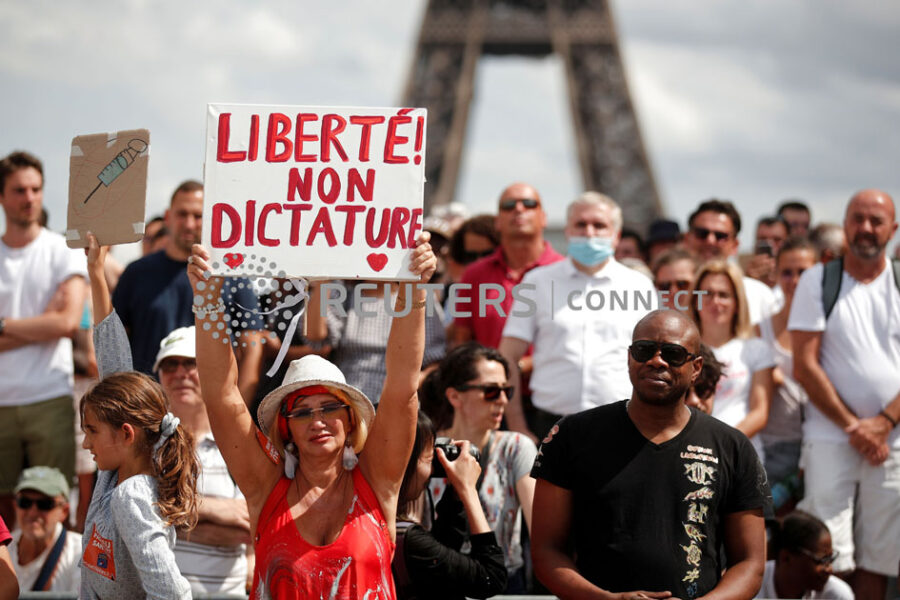 Watch on YouTube here.
SYDNEY, AUSTRALIA – EARLIER TODAY: Thousands protest COVID-19 lockdown in Sydney
There were also planned protests in Melbourne, Canberra, Brisbane and other parts of Australia.
Many were arrested in Sydney after attacking police and horses, and police said they feared the event could turn into a Delta super-spreader event. It was mainly a family friendly event that united people from different cultures and ages under the Australian flag, but some turned violent.
There were protests around the world last weekend as well, including in Cyprus:
Cypriots protest against coronavirus 'SafePass'
But while protestors in some parts of the world want more freedom – locals in Tokyo, Japan, protested last night for the opposite, amid fears of the virus spreading, demanding that the Olympic Games be cancelled and that 'lives be put above the Olympics'…
Protesters outside Olympic stadium can be heard inside venue