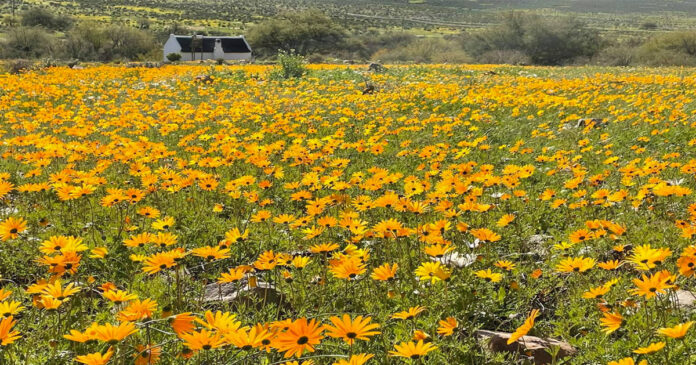 South Africa's famous and fabulous wildflower display is already blooming across endless fields in the Western Cape! "Look at our beautiful country… while most places are shut down in the winter, parts of South Africa come alive and thrive," Lauren Bradley from Enjo Nature Farm told SAPeople. It may look like Namaqualand, but it's just on its border, and 2021 looks set to be one of its best years ever.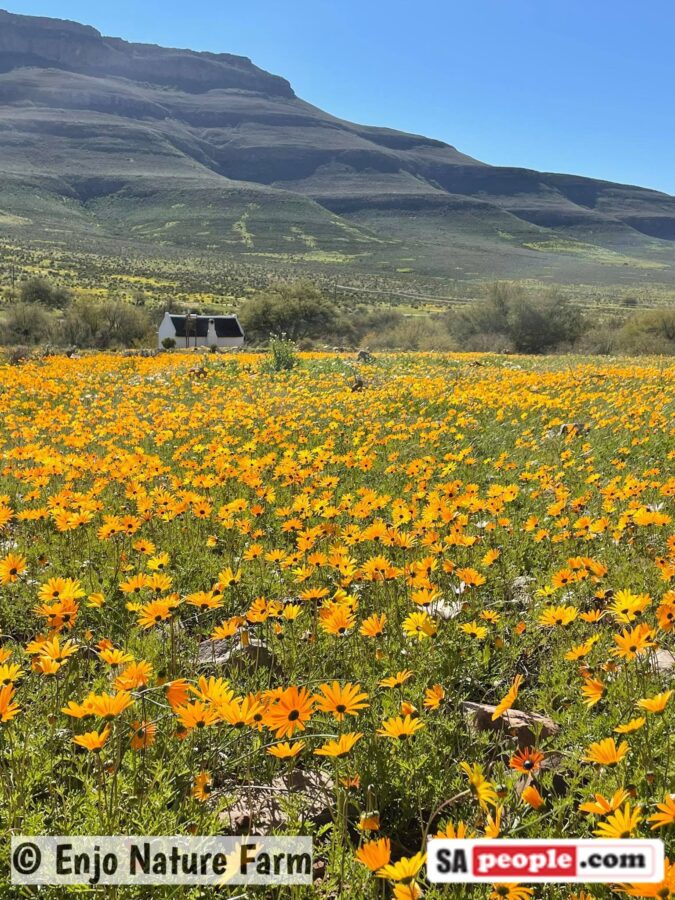 Lauren and her husband Guy own the stunning Enjo Nature Farm in the Biedouw Valley near Clanwilliam, where the photos and video on this page were taken.
The wildflower display on the pet-friendly guest-farm is usually spectacular anyway. One year Enjo Nature Farm's "kaleidoscopic carpets of wild flowers" was even featured by the BBC.As the BBC says, although these super blooms happen around the world "few are as consistent or diverse as South Africa's flower season."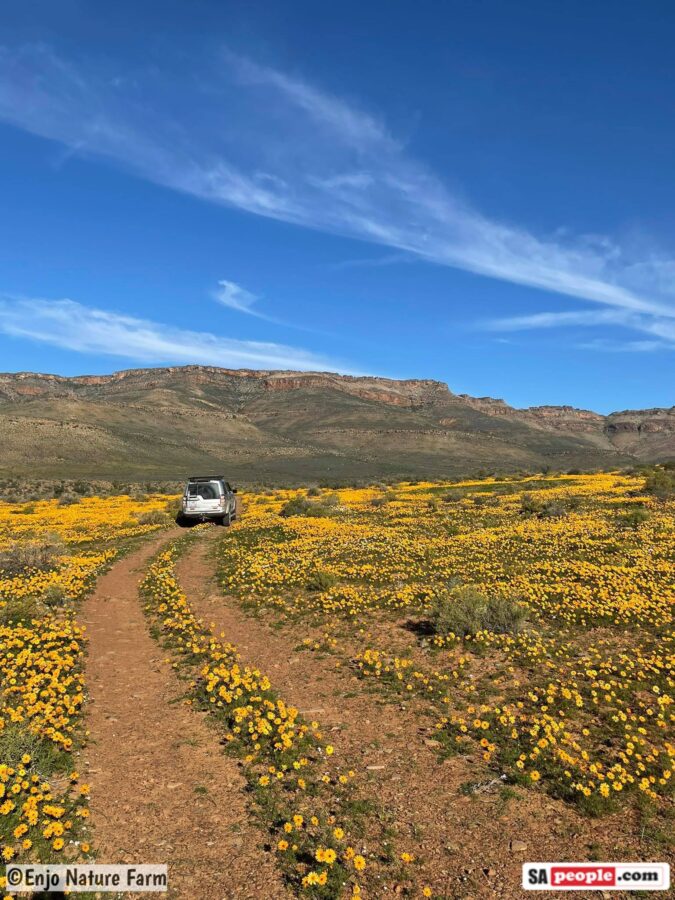 This year it is early though. The flowers are rainfall dependant, explains Lauren.
"If the rain is early the flowers will be early… which is the case for this year," she says. "It's by far looking to be one of the better years we've had (remember the drought in the WC a few years ago?!! Flowers were dismal)."
When is the best time to visit and view South Africa's wildflowers?
According to Lauren:
The best time of the year is usually mid-August.
Best time of the day is between noon and 4 pm.
Remember, flowers will not open if it's overcast or raining.
The flowers die back as soon as the warm easterly winds blow, which sparks the end of the season.
Flower season in these parts is usually a very tiny 2.5-month window from late July to early September which is why it's so special.
Viewing the wild flowers is so in demand that Enjo reservations need to be made a year in advance. They're already fully booked for 2021's season!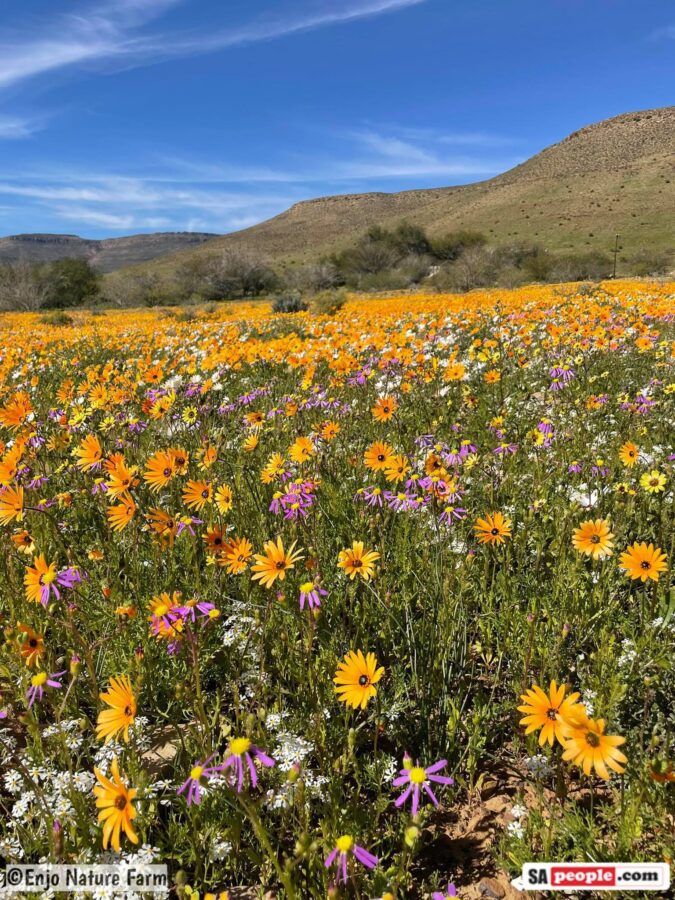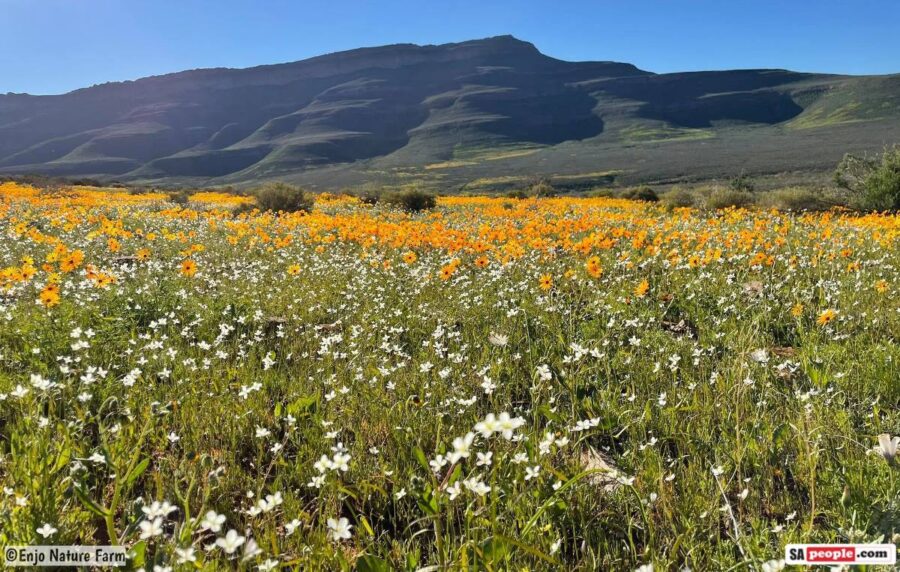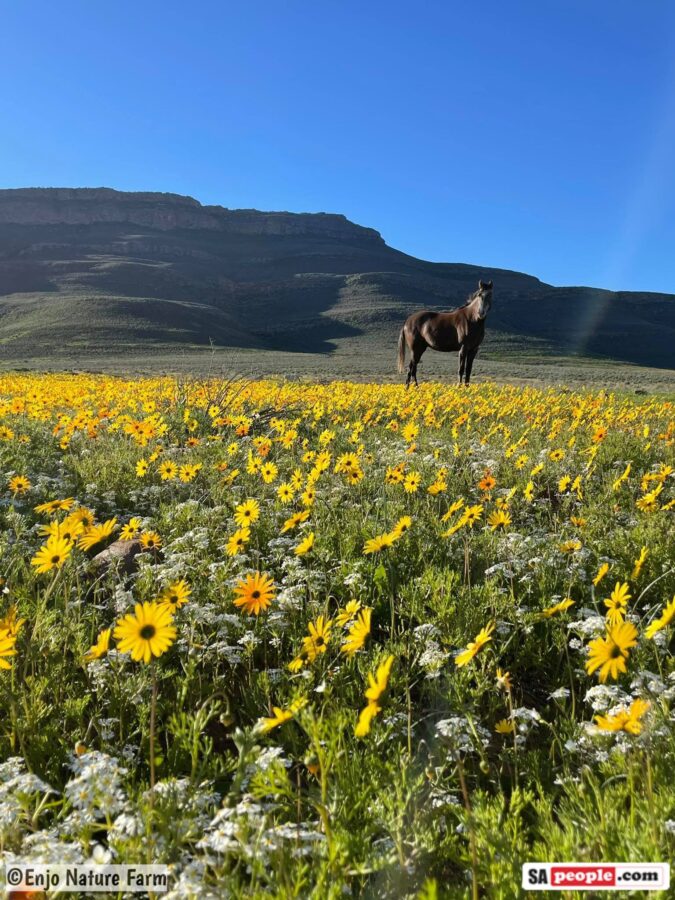 Day visits to view the wildflowers
However, you can visit the Biedouw Valley for the day to view the flowers.
Lauren says anyone coming in search of flowers is "welcome to call ahead to check the weather and ask how the flowers are looking in order to avoid any disappointment".
Enjo's neighbour has set up a pop-up coffee shop for any day-visitors on weekdays – see more here; and Lauren also serves coffee and freshly baked scones with cream and jam in Enjo's garden. "This is of course first come first served," she says. "When it's gone it's gone!" The week days are better for traffic too – last year the wildflowers caused traffic jams!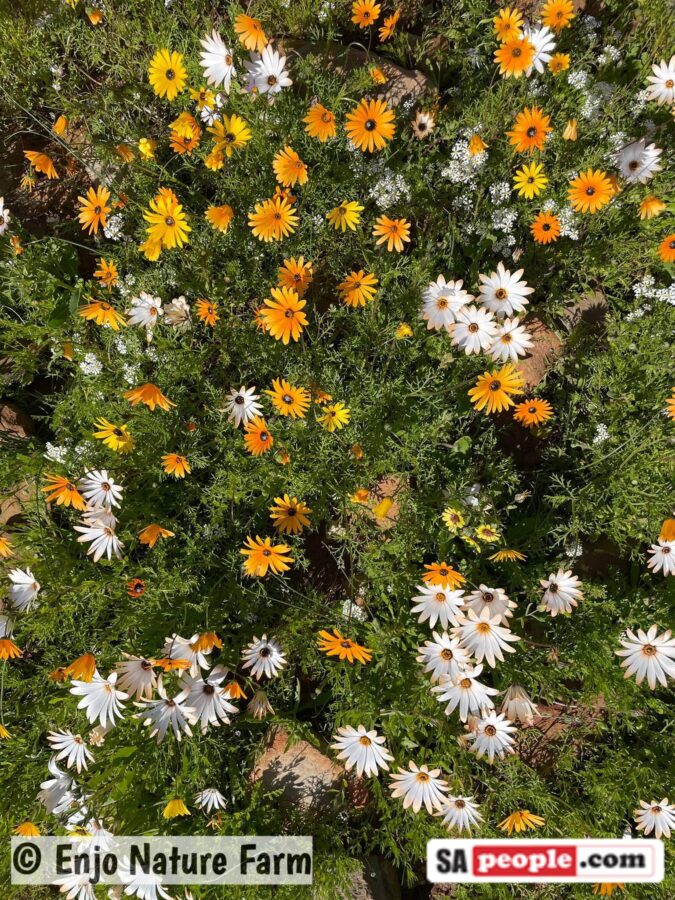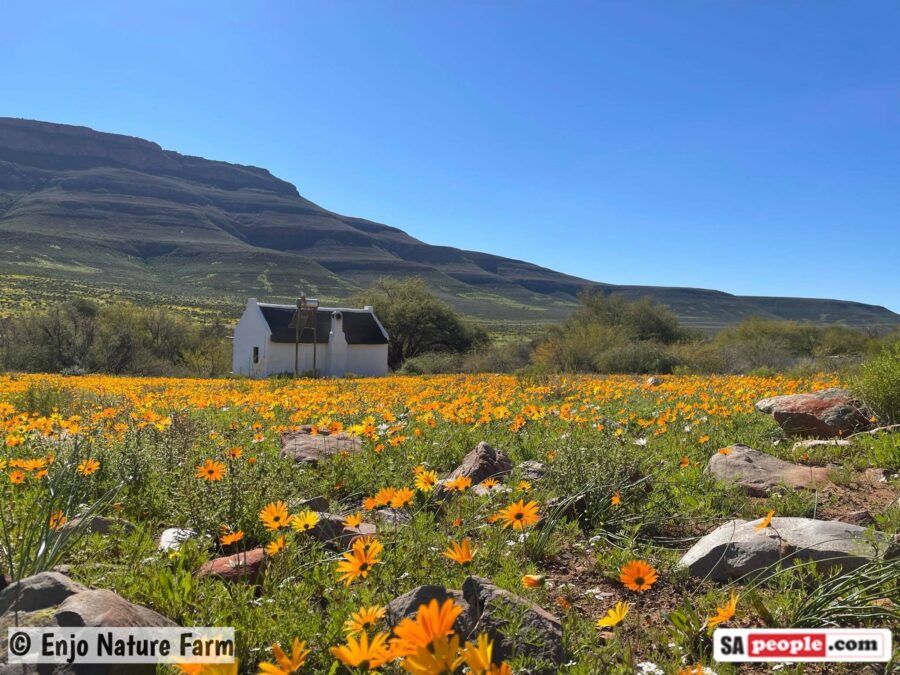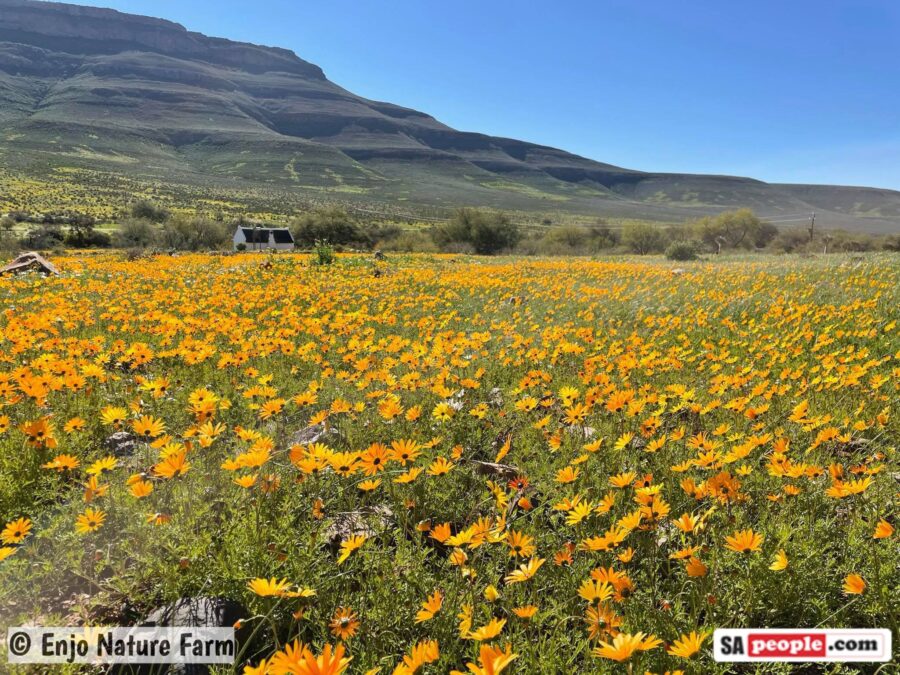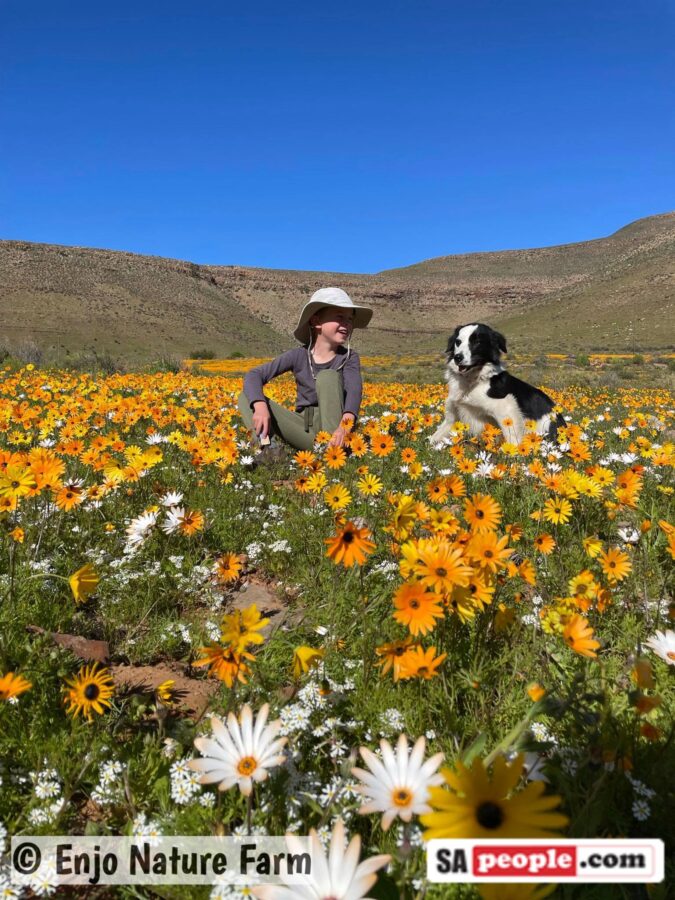 WATCH Wild for flowers – wildflowers at Enjo Nature Farm
Find out more on Enjo's Facebook page here.