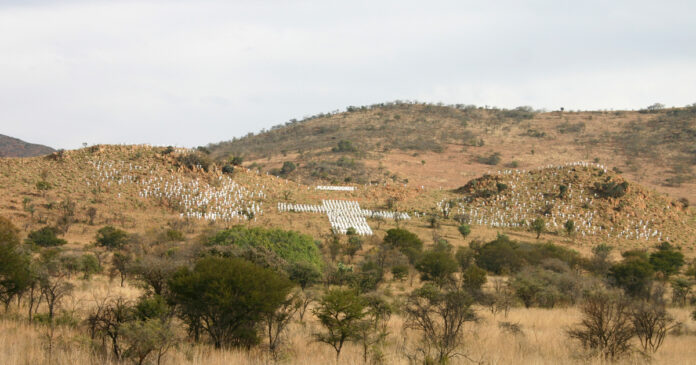 Five members of the same family were tragically murdered over the weekend on a farm near Harrismith in the Free State, South Africa. The victims reportedly include a mother (41) and father (47) and their three children.
The opposition party, the Democratic Alliance (DA), says the "savage killing of five members of a family" took place on Toekomst farm this past weekend. SABC News has named the victims as John Twala, Sonto Maloka and three children aged 20, 17 and six.
According to an IOL report, Police Spokesperson Brigadier Motantsi Makhele said a traditional healer found the bodies when he went to their home on Saturday morning for an appointment. The Brigadier said:
"On arrival apparently the traditional healer noticed that the door was not locked. He knocked on the door but there was no answer.

"He waited outside for a while and when he saw that no one was coming he pushed the door and saw a hand protruding from the sitting room door."
The traditional healer apparently alerted a neighbour, and the South African Police Service (SAPS) was called. SAPS officers discovered the parents' bodies with multiple stab wounds.
"The children, a boy aged about 16 and a girl aged about eight were also found in the same room, both with stab wounds to the body.

"In the other bedroom the body of the third boy aged about 23 was found lying on the floor with stab wounds to the body."
"This attack once again highlights the vulnerability of farmers, farmworkers, farm dwellers and their families. Rural communities are generally exposed to crime and violence due to the remote nature of their workplaces and homes.

"We express our condolences to the family, their colleagues and the community which has been left traumatised by these events."
The DA has been applying pressure on the SAPS to ensure that there is a closer relationship between the police in rural areas and the communities they serve through the implementation of a Rural Safety Strategy.
"We trust that the SAPS will get to the bottom of what exactly transpired on Toekomst farm, and that the perpetrators will be brought to book for this savage deed," said Kleynhans.
Free State Premier Sisi Ntombela has urged police to find the perpetrators of the crime. The motive has not yet been identified. It has been referred to Hawks. According to insiders there may have been an internal conflict and this was "not a normal farm attack".
A prayer day for farmers is planned for Saturday 14 August where a slow-drive will be held from Builders Warehouse Zambesi to the Union Building.