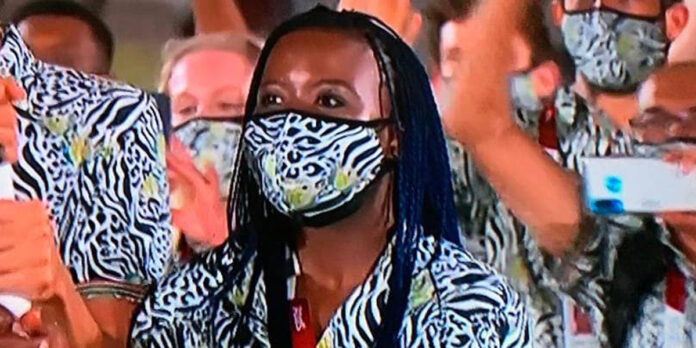 Phumelela Mbande has a dream. The young Olympic star from KwaZulu-Natal (KZN), South Africa, who was given an opportunity to play hockey when she was young, now wants to pass it forward and get involved in hockey clinics, teaching hockey in disadvantaged communities.
Phumelela recently returned from the Tokyo Olympics, where she represented SA as vice-captain of the woman's hockey team AND was chosen to be a flag bearer, along with swimmer Chad le Clos, at the opening of the Olympics… an honour for which SASCOC said they were chosen because they both "showcase the Team SA and the Olympic values of excellence, friendship and respect and are fully deserving of the honour".
Today, DA (Democratic Alliance) KZN Leader Francois Rodgers congratulated Phumelela and said the DA vows to assist her in realizing her dream.
Rodgers said in a media statement that it had been a "delight to engage with her and her family", along with Ward Councillor Ross Strachan. Rodgers said:
"Phume first started her schooling career in Mthatha, but only when she moved to Ixopo was she afforded the opportunity to start playing hockey at a private school. From there the sky was the limit having represented her country in hockey at various levels. A truly remarkable achievement.

"This is clear evidence that where our children are afforded the opportunity to play sport at a school level, talent is abundant and it can be nurtured and developed, as is the case with Phume.

"The sad reality is that the majority of our children are not given this opportunity, thus the statement by the Minister of Sport, Nathi Mthethwa that the Olympic team was not diverse, is of his own making and the failures of government to provide access to sport to all.

"Clearly until these disparities are addressed SA will not reach the diversity that is truly represented of our rainbow nation.

"Phume has indicated that she would dearly like to get involved in hockey clinics in Pietermaritzburg particularly with those disadvantaged communities that don't have access to the sport of hockey. A noble gesture and one I will discuss with the KZN MEC of Sport and Recreation, Hlengiwe Mavimbela."
Don't miss Carte Blanche tonight (and Tuesday for expats) as the current affairs show celebrates Olympic gold medallist Tatjana Schoenmaker – Watch the show overseas | Watch in SA on DStv Now
WATCH DA vows to support Phume Mbande's hockey dream