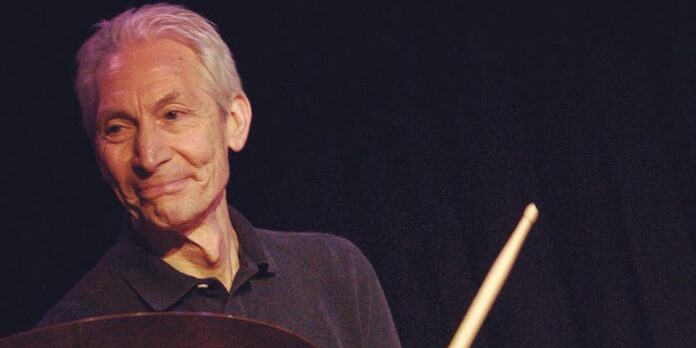 Tributes have poured in for legendary Rolling Stones drummer Charlie Watts, known by many as the heartbeat of the Rolling Stones and one of the coolest and most stylish men in rock.
A spokesperson announced his passing, at the age of 80, saying:
"It is with immense sadness that we announce the death of our beloved Charlie Watts. He passed away peacefully in a London hospital earlier today surrounded by his family."
No cause was given for his death, although he had recently pulled out of the Stones' upcoming tour of the USA.
The Rolling Stones, who rose to fame in the 1960s, also included Mick Jagger, Keith Richards, Brian Jones and Bill Wyman. It was Brian who introduced Charlie to the band members in the early days, after their original drummer, Tony Chapman, left the band.
Following his sad passing, Keith posted a photo on social media of Charlie's drums with a 'closed' sign hanging over them. There was no caption.
Members of the Beatles (who also rose to fame in the '60s) have posted tributes. A shocked Ringo Starr said Watts was a "beautiful human being", adding "I knew he wasn't doing well, but it was a shock to me". Paul McCartney's sentiments were similar: "I knew he was ill but I didn't know he was this ill… Condolences to the Stones. It's a huge blow to them because Charlie was a rock and a fantastic drummer, steady as a rock."
Former Beatle Paul McCartney paid tribute to Rolling Stones drummer Charlie Watts, who died at the age of 80 https://t.co/utkgR9iBfy pic.twitter.com/A8O4WCZByX

— Reuters (@Reuters) August 25, 2021
John Lennon's widow Yoko Ono tweeted: "Rest in peace, Charlie Watts. Our love and deepest condolences go out to Shirley, Seraphina, Charlotte and all The Rolling Stones family. Love, yoko"
South African public relations guru Penelope Stein, posted footage from the Rolling Stones' trip to SA and said:
"RIP Charlie Watts, the heartbeat of The Rolling Stones . This is footage from the Voodoo Lounge Tour press conference in SA in 1995 – concert was at Ellis Park Stadium. The biggest , loudest and most mammoth concert to watch and work on. How lucky were we to have seen The Rolling Stones in our lifetime. Brought to SA by Hazel Feldman. I wish I could turn back the clock and do it again!"
WATCH VIDEO: The Rolling Stones in South Africa
Radio DJ Brian Oxley shared stories about the Rolling Stones including Charlie's quote about spending "four decades of seeing Mick's bum running around in front of me". Apparently Charlie lost it a little in the '80s when his drinking and drugs led to heroin. He later said: "It got so bad, that even Keith Richards, bless him, told me to get it together."
Country singer Keith Urban said the world has lost the "'gentleman soul of rock and roll,' the queen bee of the hive that is The Rolling Stones, the original, Charlie Watts. The heart beat of one of the greatest bands of all time, a truly one of a kind musician who's influence is unquantifiable AND will continue to be for as long as there are musicians who are working to shed all that is not needed, to get to THE ESSENCE. I didn't even properly know you, but I love you Charlie, and I thank you for all that you gave us. I'm so grateful that through countless recordings we will always be not only hearing you, but FEELING you!"
Elton John said: "A very sad day. Charlie Watts was the ultimate drummer. The most stylish of men, and such brilliant company."
WATCH Rolling Stones drummer Charlie Watts dead at 80
In his first public reaction to Charlie Watts' passing, Keith Richards has shared this photo to his Instagram. pic.twitter.com/pEuONMAIM5

— Consequence (@consequence) August 24, 2021