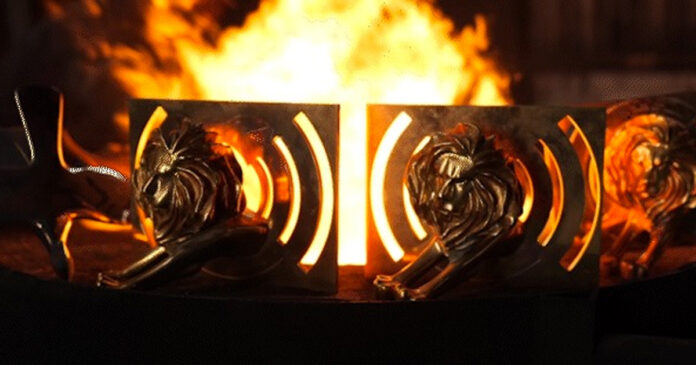 An advertising agency in South Africa – NET#WORK BBDO – just decided to ignite a new era by burning its multitude of awards! But there's a fantastic reason. Renowned SA writer Gus Silber explains all in this brilliant piece…
The Meltdown – by Gus Silber
"I have mixed feelings about awards," the great South African movie director, Manie van Rensburg, once told me. "I love it when I win, and I hate it when I lose."
He was reflecting on an award he had just won, and his words, while delivered at least partly in jest, touched the hot-button on a topic that has long been debated in the so-called creative industries.
Are awards a good thing? Can creative excellence, whether in film, art, design, music, advertising, or literature, be measured and adjudicated as if it were a competitive sport?
And what of those who, for all their hard work, do not get their moment to shine in the spotlight, and hold aloft the tokens of their victory?
One might say that art, as indeed life itself, is a meritocracy, and that those who produce work of extraordinary quality are entitled to their recognition and reward on a public platform.
And yet the world is changing, and as we have seen, even athletes at the top level of global competition are beginning to question whether winning really is everything.
Against this background, comes news of a radical act of constructive destruction by Net#work BBDO, one of South Africa's most award-winning advertising agencies.
In the last 27 years, Net#work BBDO has won numerous awards for creativity and craft on the campaign trail: Loeries, Cannes Lions, Clios, Prisms, D&ADS, Bookmarks, New York Festivals, and more.
It is a truism that ad agencies are judged not only on the effectiveness of their ads, but on the breadth of the awardware lining the shelves and display cabinets in the lobby.
Which is why it must have come as a jolt to many when the agency, having only just moved into new offices in Sandton, swept all their awards into crates and carted them off to a blacksmith's foundry, where they were fed into the roaring flames of a furnace cranked up to 1,220 degrees Celsius, hot enough to turn all those hard-won trophies into molten metal.
Net#work BBDO's logo, conceived long before hashtags were a thing, is a hashtag, so naturally, this act was assigned a hashtag of its own. #Meltdown.
Now meltdowns at advertising agencies are of course not uncommon, on either side of the client-agency relationship, but here comes the constructive part.
That heap of melted metal has since been reclaimed and refashioned, by Leslie Becker, blacksmith and industrial designer, into 670 hashtag logo pendants, for distribution to everyone who has worked for Net#work BBDO, in any capacity, since the agency opened its doors in 1994.
"We are living in a new world, with new social contracts," says Roanna Williams, the agency's CCO, or Chief Creative Officer.
"So rather than letting our awards gather dust in glass cabinets, we dusted them off, melted them down, and reimagined how we could put them in the hands of the 670 employees that helped build this company. Everyone from the person making the coffee to the producer managing the supplier, to the accountant paying the invoices. Awards are not just won by those who go up on the stage or who are listed on the credits."
There is something quite biblical about this act of egalitarian alchemy: And they shall beat their swords (I am better than you) into ploughshares (We are better together).
And while Roanna stresses that the agency has not changed its mind about the value of awards — "We love them, we respect them, we want them" — the reduction of big, shiny tokens of acclaim into smaller, more intimate tokens of belonging is enough to cast fresh light on Manie van Rensburg's long-ago words.
We love it when we win; we hate it when we lose; but we feel good, too, when we are recognised at last for being part of something greater than ourselves.
After 27 years of great work and the awards that came with it, we've decided to give a piece of them to everyone that made it possible. We melted down our awards, into our iconic # logo to give to our 670 employees, past and present. #ThePeopleThePeopleThePeople  #NetworkBBDO pic.twitter.com/yJUQC0E86w

— Network BBDO (@NetworkBBDO) September 15, 2021