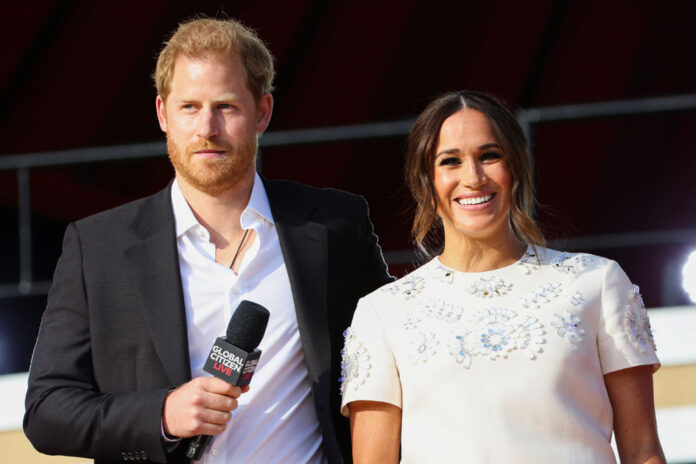 Prince Harry and Meghan Markle, as well as France's President Emmanuel Macron, called for more vaccines for Africa while speaking during the Global Citizens Festival on Saturday 25 September. Harry and Meghan, on stage in New York, also gave their support for the waiving of intellectual property (IP) rights around the production of Covid-19 vaccines to allow other countries to produce them too, as proposed by South Africa's President Cyril Ramaphosa. (Macron already lent France's support to the temporary IP waiver proposal back in June.)
The Duke and Duchess of Sussex were welcomed onto the NYC stage by none other than South African actress and UNHCR Goodwill Ambassador Nomzamo Mbatha.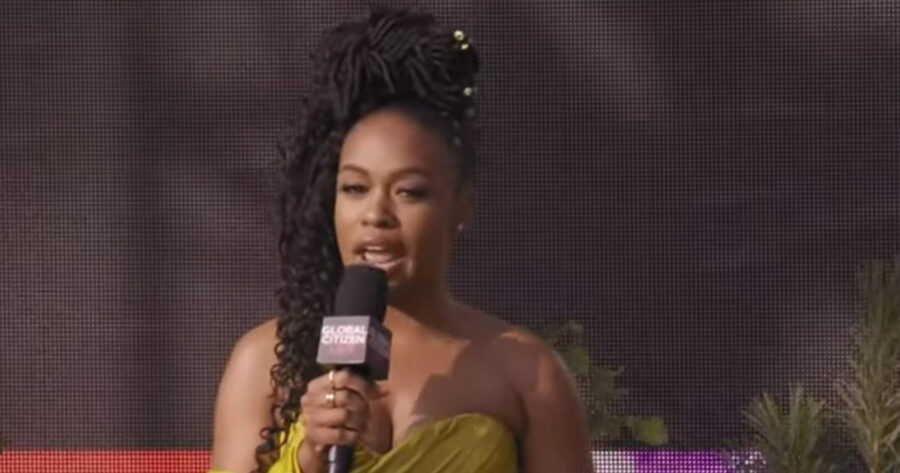 Nomzamo revealed that in Africa, "a continent of 1.3 billion people; still only 4% are fully vaccinated against Covid-19. The pandemic has pushed an addition 150 million people into extreme poverty." She then introduced Harry and Meghan as "two tireless champions" joining her in the fight for vaccine equity.
The crowd of 60,000 in Central Park went wild for the couple and temporarily forgot the  important vaccine message when Harry uttered the words "my wife and I believe". The crowd cheered loudly. The couple paused for a moment and embraced in acknowledgement of the crowd's support before continuing their call for more vaccine equity in the world.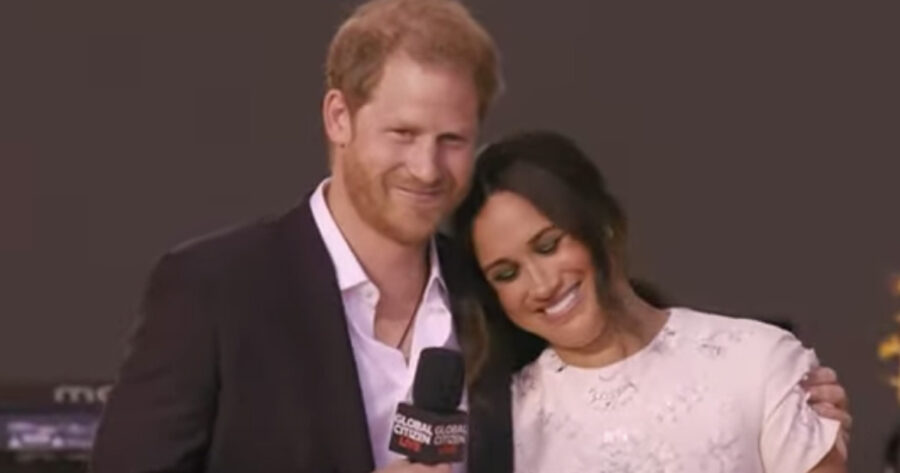 Prince Harry said: "Are we prepared to do what's necessary to end this pandemic?"
Meghan said although it feels like the pandemic has dragged on forever and some people are just over it BUT "if everyone's over it, it's never going to be over. There is so much that we can do today now that can get us closer to ending this pandemic. And that's why we're all here.
"We're able to be here tonight because the most brilliant scientists, researchers, front line workers and selfless public health leaders have risked their lives to protect our global community. They are our humanitarian heroes."
Prince Harry revealed: "Since this pandemic began, we've been talking to the experts about how we can do our part. This week we sat with independent global health leaders to further understand how we get closer to vaccine equity and ending this health crisis. But we're battling more than the virus alone. This is a battle of misinformation, bureaucracy, lack of transparency and lack of access.
This is a human rights crisis
"And above all, this is a human rights crisis."
Meghan said: "Every single person on this planet has a fundamental right to get this vaccine. That's the point, but that's not happening." She said while in the US and many other countries you can go almost anywhere to get vaccinated "billions of people around the world cannot. This year, the world's expected to produce enough doses to meet the target of vaccinating 70 percent of people in every single country.
"But it is wrong that so much of the vaccine supply has only gone to just 10 wealthy nations so far and not everyone else. It's just not OK."
Prince Harry highlighted the importance of vaccinating the world, but said that experts informed them about what's getting in the way. It's the message Ramaphosa has been trying to raise for at least a year.
"Ultra-wealthy pharmaceutical companies are not sharing the (vaccine) recipes"
"(The experts) said many countries are ready to produce vaccines at home," said Harry, "yet they aren't allowed to, because ultra-wealthy pharmaceutical companies are not sharing the recipes to make them. These countries have the means, the ability and the workers to start manufacturing. All they're waiting for is the vaccine intellectual property to be waived and for the vaccine technology to be transferred over. And btw, many of these vaccines were publicly funded, they are your vaccines, you paid for them!"
Meghan stressed "when we view this as a humanitarian crisis, which it is, control over a  vaccine that can help save lives should not be solely in the hands of the fortunate few."
Harry alleged that experts revealed to them that "vaccines are being bought up and stockpiled by wealthy nations, and sent later to developing countries, often when they're close to expiration and when it's already too late. Dose-sharing commitments are so important, and appreciated. But this cannot just be a charity operation. It's a fundamental human rights issue."
Meghan said the experts "shared that how the vaccine is distributed and who it's distributed to should be left to independent international organizations who know exactly where the doses are most needed. Just think about the millions of vaccines that have been discarded this year. That's like throwing away life vests when those around you are drowning."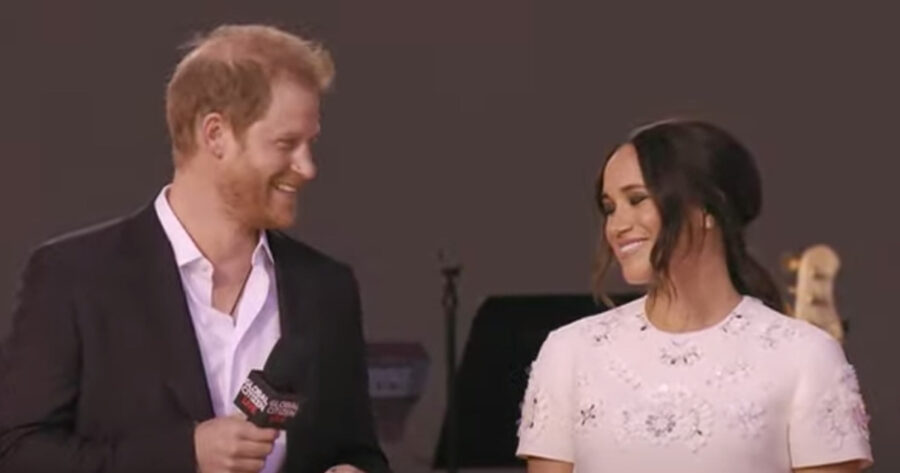 Prince Harry added: "My wife and I believe the way you're born should not dictate your ability to survive."
Basic human rights
He then asked the global citizens gathered in Central Park: "Do you think we should start treating the access to the vaccine as basic human rights?" The crowd – eating out of their hands – was totally in agreement.
The Global Citizen Live concert in Central Park aims to push for greater action to combat climate change and urge rich countries to share one billion doses of COVID-19 vaccines with nations most in need. Over a 24-hour period, concerts are being held in Paris, New York City, Los Angeles, and other cities.
One of the movement's missions is to get the G7 and EU to support the proposal by South Africa and India to waive IP around the production of COVID-19 vaccines and other medical tools – already backed by over 100 countries.
Linda Thomas Greenfield, US Ambassador to the UN, joined Prince Harry and Meghan on stage. She reiterated the President Joe Biden announced another 500 million vaccine doses will be sent by the US to other parts of the world, making it a total of 1.1 billion doses the US is giving.
WATCH President Macron's message at Global Citizen Live, supporting more vaccines for Africa
Hi #GlobalCitizenLive!
I know you are in the middle of a HUGE concert, I'm stealing two minutes of your time to give you a few messages on vaccines, green economic recovery and education. And then, dear @edsheeran, the floor is yours! pic.twitter.com/EpPUjFd4em

— Emmanuel Macron (@EmmanuelMacron) September 25, 2021
France is committing to double the doses it's giving from 60 million to 120 million doses. He said for economic recovery, Africa needs $100-billion, and pledged that France will give 20% of the money it receives from the IMF to the African continent. "If all the big powers did as France is doing, we would reach $100-billion for Africa." France will also be donating 330-million euros towards the recovery of education in Africa, said President Macron.