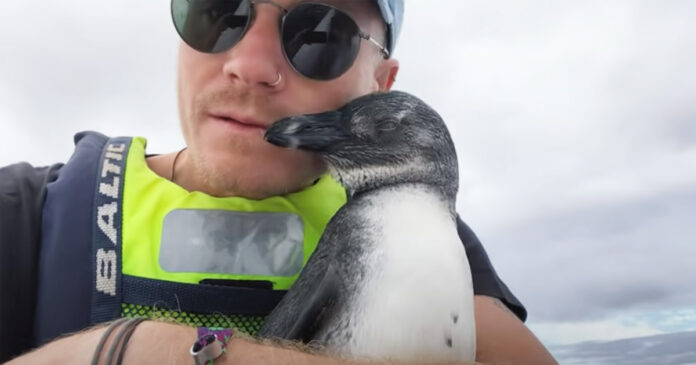 A heartwarming video, filmed in South Africa, is going viral on social media… showing an injured (and smart) little penguin hopping onto a couple's kayak to seek help.
At first the couple think the endangered African Penguin is just "the friendliest penguin ever"… until they realise that one of its flippers appears to be injured, and it's incredibly tired. Once on board, the little penguin appears to sweetly bond with Ben Brown, a UK artist and YouTuber currently based in the Western Cape. By the end, Ben's kayaking partner declares the penguin is in love with Ben! Viewers agree. One said: "That was the sweetest thing – the penguin seemed to know that she could trust you, knew she was no safe hands."
The video has been edited and posted by The Dodo, the social media page for everyone who loves and cares for animals, and has had over 5 million views on Facebook since it was posted five days ago! It was actually filmed in early December 2020 (watch the full video at bottom of page).
WATCH Baby Penguin Hops on Kayak to Ask for Help – The Dodo and Ben Brown
What happened to the baby penguin after it was rescued?
For those worried about what became of the penguin – it was rescued by SANCCOB (the man with the box at the end) to be rehabilitated and assessed for release back into the wild – which in this case is the Boulders beach colony in Simon's Town (made famous in Netflix TV show Penguin Town!).
Ben says that SANCCOB told him they would be feeding up the little penguin to make it stronger, and checking it had enough oil on its body. (Please support SANCCOB, the amazing non-profit organisation that saves seabirds, including endangered species like this African penguin).
Uplifting
The video has been uplifting for so many, including a social media user who said it was the first time she had found herself smiling since her mom's recent death. Christine from Canada added: "It's actually SO humbling when nature chooses you!!! That penguin experience was beautiful… my heart broke when you had to send her to the vet to make sure she was okay!" Another foreign viewer said: "That penguin was so cute! Please keep us updated with how it does. Cape Town looks incredible 😍"
The only negative comment came from a wildlife vet who said rescuers should not pet wild animals. She advised that what we think is soothing is actually stressful for them. However – in this case – the footage of the penguin with Ben at the end, as it calmly lies in his arms while he gently strokes it, appear to say otherwise.
It is rare for an African penguin to be this calm with a human. Even the SANCCOB rescuer seemed incredulous, asking Ben: "She didn't bite you at all???? You're lucky!!"
A former employee at SANCCOB, M.M., said: "I used to work professionally with African penguins and did a job exchange at SANCCOB in 2015. The staff and volunteers there work tirelessly to rehab and release an overwhelming amount of penguins every year. It's actually insane how many birds are there on a daily basis. It was some of the hardest work I have ever done. They really are the best of the best so I am happy you (Ben) called them. African penguins are endangered and every bird counts! Also, just so you know, African penguins are notorious for biting and wing slapping when touched or picked up – I have endless scars. This juvenile instead brayed with you and did the head shake they do with their mates, lucky! He definitely needed some rest. Good work:)"
Another foreign worker said: "Please support the 🐧 hospital where this penguin was brought. You can even adopt a penguin! I have worked there as an abroad volunteer so trust me that your gift is well spent. https://sanccob.co.za/save-the-african-penguin/"
WATCH the full Baby Penguin Rescue
Follow Ben on:
https://www.instagram.com/benjam/
https://www.youtube.com/c/benbrown