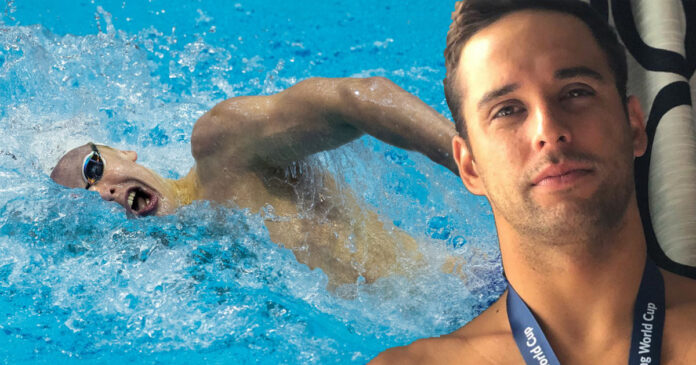 Eighteen-year-old South African swimming sensation Matt Sates set TWO new World Junior records at the World Cup in Berlin, Germany, this weekend and won Gold Medals in the Europasportpark Pool… while Chad le Clos won his 146th World Cup title!
FINA congratulated Matt on his World Junior Records (and African Record) set in the 200m Freestyle and 200m IM (individual medley) which he swam in 1:51.45, in the first meet of the Swimming World Cup 2021. FINA said: "Remember his name!" (See video below.)
Matt, a matric learner from Pietermaritzburg in KZN, touched home in 1:40.65 in the 200m freestyle. SwimSwam said: "This swim also gave Sates the 200 freestyler South African record, bettering the 1:40.89 mark held by Darian Townsend."
Matt, who swam for SA at the Tokyo Olympics, also won won the 400IM earlier in the evening, taking gold with a time of 4:01.95 and improving hugely on his PB (personal best) – swimming six seconds faster than he did last month at the South African Nationals.
FINA said on Sunday night: "The South African set the second WJ in two days, outstanding!"
According to SwimSwam, "Sates was also close to breaking the South African record in the event of 3:59.23 which Chad le Clos set at the Japan World Cup in 2013."
Chad le Clos Grabs Gold
Fellow KZN swimmer Chad scooped his own medals in Berlin this weekend – following up a Bronze medal in the Men's 50 Butterfly (Fly) – trailing his 2014 PB with 22.48 – with an incredible Gold in the 100m.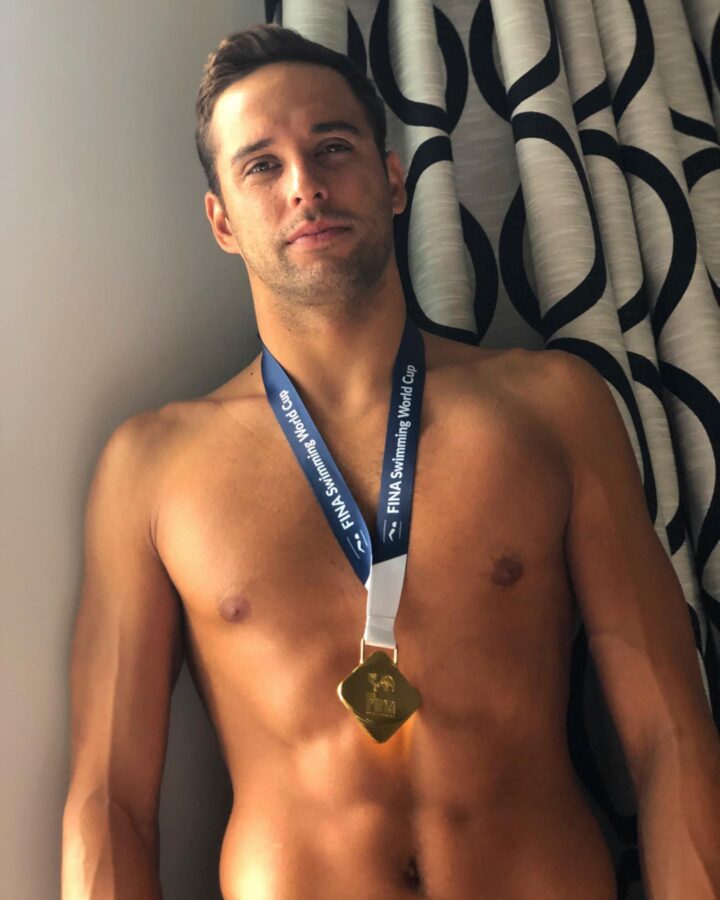 FINA says: "Chad Le Clos was out for revenge after frenemy Tom Shields claimed the first round in the 100m Butterfly Final in Berlin. His last 25 meters are nothing but incredible!"
The Durbanite said after the race: "Tonight was a tough race, looking forward to the next leg and then pulling my way back up to the top again."
The 2021 Fina World Cup – Berlin took place between 1-3 October.
WATCH Chad Le clos fabulous last 25m to grab Gold Medal ahead Tom Shields
WATCH FINA: Remember his Name! Second WJR in 2 days for Matt Sates
? WORLD JUNIOR RECORD
200m Freestyle ? 1:40.65

It's another world junior record for ?? Matt Sates.
The South African set the second WJ in two days, outstanding! pic.twitter.com/REUU8YuB0V

— FINA (@fina1908) October 3, 2021