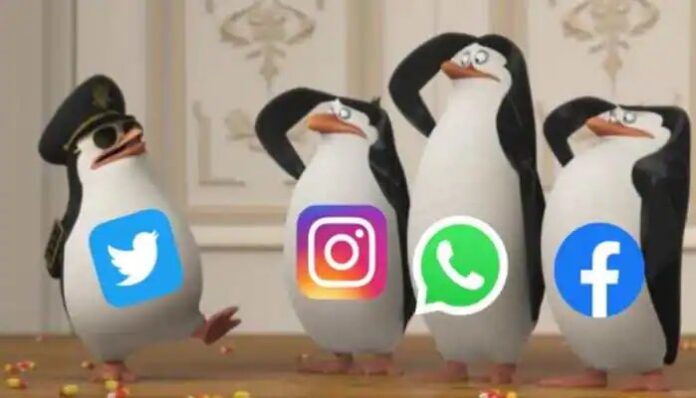 Facebook is back!!! Although many features aren't working properly yet. Earlier on Monday, Facebook, FB messenger, WhatsApp (the messaging app) and Instagram – which are all owned by Facebook – crashed around the world, and were down in several regions worldwide, including South Africa for at least SIX HOURS. (See the memes at the bottom of the page.)
"And I thought something was wrong with my phone," said Capetonian Mike Roberts. "Phew, no, it's the whole world." Others thought it was their wifi or their iPhone that was the problem, before realising this was one of the biggest crashes in Facebook history.
Is WhatsApp Down in South Africa Right Now?
One of the most popular questions on Google in SA right now is: "Is WhatsApp down in South African now?"
It is! At midnight (Monday night SA time), while Facebook was back up, WhatsApp was still not working, and nor was Instagram (which showed a "Oops, an error occurred" message).
In South Africa #WhatsApp is still trending (at midnight) at number one on social media platform Twitter (which is not owned by Facebook, and which has been working!).
hello literally everyone'
Twitter humorously tweeted: "hello literally everyone"… as people around the globe turned to the social media site for information on what was happening. Twitter broke records for the number of visitors it suddenly received.
By 21h30 in South Africa, the Top 5 Twitter trends were: 1 – WhatsApp, 2 – #facebookdown, 3 – Mark Zuckerberg, 4 – #DeleteFacebook, 5 – iMessage
According to Downdetector's news at 20h00, almost 80,000 users reported WhatsApp being down, over 120,000 reported Facebook outages and at least 80,000 reported Instagram is down.
Facebook announced (in a tweet of course): "We're aware that some people are having trouble accessing our apps and products. We're working to get things back to normal as quickly as possible, and we apologize for any inconvenience."
Later the company's CTO Mike Schroepfer said: "*Sincere* apologies to everyone impacted by outages of Facebook powered services right now. We are experiencing networking issues and teams are working as fast as possible to debug and restore as fast as possible."
Facebook Whisleblower's explosive interview on 60 Minutes
Could the crash be connected to revelations made yesterday by a former Facebook employee?
Frances Haugen last night revealed her identity as the Facebook Whistleblower in an interview on 60 Minutes. During the interview, Haugen revealed she had made copies of tens of thousands of Facebook internal research documents that showed the company cared more about optimising for what was good for Facebook's revenue than what was good for its users… even acknowledging in one research report that "we have evidence from a variety of sources that hate speech, divisive political speech and misinformation on Facebook and the family of apps are affecting societies around the world"!!!!!! She also says political parties have been quoted in Facebook's own research saying they know Facebook changed its algorithm and now, if they "don't publish angry, hateful, polarizing… content," there's less engagement.
WATCH VIDEO Facebook Whistleblower Frances Haugen: The 60 Minutes Interview
Jokes and Memes about Facebook, Whatsapp and Instagram being down
Captain Zuckerberg on his way to save Whatsapp, Facebook & Instagrampic.twitter.com/L2AQTWtYLs

— The Kiffness (@TheKiffness) October 4, 2021
Whatsapp, Facebook and Instagram are down now…

Twitter people are like..#facebookdown 😒 pic.twitter.com/E1QLzCbkgJ

— 💫 (@MoonlightOxox) October 4, 2021
My apology to my WIFI 🥺🥺 🙏..i am sorry I blamed you ! pic.twitter.com/tJtt8xQt2e

— Arya 🇮🇳 (@iAmArya201) October 4, 2021
Me running to Twitter after Facebook , WhatsApp & Instagram isn't working: #instagramdown pic.twitter.com/J70RRowO4u

— Ron (@CityOfFountain_) October 4, 2021
Whatsapp guys turning off and on data…
Restarting phone…#whatsapp #facebookdown pic.twitter.com/SbcFL4FJop

— Sa Jid 🇵🇰 (@rSajii) October 4, 2021
Whatsapp, facebook and Instagram users after resetting their routers and it still doesn't work #facebookdown #Instagramdown #TwitterDown pic.twitter.com/w4Y3VFLRBn

— ً (@jdp403) October 4, 2021
Mark Zuckerberg fixing the WhatsApp, Instagram and Facebook crash #instagramdown pic.twitter.com/Eb8cRv6xI1

— Thiago OluwaSilva (@ManLikeTunde) October 4, 2021
Referencing Netflix hit Squid Games:
Facebook, Instagram, Whatsapp right now.#facebookdown #instagramdown #whatsappdown pic.twitter.com/q2PgtYllO6

— Rahul Gupta (@callme_rg) October 4, 2021
"In today's daily news updates; popular global apps, Facebook, Instagram and WhatsApp have all suddenly shut down and users are spiralling into chaos while Twitter users respectfully laughs at them and is saying why their app is better" pic.twitter.com/fHx0vwe3xR

— Maceo😒🌷 (@LindoShemar) October 4, 2021
Facebook, Instagram and WhatsApp have been eliminated pic.twitter.com/ZB5eXP5K34

— 𝖇𝖎𝖌 𝖉𝖗𝖆𝖈𝖔 (@drac0srevenge) October 4, 2021
Me on my way to Twitter to see if #WhatsApp is down pic.twitter.com/TQ5Yn30aVk

— 11:59 (@19oo97) October 4, 2021
me showing the villagers around the streets of Twitter after the Facebook & WhatsApp crash: pic.twitter.com/iTxeovsyTw

— Impicabadala (@Impicabadala_) October 4, 2021
Twitter users when they hear that Instagram, WhatsApp and Facebook are all down #instagramdown #whatsappdown pic.twitter.com/4KDoGKi9CT

— Narek #EdenSZN (@Narek_RMA1) October 4, 2021
Twitter User Vs Other social media #facebookdown #MarkZuckerberg#DeleteFacebook #instadown#WhatsApp #whatsappdown pic.twitter.com/oXzwXjNNmI

— 💪AHMED (@PMLN_LOVER1) October 4, 2021
Right about now at Whatsapp, Facebook and Instagram headquarters!! 🤣🤣🤣🏃‍♂️ #DeleteFacebook #facebookdown pic.twitter.com/eDGEfUqIpt

— The Graphics Dude🇺🇬 (@lorikamarioilic) October 4, 2021
pic.twitter.com/QJPqnl5U6L Everyone coming onto Twitter after Instagram and WhatsApp go down #instagramdown

— ً (@jdp403) October 4, 2021
how much? https://t.co/fH0zXw7rV9

— jack⚡️ (@jack) October 4, 2021