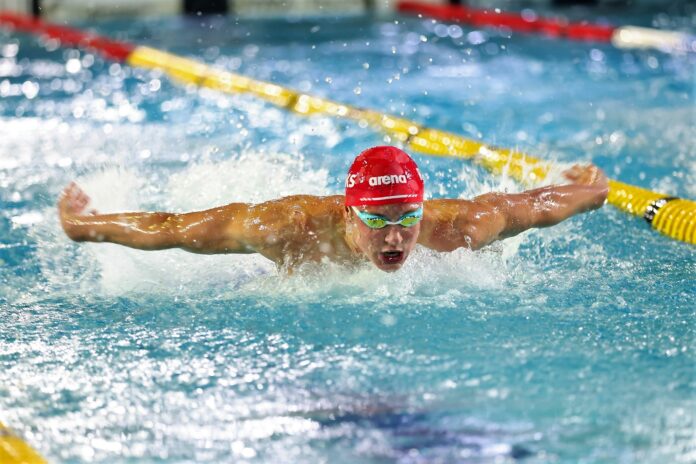 Pieter Coetzé announced himself on the FINA World Cup stage in style, claiming a clean sweep of the backstroke events at the third leg in Doha over the weekend.
First up was the 200m backstroke. Coetzé claimed victory in 1:52.09 before doing the same a day later in the 50m event, winning in 23.13.
The 17-year-old then completed the trio of golds with victory in the 100m backstroke in 50.86, edging out highly decorated American Tom Shields in the process. All three races featured three South Africans in the finals.
"I am very happy with my performance for where I'm at since I wasn't going to compete at the World Cup and it was sort of a last-minute decision to come and race," said Coetzé afterwards.
"Thanks to FINA for a really well-organised gala and a lot of fun with my SA teammates.
"I'm happy with all my times for where I'm at in the season and over the moon to get my first three international medals. It was special to get the triple in all three backstroke events, and I will definitely compete in some other events too in the future.
"I'm really excited for the future of swimming in South Africa too, things are looking very good. Thanks to Wayne [Riddin] and the SA team for the nice trip and support. Unfortunately I couldn't have coach Rocco [Meiring] join me this time, but luckily I could talk to him the phone and he was a big help throughout the meet," added Coetzé.
Matt Sates wins two golds and two silvers in Doha
Fellow teenager Matt Sates – who is also from Pietermaritzburg – continued his fine form, claiming two golds and two silvers in the Qatar capital.
The Maritzburg swimmer took a third straight title in the 200m individual medley, beating Lithuanian Danas Rapšys in 1:52.32 and claimed another gold, again ahead of world champion Rapšys, in the 400m freestyle in 3:38.64.
Speaking after his 200m individual medley victory, Sates said: "I tried to mix up the pacing of the race so we're still trying to work out exactly how to swim it, but it was good, I got the gold.
"Obviously I'm a little bit tired but I've really enjoyed swimming the World Cups and a big shoutout to FINA for putting this all on. I couldn't be more grateful for it."
Sates was edged out in the 100m individual medley by the man whose 200IM junior world record he broke a few weeks ago, Daiya Seto of Japan. Seto won in 51.56 while Sates touched in a PB of 51.74.
In the 200m freestyle it was fellow 18-year-old, South Korea's Sunwoo Hyang who powered ahead in the final few metres to take gold in 1:41.17 to the South African's 1:41.33.
Matt Sates tops World Cup standings
As a result of Sates's haul, he still tops the overall World Cup standings with one leg remaining. That takes place in Kazan, Russia, from 28-30 October.
Meanwhile, also claiming two silvers in Doha was Emily Visagie. She finished second behind Russia's six-time world champion Yuliya Efimova in both the 100m breaststroke (1:06.92) and 200m breaststroke (2:23.20).
The South African team finished third on the medal table in Doha behind the Netherlands and Australia.
Source: TeamSA