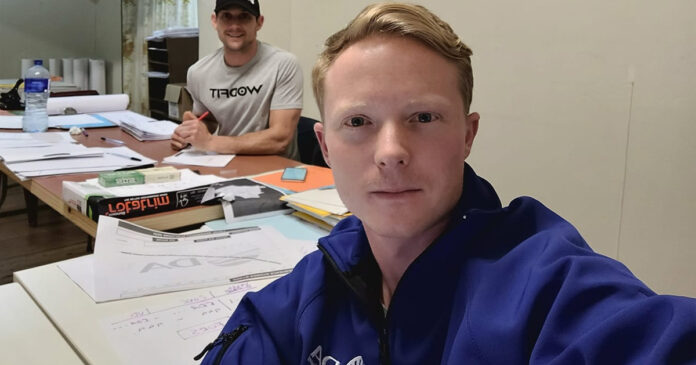 A video going viral on Twitter this week is winning hearts and votes for uMngeni's new Mayor-Elect, Chris Pappas.
"I love him, such passion, this is what we need" said one local. Many added: "What a great speaker", while one tweeted: "Holy cr*p. Who is this guy, tjoooo, ANC is in trouble in KZN."
The guy is  30-year-old Chris Pappas from Mooi River, who grew up learning isiZulu from his Zulu friends. And the ANC was indeed in trouble, losing the uMngeni Municipality to the Democratic Alliance (DA) in this week's local elections. The DA held a Victory Rally in Howick yesterday to celebrate the historic win – taking 13 of the council's 25 seats – in the hotly contested race. It's the first municipality the DA has ever won in KZN.
A staunch DA opponent in the district told Pappas: "Your effort to learn and speak the Zulu language goes a long way in winning many people's hearts and minds." (See more below the video.) Well known SA journalist Max du Preez said: "Check this dude out…" Watch here:
WATCH Chris Pappas winning hearts and minds in Zulu
While Malema was busy with gossip, insults, and race-baiting, a white young man was speaking to people on the ground about relevant local issues and DA has won the majority vote in a KZN municipality. pic.twitter.com/RtQB9adtOO

— African Renaissance🦅🇿🇦🦁 (@MadiBoity) November 2, 2021
DA Leader John Steenhuisen said that just like the DA-governed Kouga in the Eastern Cape and Midvaal in Gauteng – which are recognised as the best-run municipalities in their respective provinces – "it is our prediction that uMngeni will soon stake the same claim in KZN." He said over the next five years Pappas and his administration will "rebuild the broken municipality into the jewel of the KZN midlands."
On the eve of the election former uMngeni ANC deputy mayor Nompumelelo Buthelezi, switched alliance and joined the DA.
Listening to Pappas' passionate oration in Zulu, one white South African tweeted: "I will never forgive the apartheid government for denying me the chance to learn an African language that was on my doorstep."
JK Sithole said he's dealt with Pappas before, "even had his contact to get ahold of him anytime. True leader."
Other comments included:
"DA should've just placed this guy as their leader coz he is actually better than that other guy"
"Wakhuluma umlungu iqiniso (the white man spoke the truth), our City is in shatters under my ANC, let's hope they will clean up all corrupt activities at our city, that why I didn't vote in this election, because I can't vote for DA, Eff because my blood is green and yellow until I die."
"So refreshing. And I wish this (speaking Zulu) didn't seem so novel. To share a language is to really connect."
"Don't mistake a shared language with a shared experience."
"I like him. He has real passion."
Pappas took to Facebook to thank all who voted for him, including those who voted for the DA for the first time.
The work ahead for Pappas
Although the council will not be constituted before 11 November, Pappas said "we have already started to engage with Municipal officials and various stakeholders to ensure that our ethos and vision for uMngeni is well understood: importantly our no nonsense approach to corruption and poor work ethic."
Pappas outlined the work that lies ahead, after inheriting dry coffers and "lots of dodgy contracts" and said the priority is to "identify cost saving items and reprioritise them to basic services" and "endeavor to make uMngeni Municipality a place where people are proud to work".
Advice for Pappas from a staunch DA opponent
In response, one local Siyabulela M said "I'm a staunch DA opponent and I'm utterly disappointed by many of its blunders recently, especially along race relations. However, I've come to admire your journey and what you've achieved in KZN, as a young leader. I also admire that you speak Zulu fluently.
"Many DA leaders and white South Africans alike, have this misconception, unsympathetic, uncompromising & dismissive attitude towards race relations. And simply refuse to participate in true reconciliation & much needed meaningful change.
Your effort to learn and speak the Zulu language goes a long way in winning many people's hearts and minds.
"People of color have generational trauma and they are carrying deep rooted scars across societal fabric. Your effort to learn and speak the Zulu language goes a long way in winning many people's hearts and minds.
"Efficiency and good governance is key and very important, but in the South African context, it's not the be end all. To whom it was given for many decades, much is expected.
Reconciliation and outreach are extremely important projects if you are to gain the trust and confidence of people of color.
"I don't speak on behalf of corrupt thieves and incompetent officials, I speak on behalf of an average person of color. Run the public office with efficient, clean and effective governance, but continue to reach out to the fellow residents of uMngeni with deep empathy and understanding. Serve the poor while you stabilize the municipality's economy and be an investor & business friendly municipality.
"The 2 are not mutually exclusive. This is the mistake often committed by many DA leaders based on their misguided and unpractical neoliberal ideology. I wish you all the best and I will follow your leadership closely. Please make a great example of a rainbow nation, as once espoused by Nelson Mandela."
Pappas replied: "Thank you for taking the time to write this reflection and advice. There is nothing that I disagree with here. We have a duty as a generation that has been failed by previous leaders to urgently deal with our challenges. While race should not be our main point of discussion as a local government, there is no doubt that poverty and exclusion has a colour (not withstanding that they may be others who are also suffering). Thank you for your advice."
A childhood friend of Pappas thanked Siyabulela for his valuable advice and said she'd watched him grow up into an incredible leader with a passion for change. "I'm so incredibly proud of him and no doubt he will keep making a difference 💪👌" said Leonie E.
Pappas has served as a DA member in KZN since 2019, and became the DA's deputy provincial leader earlier this year. He matriculated from Hilton College in 2009 and studied at the University of Pretoria 2021.
DA Victory Rally in uMngeni on Wednesday:
The @Our_DA is holding our victory rally in uMngeni with mayor-elect, Chris Pappas. The crowd has gone wild when he arrived! pic.twitter.com/lTJuNvVP3U

— Dean Macpherson (@DeanMacpherson) November 3, 2021