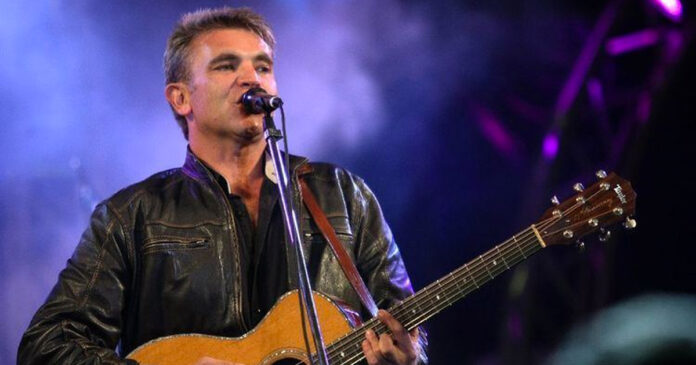 Popular South African singer and songwriter Theuns Jordaan, has sadly passed away at the age of 50, after a battle with cancer.
Condolences have been pouring in from South Africans nationwide, with many saying he'll leave a huge gap in Afrikaans music. AfriForum's Ernst Roets said: "Rus in vrede, Theuns Jordaan. Dankie vir jou ongelooflike bydrae tot Afrikaans. Ons sal aanhou om na jou musiek te luister." Kallie Kriel called it a "tragies".
Sports writer Brenden Nel tweeted: "RIP Theuns Jordaan. Met him before his fame a long time ago. Wasn't my type of music, but nice guy. Condolences to those who knew and loved him. And unfortunately #Fuckcancer"
In late July a message posted on Theuns' Facebook page thanked his fans for all their support, and announced he was in remission and would be continuing his recovery at home. "We, like you are also very excited to see Theuns healthy again soon." Tragically it was not to be.
On Wednesday, at around lunch-time, the SA Legendse Museum announced (in Afrikaans): "Sad news: Theuns Jordan has just passed away. He was 50 years old. Rest in peace dear Theuns."
Musical artist and friend, Armand Hofmeyr (son of Steve Hofmeyr) said (in Afrikaans): "Theuns my old friend, I learned a lot from you. Most of my writing work is based on what you taught me. I would still like to learn a lot from you. REST IN PEACE.. See you again one day."
WATCH Theuns Jordaan – Streets of London
WATCH Theuns Jordaan – Beautiful in Beaufort-Wes (one of his most famous tracks)
A sad day for South Africa, for Afrikaans and for me as a fan. RIP to this talented man with a stunning unique extraordinary voice, 😢 Theuns Jordaan. #TheunsJordaan pic.twitter.com/iRKdEUkCee

— Gail (@gail13sa) November 17, 2021
Didn't think that it would affect me like it does, but you will always be my idol. Ek groet jou voor die storm kom, Theuns! Ek weet jy's maar net een liedjie voor oppie setlist! 💛 RIV. pic.twitter.com/aFq9co568o

— CeeJay (@CeeAreJay_20) November 17, 2021
Mooi loop Theuns Jordaan, rus in vrede🙏 Groot verlies vir die Afrikaanse musiek bedryf.

— Kobus Wiese (@4KobusWiese) November 17, 2021