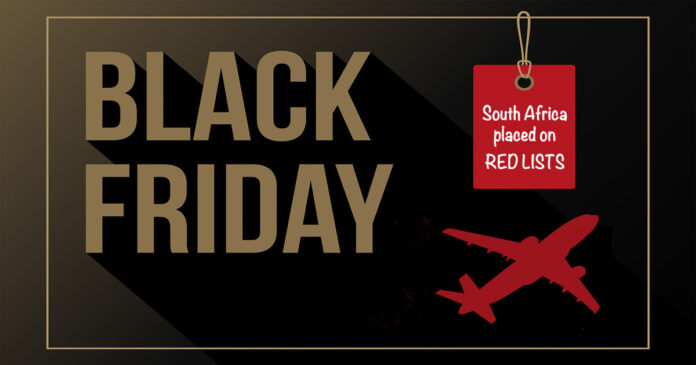 It sure feels like Black Friday for South Africans as the world moves to ban travel to and from the country, following the confirmation yesterday by South African authorities that a new "dramatically different" variant has been identified in the country. The variant – B.1.1.529 – has over 30 mutations according to SA scientists and is the "most significant" they have seen, although its severity is not yet known. Studies are being undertaken around the clock to determine if the mutation is resistant to natural and vaccine immunity, and if so by how much.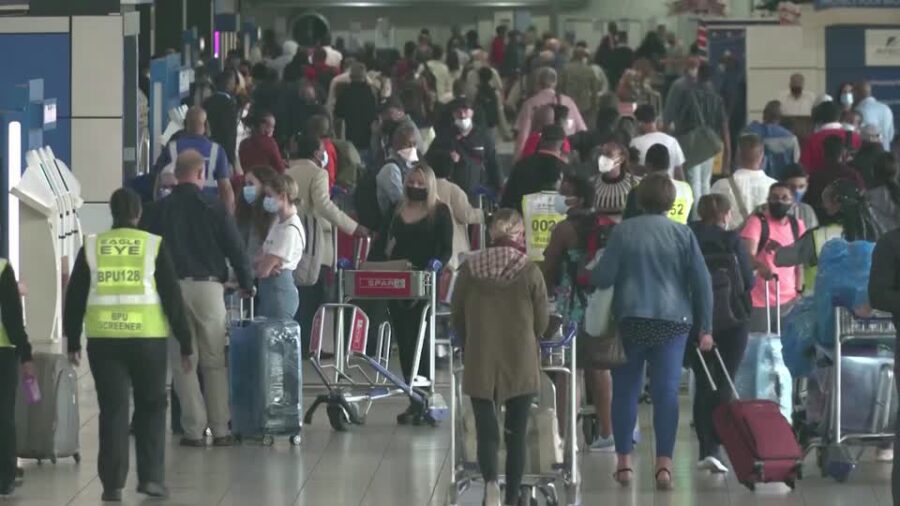 The UK was one of the first countries to announce a "precautionary" temporary ban from midday Friday on flights to and from South Africa, and most of its neighbouring countries. The announcement was made on Thursday evening. The temporary ban on all direct commercial and private flights from these countries is until 04h00 Sunday 28 November while the UK government reassesses the newly discovered COVID variant.
From 04h00 on Sunday, travellers from South Africa will need to book a quarantine hotel package, including 2 COVID-19 tests, before they arrive in England.
Israel was also quick to put SA and southern African countries back on its Red List, after the SA announcement. Israel also revealed it had identified the new variant in a traveller returning from Malawi. Israeli Prime Minister Naftali Bennett said: "We are currently on the verge of a state of emergency. Our main principle is to act fast, strong and now."
The EU and parts of Asia, including India, have announced plans for strict border controls too to SA and its neighbouring territories. Ursula von der Leyen, President of the EU Commission, tweeted on Friday morning that the EU Commission "will propose, in close coordination with Member States, to activate the emergency brake to stop air travel from the southern African region due to the variant of concern B.1.1.529."
UPDATE: Von der Leyen has confirmed that all 27 EU states will temporarily suspend travel to and from South Africa and other affected countries where the new Covid-19 variant has been detected, as a precautionary measure until more is known about its impact.
European Commission President Ursula von der Leyen called for a suspension of air travel connection to places where a new coronavirus variant has been detected, as global authorities react to a new variant detected in South Africa https://t.co/QYvUFBbAZE pic.twitter.com/dZxBJsDyY7

— Reuters (@Reuters) November 26, 2021
UPDATE Fri 26 Nov evening: The USA will ban entry for most travellers from South Africa from Monday 29 November. The restrictions – which also affect travellers from Botswana, Zimbabwe, Namibia, Lesotho, Eswatini, Mozambique and Malawi – will not apply to US citizens or permanent residents, and flights will not be banned. Anyone who is not a US citizen/PR will be barred from entry if they've been in SA or any of the other named countries in the prior 14 days.
President Joe Biden announced on Friday that: "As a precautionary measure until we have more information, I am ordering additional air travel restrictions from South Africa and seven other countries. These new restrictions will take effect on November 29. As we move forward, we will continue to be guided by what the science and my medical team advises."
Croatia, which is part of the EU but not part of the Schengen visa region, also announced that it will either ban arrivals from South Africa, Botswana, Eswatini, Lesotho, Zimbabwe, Namibia and Hong Kong or impose a 14-day quarantine with obligatory testing.
Hong Kong says they've identified the B.1.1.529 variant in two people now – a man who had returned from South Africa, and later in another man who was staying just across the hall from him, in the same quarantine hotel, which suggests airborne transmission, according to Hong Kong's Center for Health Protection.
UPDATE: Meanwhile Belgium has announced its first case of the new variant, identified in a non-vaccinated female who had recently returned from Egypt which she flew to via Turkey. She appeared to have no links with South Africa.
Fifth Wave sweeping into Europe
In Europe there are reports of a Fifth Wave of Covid-19 as cases sharply increase. In Germany, the Air Force has been called in to transfer some patients due to hospitals becoming too full, according to a Reuters report which said "new infections hit a record above 76,000 on Friday".
France says its 5th waves is hitting at "lightning speed" with 20,000 cases per day registered on Wednesday, the first time it's been that high since August.
The WHO has warned of a potential for 500,000 new deaths across Europe by the end of winter. The region has already been the worst-hit in the world, with 1.4 million deaths, according to Johns Hopkins University.
Global markets crash
The news of the new variant – considered the most significant yet – has sent stock markets tumbling around the world; and oil and gas producers have also experienced a large drop. Reuters reports that "Bitcoin tumbled over 9% on Friday, dragging smaller tokens down, after the discovery of a new, potentially vaccine-resistant coronavirus variant saw investors dump riskier assets for the perceived safety of bonds, the yen and the dollar."
Flight Centre Travel Group Cancels Black Friday Sale
The gloominess of today's Black Friday was confirmed with the announcement that Flight Centre Travel Group (FCTG) has decided to cancel its Black Friday sale to focus on its customers who need assistance since South Africa and its neighbouring countries have been placed on the "dreaded red list".
"Our number one priority is to assist our customers at this time," says Andrew Stark, Flight Centre Travel Group MD. "To wake up to this news and be in this position again is simply devastating. We envisage there will be a domino effect with other countries following suit as we have seen before. We cannot emphasise enough how important it is for our country to achieve an 80% plus vaccination rate so that we can proactively put an end to these situations unfolding.
Vaccination slows spread of COVID-19
Vaccination slows the spread of COVID-19, according to the WHO, because it bolsters our immune systems, making us less likely to become infected. If vaccinated people become infected they are between 40-60% less likely to pass it on to others because the vaccine makes them less likely to develop contagious symptoms. Getting vaccinated also massively decreases the risk of dying from the coronavirus, said the WHO.
Over 5.4 million people have died from Covid-19 since the start of the pandemic.
UPDATE: The new B.1.1.529 variant has been designated a Variant of Concern (VOC) and named Omicron.