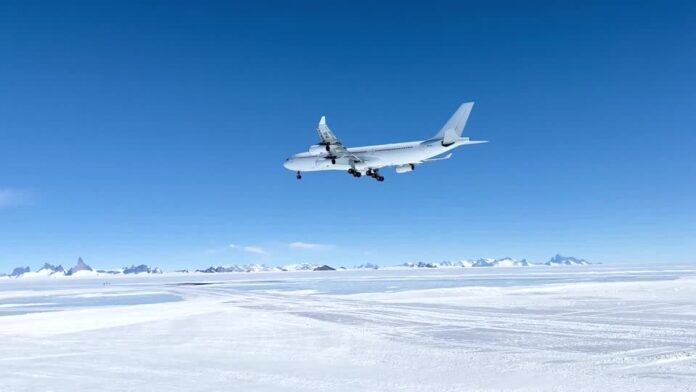 An Airbus A340 plane has landed in Antarctica for the first time in history, according to Hi Fly, the boutique aviation company behind the flight.
On Monday (November 22), Captain Carlos Mirpuri and his crew flew the aircraft from Cape Town in South Africa to Antarctica and back, in a 2,500 nautical miles journey that was just over five hours each way.
Footage released by Hi Fly shows the plane landing on WFR (Wolf's Fang Runway) in Antarctica on blue glacial ice, on a sunny day.
Captain Mirpuri said: "This is the first time an Airbus 340 lands in Antarctica. This is history."
Mirpuri, who is also the Vice-President and co-founder of Hi Fly, said operating on a blue ice runway, with glare reducing visibility, required a "whole different way to approach this mission," especially since there were no navigation aids.
The mission's aircraft will be used this season to fly a small number of tourists, alongside scientists and essential cargo to Antarctica, according to Hi Fly.
WATCH Airbus Flies from Cape Town to Land in Antarctica for First Time in History
(Production: Liliana Ciobanu)
In February this year Icelandair completed the same super-cool trip from Cape Town to a freezing cold ice shelf in Antarctica. The charter flight on a Boeing 767 was on a mission to drop off supplies at the Troll Research Station operating by the Norwegian Polar Institute in Dronning Maud Land, and to pick up some of the research station's scientists to fly them home  to Norway. Watch the video of that icy landing here.
Source: SAPeople and Reuters / Hi Fly, Marc Bow, Speedstream Films