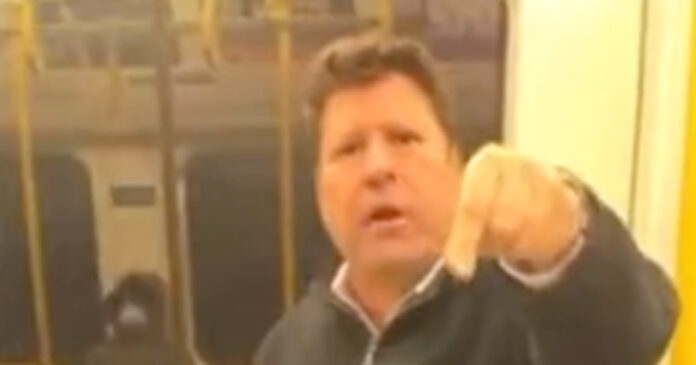 British Transport Police have confirmed that they are investigating an incident on the London Underground in which a man with a South African accent shouted at a Muslim man to stop praying because the noise was invading his privacy.
The video has been viewed over 1.1-million times on Instagram, where user 'imjustbait' uploaded it 24 hours ago. A Twitter user copied it across and the British Transport Police have tweeted: "Be assured, this incident is currently under investigation. Such behaviour will never be tolerated on the railway network."
At first the South African can be heard shouting, on the early morning train: "You're not going to do it on public transport where I'm sitting. I was here and you didn't even have the decency to ask me first if you could do it." The man politely points out that he didn't need to ask for permission.
When the South African responds that he does need his permission to invade "my privacy and my space… your noise that you make… travels", the man calmly suggests that he "moves along" then, but the SA man continues shouting. The British man, who can't be seen, then tells him to stop shouting like a child, but the South African continues shouting, telling the man that he doesn't respect anybody.
He then says that nobody else would tell him to keep quiet because "they are too careful, because oh my God, don't touch a Muslim." He then adds: "Let me tell you something – this is a Christian country. You behave in our manners and the way that we do things."
It's the last sentence that has upset many people, pointing out the irony that a man with a South African accent is telling someone with a British accent how to behave in their own country. One Twitter user said: "When he's inevitably found, can someone explain the concept of irony to him please."
Another said: "I have a white South African acquaintance who constantly complains about the number of 'immigrants' living in the UK. I've tried pointing out that without immigration he wouldn't be here either. He doesn't see my point."
The SA-accented man on the tube, who clearly does not represent most South Africans, has unfortunately sparked some anti-SA sentiments with several commenters talking about the "arrogance" of white South Africans and many sharing the Spitting Images '80s song "I've never met a nice South African".
Most South Africans have distanced themselves from the man, with comments like:
Whatever you do, don't send him back to South Africa.
Whatever happens.. Please don't deport him – luckily flights are banned, guess you're stuck with our pre-1994 variant.
Jenn Sarky, a retired farmer and anti-racist, tweeted: "As a white South African, this makes me deeply ashamed. Please remember that the vast majority of South Africans are neither white nor like this dreadful racist. My heartfelt apologies to the victim."
Mohsin Dasoo retweeted the below tweet from South African cricketer Dale Steyn in 2011 about his teammate Hashim Amla. Mohsin said: "And This is a quote from a gentleman and classy South African":
Actually, if I ever needed inspiration I just turn to my left and see Hashim reading the Quran! Wat a #Legend

— Dale Steyn (@DaleSteyn62) December 15, 2011
WATCH South African shouts at man on tube in London
View this post on Instagram
Actor Nicholas McCluskey, who copied the video across to Twitter, said: "❗️Calling upon everyone who sees this video to help find this man and the victim. An innocent Muslim man was reading his Quran on the train and was verbally abused. Unacceptable. We need to support one another and bring justice here. Twitter please do your thing ?"